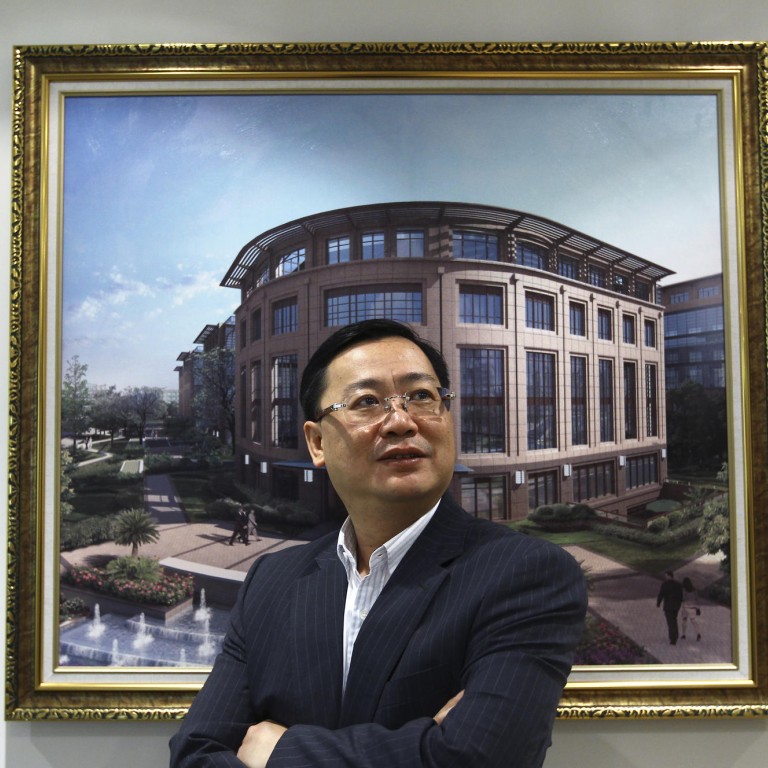 Cifi sets ambitious target for growth
With the goal of joining the ranks of country's property giants, mid-sized developer plots strategy for fast growth without adding debt
Cifi chairman Lin Zhong believes there is only one way his company can go up against the giants of the mainland property industry: get big, and soon.
The Shanghai-based developer unveiled an aggressive expansion plan that targets a fourfold increase in contracted sales to 60 billion yuan (HK$77 billion) within four years. That compares with last year's contracted sales of 15.3 billion yuan.
"Once we reach that scale, we will have the similar competitive advantages that big players have," Lin told the .
To achieve such a target, he said the company had adopted a strategy for high turnover growth and fast expansion without raising the company's debt level.
"From the day we acquire the site, to the day we pre-sell it, it takes just seven months on average. In some cities, the time we need is just four months," he said.
"We have to maintain an annual growth rate of 50 to 60 per cent in property sales, compared with 20 to 30 per cent by bigger players. That is the way we can eventually surpass them," said Lin, who has set a sales target of 22 billion yuan for this year.
There are seven mainland developers that exceeded sales of 100 billion last year. Of them, China Vanke topped the rankings, with revenue of 170.9 billion yuan.
"Our major weakness is higher financing costs, when compared with them," Lin said. "But when we enhance our scale with contracted sales of 60 billion yuan, we will achieve competitive financing costs."
Listed on the Hong Kong exchange in November 2012, Cifi focuses on developing residential and commercial properties mainly in the Yantze River Delta. It owned 57 projects and had a land bank of 7.7 million square metres at the end of June last year, according to Moody's Investors Service.
Last week, Cifi announced the third issue of five-year US dollar bonds with a coupon rate of 8.875 per cent, compared with the second issue's rate of 11.1 per cent and the first issue at 12.25 per cent. Moody's has assigned a B2 rating to the notes with stable outlook.
When China Vanke issued US$800 million in bonds in March last year, the annual coupon rate was just 2.625 per cent. "As we grow bigger, the cost will become lower," Lin said.
Alfred Lau, an analyst at Bocom International, said it would not be an easy task to achieve 60 billion yuan in four years. "That means the company needs to time the property cycle's up and down very precisely," he said.
The high sales turnover strategy would limit profit margin growth potential, he said.
Lau has a "buy" recommendation on the stock.
Fitch Ratings said Cifi's high sales turnover business model meant the company would achieve earnings before interest, taxes, depreciation and amortisation margins in the high teens over the next two to three years, compared with 20 to 25 per cent in 2009, 2010 and 2011.
Lin said Cifi hoped to maintain its debt level at 70 per cent while expanding.
Last month, the company teamed up with Henderson Land Development to develop a residential and commercial project in Shanghai's Hongqiao district. The deal came after the two parties jointly developed another project in Hangzhou.
This article appeared in the South China Morning Post print edition as: Cifi sets ambitious target for growth