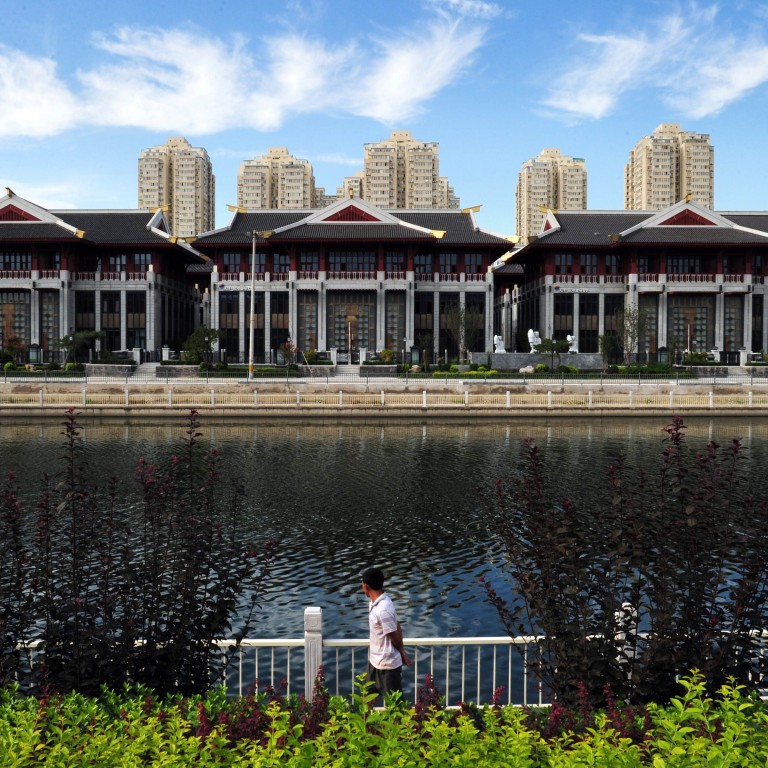 New
Top mainland cities bend rules on home pre-sale price limits
But analysts say the move does not signal a relaxation of government's property-market curbs
Major cities on the mainland have lifted a price limit for pre-sale home licences, in a move that will unblock high-end projects but will also add fire to the already red-hot land market.
In November, Shanghai imposed a limit on the price of new homes which can be approved for pre-sale – 20,000 yuan (HK$25,400) per square metre in Baoshan district, for example. The city also stepped up measures to curb housing inflation – which exceeded 20 per cent, far beyond its original price control target – such as stricter home-purchase restrictions.
That same month, in a closed-door meeting with developers, Beijing placed a 40,000 yuan per square metre price cap on pre-sale permits. Shenzhen and Guangzhou took similar steps.
However, after the New Year, both Beijing and Shanghai approved expensive residential property projects, many exceeding the price limits, which signalled an apparent easing of restrictions.
Beijing gave the year's first pre-sale licence to a project called Thaihot Cathay Courtyard in Chaoyang district, with the highest price set at 100,537 yuan per square metre for a 352.54 square-metre house. The developer declined to comment on whether it made a compromise deal with the government to get approval.
Meanwhile, a villa project was approved for sale on January 6 in Shanghai's Baoshan district, at an average price of 5 million yuan per unit, or about 30,000 yuan per square metre, the developer, Shenzhen-listed Yango Group, told .
However, apparent concessions on the price cap rule does not signal a relaxation on the government's broad property market curbs, now in its fifth year, according to industry analysts.
"I don't see it as a relaxation in overall property policy," said Kaven Tsang, senior analyst of corporate finance group at Moody's in Hong Kong.
Tsang added that luxury homes are only a small part of the mainland's housing market and resuming pre-sale approvals would not signal a full turnaround for developers, even though it could improve some players' cash flow.
"The measure can be reused towards the end of this year if needed," said Lu Qilin, research head of consultancy Shanghai Deovolente Realty.
Meanwhile, Li Enping, a researcher at the Chinese Academy of Social Sciences in Beijing, said: "[Putting such a] price cap is the least workable measure and will be eliminated sooner or later.
"I would look at land supply, home purchase restrictions, property tax and credit rules for indications on policy change," Li said.
A Beijing housing bureau source cited the capital's plan to build 50,000 new homes this year, which would cost 30 per cent less than those in neighbourhoods for middle-class and low-income families. "We are trying to rein in home price rises via increasing supply this year," the source said.
That will bring the city in line with President Xi Jinping's preference for market-oriented tactics, analysts said. To that end, the central government has said it would let cities address their own housing problems without imposing nationwide policies.
But analysts expect the latest signs of price-cap easing will boost developers' confidence about home price increases in top cities such as Beijing and Shanghai which are already suffering from home supply shortages.
Based on this outlook, Sunac China Holdings, a Hong Kong-listed mainland developer, has been aggressively snapping up land parcels in prime locations in top-tier cities.
A consortium led by Sunac bought residential land in Beijing's suburban Mengtougou district at a record 5.87 billion yuan – 50 per cent higher than the floor price of 3.91 billion yuan at the public tender in December.
That followed a 4.3 billion yuan purchase of land in downtown Beijing last September, carrying a price tag of  73,100 yuan per square metre. Sunac founder Sun Hongbin  told reporters he expected the selling price to be at least 150,000 yuan per square metre when the project was built.
"A limited land supply would benefit developers of high-end houses," Sun said in early January. "There's no doubt that purchasing power remains robust and our upbeat forecasts will prove correct."