SHKP
Get more with myNEWS
A personalised news feed of stories that matter to you
Learn more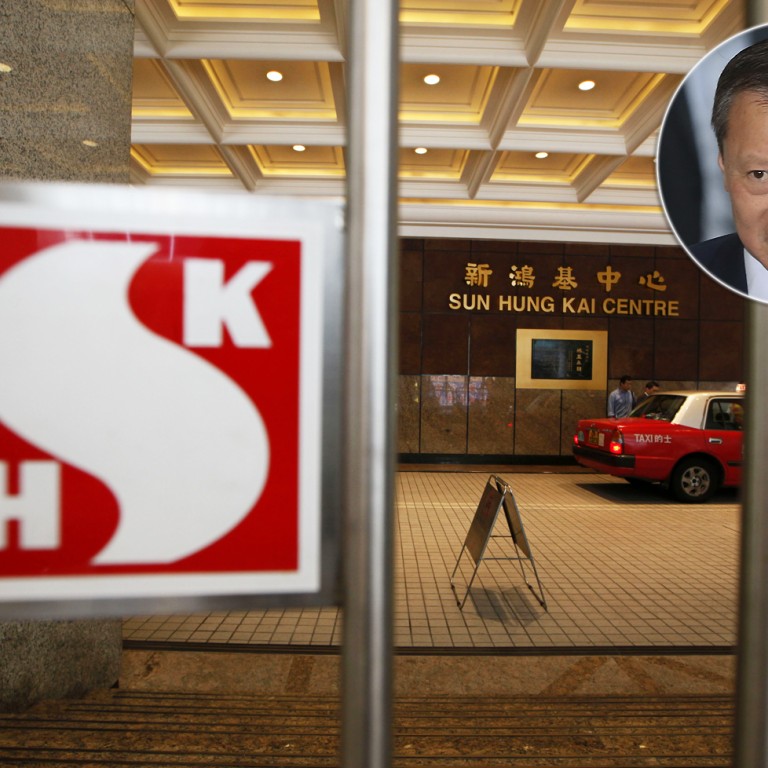 Feuding Kwok family reach 'amicable agreement' over SHKP property empire
Former chairman 'happy and relieved' to step down from company after receiving share deal
The Kwok family, which controls Hong Kong's second-biggest developer, Sun Hung Kai Properties, announced yesterday that it had reached "an amicable agreement regarding the treatment of the family's interests" that control the HK$260 billion real estate empire.
It ends a five-year family feud that was one of the biggest in recent corporate history.
Kwong Siu-hing, the 84-year-old matriarch who controls SHKP through a family trust, said Walter Kwok Ping-sheung, one of her three sons, and his family "have received the same entitlement to shares in SHKP as his brothers and their families", according to a statement released by the company.
"Walter Kwok has decided to pursue opportunities outside the company, and has resigned from his position as a non-executive director of the company," it said.
Kwok, who was removed as a beneficiary of the family trust by his mother in 2010, said he would start a new phase of his life and concentrate on his own business.
"The talk [about his share of the family's interest] has lasted for a while," he told the yesterday. "I am happy to see this outcome which reaches a consensus among all parties. I feel happy and relieved.
"I had been chairman of SHKP for 18 years, since I took over from my late father [Kwok Tak-seng] in 1990. I became a non-executive director of the company in 2008. The changeover was satisfactory. And now I will leave SHKP. I am happy that I can hand over my job to the good management."
SHKP's board removed Kwok as chairman in May 2008 and demoted him to non-executive director. Asked to describe his relationship with his two younger brothers, Kwok said: "They are my good brothers."
Kwong transferred 337.6 million shares - or 12.64 per cent of the company, then worth HK$33.15 billion - through a trust last month to SHKP co-chairmen Thomas Kwok Ping-kwong and Raymond Kwok Ping-luen and their families. Since then she has entered the open market 11 times to purchase another 24.23 million SHKP shares for more than HK$2 billion, raising her stake to 31.30 per cent as of last Friday.
"It is a piece of positive news as Walter Kwok will be completely left out of the property empire," said Bocom International analyst Alfred Lau.
SHKP shares surged to a high of HK$96.25 yesterday in response to the announcement before closing at HK$96.15, down 0.052 per cent from Monday.
This article appeared in the South China Morning Post print edition as: Walter Kwok exit ends SHKP feud