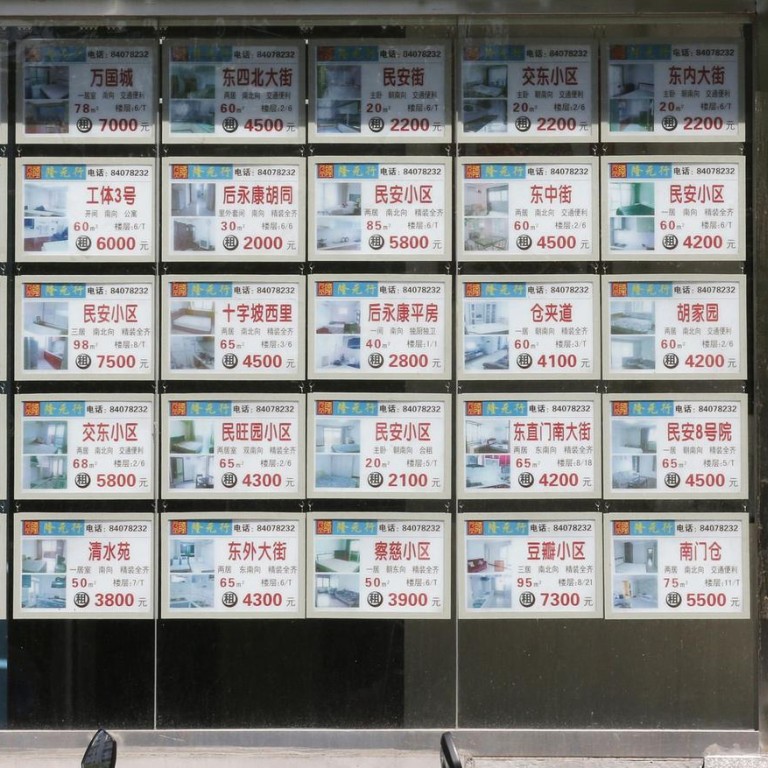 Curbs push China's property agents to lending business for extra revenue
Hopefluent joins the rush to offer short-term loans on the mainland to expand income sources amid a slump in the secondary market
The mainland's major property agents have extended their reach to the microcredit business as they seek new income sources after government curbs caused a slump in sales in the secondary residential market.
Hong Kong-listed property agency Hopefluent, which operates 280 outlets across the mainland from Guangzhou to Urumqi, formed a joint venture last month offering short-term loans, following in the footsteps of rivals such as Shenzhen World Union Properties Consultancy and E- House (China).
Home sales in the secondary market in most cities have tumbled as much as 40 per cent since Beijing barred purchasers from buying more than two homes.
"We lent out 100 million yuan [HK$127 million] right after our venture secured approval from the mainland authorities," said Hopefluent chairman Fu Wai-chung.
The venture, in which Hopefluent has a 92 per cent stake, charged 10 per cent interest a year, compared with the 5 per cent asked by banks, he said.
On the mainland, property owners were required to pay off their outstanding mortgage loans in order to redeem the title deeds when they decided to sell their flats, Fu said.
"It creates demand for bridging loans for one to three months," he said. "Once vendors receive the full payment from buyers and complete the property deals, they will repay the short-term loan."
Hopefluent said it handled 62,500 primary property transactions worth HK$67 billion and 20,600 deals in the secondary market in the six months to June last year.
"With a large client base, we need to provide more value-added services," Fu said.
Alan Chiang Sheung-lai, the head of residential property at consultancy DTZ Greater China, said he believed demand for short-term loans to facilitate the completion of property deals would grow.
"Sellers will redeem the title deeds once they find buyers," he said. "On the mainland, real estate transactions are not commonly carried out by lawyers, who ensure the money is transferred to sellers and buyers pay the balance on time."
To play safe, he said buyers would pay the balance only when the title deeds were ready to be transferred to their names.
At the same time, tighter lending rules would force some buyers of new homes to turn to finance companies for top-up mortgages, Chiang said.
Banks have capped the loan-value ratio at 50 per cent for first-time buyers in the secondary market and at 30 per cent for purchases of second homes.
In addition, mainland banks would take months to process mortgage loan applications, Chiang said, so buyers of new homes would also need bridging loans.
Shenzhen World Union, listed on the Shenzhen stock exchange, has announced it will spend 35.5 million yuan acquiring the remaining 71 per cent of its subsidiary, World Union Finance.
The company said on its website that it brokered 300 billion yuan worth of property transactions last year, accounting for 4.5 per cent of the market.
With buyers requiring higher down payments, observers said Shenzhen World Union could refer clients to seek financing from the subsidiary.
New York-listed E-House has also teamed with mainland banks to offer financial services.
Fu said microcredit companies were prohibited from lending more than five million yuan, with interest rates capped at four times the bank lending rate, currently at 5 per cent a year.
"Some of our clients will take loans for up to six months," he said.
This article appeared in the South China Morning Post print edition as: Curbs push agents to lending business