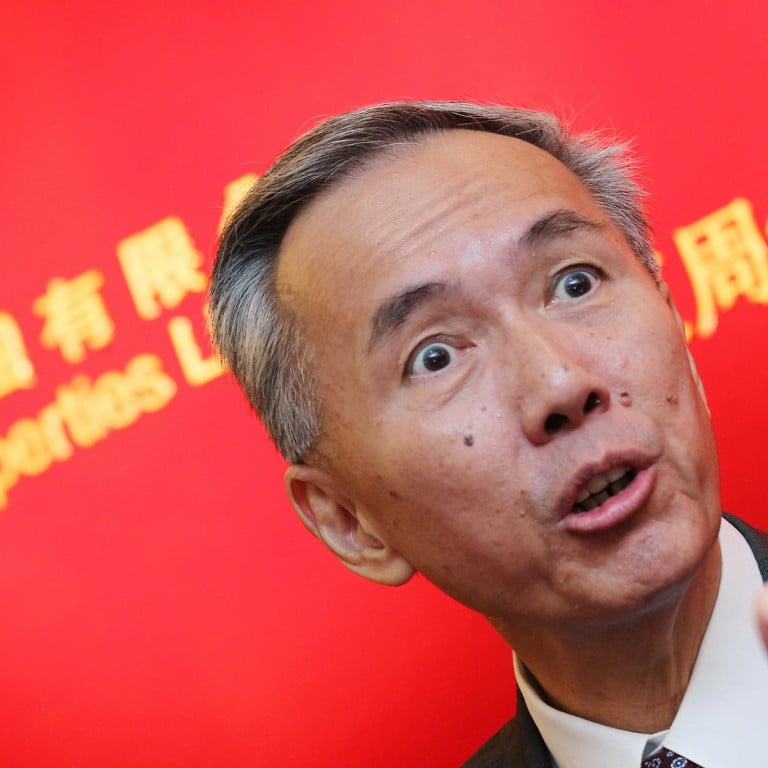 Lack of developments a drag on Sino Land's net profit
Sino Land said its unaudited underlying net profit for the six months to December fell about 45 per cent, mainly owing to a lack of development profits and the high earnings achieved a year earlier.
The company, which is chaired by Singaporean Robert Ng Chee Siong, reported core interim earnings of HK$2.48 billion, in line with analysts' predictions. That compared with HK$4.48 billion in the same period in the preceding year.
Net profit, including fair value changes on investment properties, amounted to HK$5 billion, down 38.42 per cent from HK$8.12 billion previously.
Despite a sharp decline in profit, the company announced the same interim dividend - 12 HK cents a share.
Total revenue from property sales recognised in the six months to December was HK$1.23 billion, against HK$10.23 billion in the same period in 2012. It mainly came from sales of residential units in three projects at Pak Shek Kok, which were completed in previous financial years.
Despite the lack of development profits booked in the first half, the launch of the uncompleted The Avenue Phase Two development in Wan Chai during the period was a huge success, generating HK$2.8 billion of attributable proceeds to Sino Land, according to Credit Suisse.
The bank said it expects development profits booked in Hong Kong will remain muted in the second half, but the booking of profits from sales of Central Park in Xiamen, Fujian province, should help fill Sino Land's earnings gap this financial year.
Ng said Hong Kong's property market "continues to change as a result of economic and property-related policies".
With a sound financial position, the company was well-positioned to respond to challenges ahead, he said. At the end of December, Sino Land had cash and bank deposits of HK$11.2 billion. After accounting for total borrowings of HK$9.76 billion, it had net cash of HK$1.44 billion at the end of last year.
Meanwhile, Tsim Sha Tsui Properties, the parent of Sino Land, said its core net profit fell to HK$1.25 billion in the six months to December from HK$2.27 billion achieved in the second half of 2012. Net profit, including property revaluation gains, was HK$2.52 billion, against HK$4.11 billion previously.
Sino Hotels said its six-month net profit was HK$120.9 million, down 9.78 per cent year on year.
This article appeared in the South China Morning Post print edition as: Lack of projects a drag on Sino profit