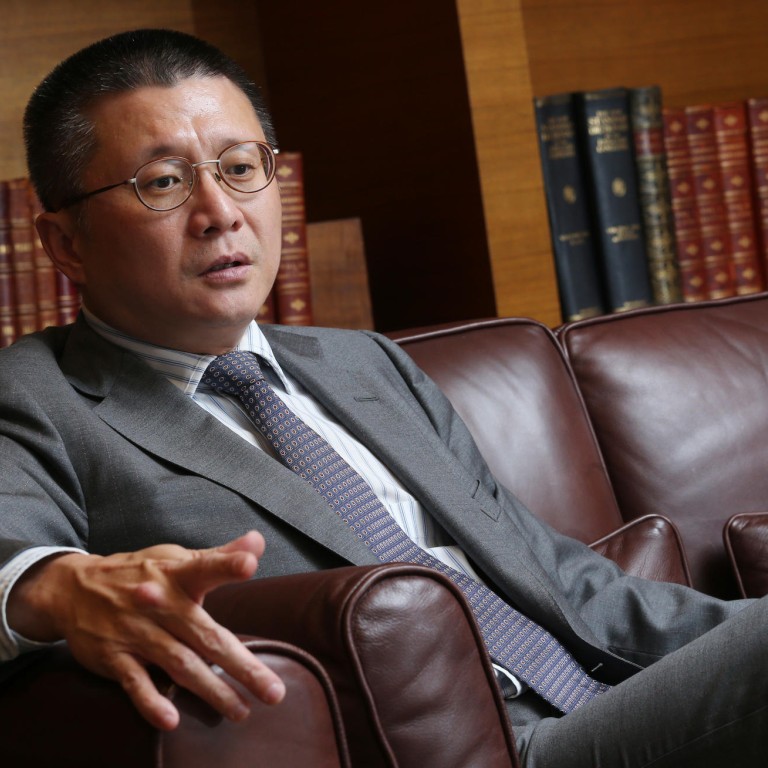 Mainland China's economic growth top concern of investors
Chew Fook Aun has breathed life into the investment engine of the Lai Sun group since joining the firm in 2012. He says the mainland economy is a top concern of overseas investors
Malaysian accountant Chew Fook Aun, 51, joined the Lai Sun group in June 2012 to restart the investment engine of one of Hong Kong's oldest developers, which at the time was nearly dormant.
Chew, who has lived in Hong Kong for 24 years, had been chief financial officer at several companies, including the Link Real Estate Investment Trust, Kerry Properties (a corporate stablemate of the ) and clothing retailer Esprit.
Since Lai Sun hired the corporate top gun, the firm has committed more than HK$10 billion in a string of property investments - about HK$4 billion in Ocean Park Hotel; HK$3 billion for its 50 per cent stake in a residential project in Tseung Kwan O; and HK$3.7 billion in a cultural and entertainment project in the Hengqin special economic zone off Zhuhai.
Chew is the deputy chairman of Lai Sun Development and its parent, Lai Sun Garment International. He is also the chairman of Lai Fung - the group's mainland property unit - and executive director of eSun, which has interests in media and entertainment.
The share prices of the group's four listed companies have shot up between 15 per cent and 85 per cent since he joined the group.
I travel overseas twice a year to conduct post-results roadshows in Singapore, London, the United States, Paris, Zurich and Sydney, wherever we have investors. They are more concerned about the mainland's economic growth, as it will have an impact not only in Hong Kong but elsewhere. Despite the cooling measures imposed by governments in Hong Kong and on the mainland, they believe the potential of the property market is still positive in the long term.
Our investment property portfolio in Hong Kong and on the mainland will increase to 10 million square feet - 2 million sq ft in Hong Kong and 8 million sq ft on the mainland - over the next five years. It will contribute more than HK$2 billion in rental income by then.
I suggest people buy properties rather than rent. Renters in the end will not own their homes after spending so much on rent. I made my first home purchase in Britain when I worked as an accountant in London. It cost me £50,000. After I came to work in Hong Kong, I bought a 1,450 sq ft apartment for HK$6.68 million in 1996. I'm still living in it now. In 2007, I bought another one on an upper floor in the same building and created my own duplex. I also have property investments overseas, including in my hometown, Kuala Lumpur.
Hong Kong is one of my top choices, and of course I also like Kuala Lumpur. As an accountant, I believe a city's tax system and transport system are main concerns for retirees. Preserving income is very important. Hong Kong does not have a capital gains tax, no inheritance tax and no tax on personal investments from interest and dividends.