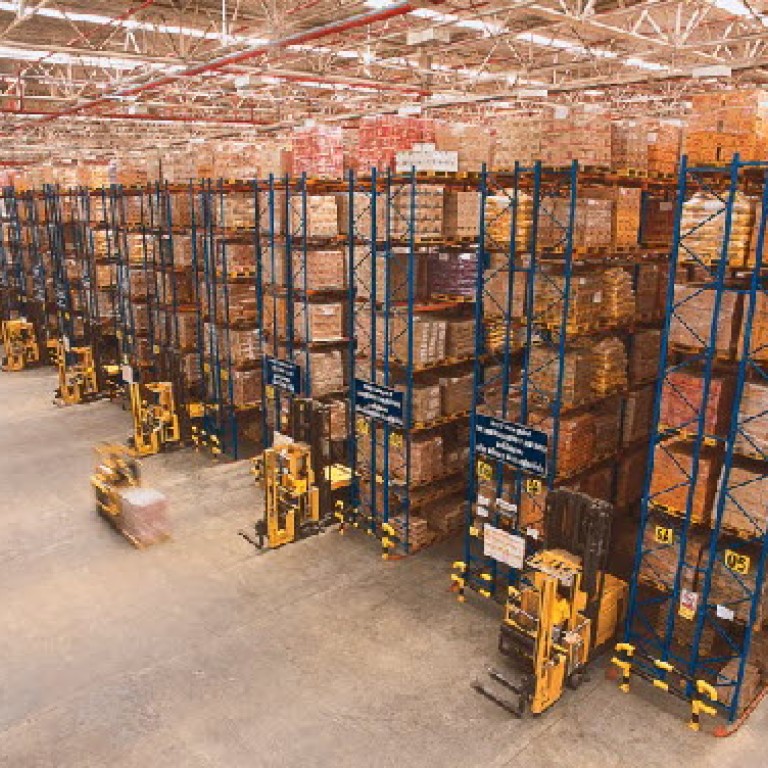 Logistics property market takes off in China as focus shifts to consumption
Deals for land used for storage of goods up as investors expect greater domestic consumption amid structural change in mainland economy
The logistics property market is taking off like a rocket on the mainland, and has the potential to grow to US$2.5 trillion by 2029.
A spike in the number of deals is expected this year as investors bet on consumption-led growth.
The total value of investment in warehouses and distribution centres there jumped 38.8 per cent year on year to 3.2 billion yuan (HK$4.04 billion) last year, while the number of deals surged 85.7 per cent, global real estate consultancy Colliers International said.
"Domestic consumption and existing inefficiency are the fundamentals of growth in China's logistics industry and the related property market," Colliers said in a research report.
"Access to land remains the biggest impediment", the report said, as local governments were reluctant to allocate land to the logistics industry.
Global Logistic Properties, the country's biggest owner of warehouses and distribution centres, estimated the modern logistics market could grow to US$2.5 trillion over the next 15 years, assuming logistics space per head of population in China increases from one-twelfth of that in the United States to one-third by 2029.
Global Logistic Properties, headquartered in Shanghai and listed in Singapore, with Singapore sovereign wealth fund GIC as its biggest single shareholder, has signed a US$2.5 billion equity agreement with three financial firms - Beijing-based China Life Insurance, Bank of China and private-equity firm Hopu Investment Management - to boost its access to land.
"There is rising interest from Chinese and foreign investors in the mainland logistics property market now, particularly from domestic insurers and banks," said Jason Wang, head of industrial property in Tianjin at global real estate consultancy JLL. "The trend is especially clear this year, and we've got many inquiries from domestic institutional investors."
Beijing has relaxed rules to make it easier for insurance firms to invest in the mainland's real estate market even as concern about oversupply in its residential, office and retail property markets has grown.
Beijing's pledge that the world's No2 economy will rely more on domestic consumption and less on exports is fuelling demand for logistics facilities to enable same-day delivery of goods to consumers. Global Logistic Properties said 80 per cent of its leased space in China at the end of last year was for uses related to domestic consumption. It added that e-commerce represented 22 per cent of its leased area in the country, up from 4 per cent in 2010.
Four of Global Logistic Properties' top 10 tenants last year were e-commerce firms: Amazon, Vipshop, Vancl and
JD.com
.
"One of the most interesting trends to watch in 2014 will be the effect of Alibaba and Tencent entering the logistics market," Colliers said.
Tencent, Asia's largest internet company, has agreed to acquire a 15 per cent stake in online retail platform
JD.com
for US$215 million. Alibaba, the parent company of Taobao, said last year it would invest 100 billion yuan with a consortium of domestic firms to build a national logistics network.
This article appeared in the South China Morning Post print edition as: Land deals for warehouses grow