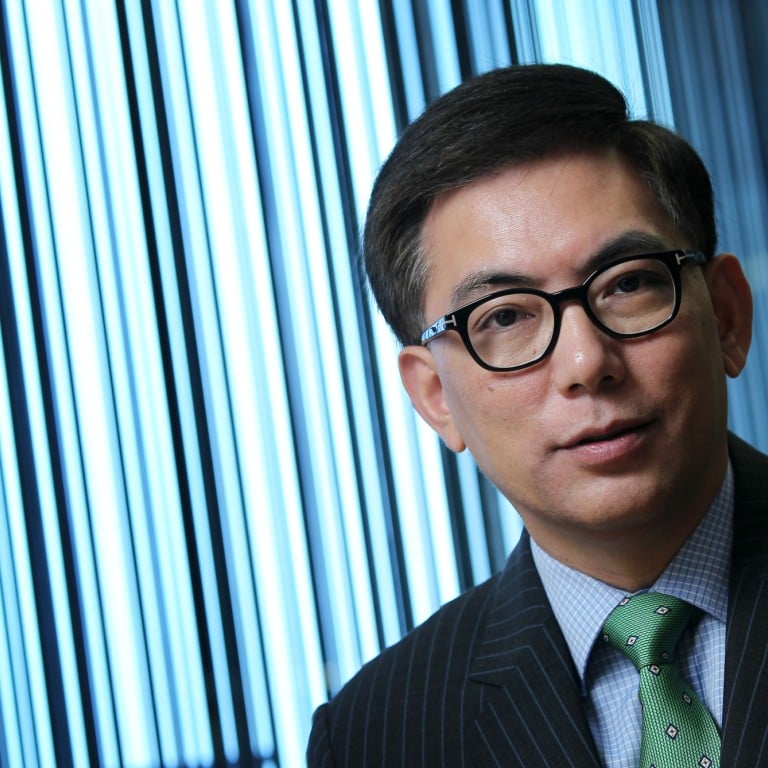 Link Reit hopes to ride suburbanisation wave in mainland China
Link Reit chief executive officer George Hongchoy looks forward to expansion on the mainland, with particular focus on suburban development resulting from new infrastructure
George Hongchoy Kwok-lung joined Link Management, the firm that manages The Link Reit, as chief financial officer and an executive director in 2009. Hongchoy, 50, has been chief executive of The Link Reit since May 2010. Before joining the real estate investment trust, he was managing director of DBS Asia Capital from 2004 until 2008. Hongchoy has been active in promoting Hong Kong reits and pushing forward The Link Reit's expansion into the mainland.
What are the reasons behind the company's move into the mainland?
Some investors have raised concern that investing on the mainland is risky. But [just] staying in Hong Kong is more risky. In the past, the city's development focus was on the eastern part. But ongoing infrastructure developments in the western part increase integration between Hong Kong and other parts of the Pearl River Delta region. Hong Kong's role is changing. Meanwhile, most of our customers go to the mainland, mainly the Pearl River Delta. We have to go to the mainland if we follow our customers. We also need to go from the political and economic integration perspective.
How do you assess the investment risk when your company makes the move, as The Link Reit has no track record of success on the mainland?
When we listed in Hong Kong eight years ago, investors could not predict the return we have achieved today. Some investors have asked if we are too late in going to the mainland, as many players are already there. But the trend [of development of suburban districts through improved infrastructure] just started a few years ago. Probably they were too early; we are not too late.
Now the time is right, as better infrastructure [with the construction of metro systems] in the cities creates suburban districts, and the size of the middle-income class will continue to grow and it will become mainstream by 2020. That will require retail space to cater to their districts. And we have strength in this area. With the development of urbanisation, I see there are many opportunities. Middle-income people move from downtown to well-developed suburban districts because of improved infrastructure. It is like the development of Tseung Kwan O in Hong Kong. It will be a similar story on the mainland.
How do you see the oversupply of retail space on the mainland?
The beauty of real estate is that we cannot just look at average statistics. We look at location. If that location is good, why bother to worry whether other locations face oversupply? Meanwhile, the oversupply mainly happens in second- to fourth-tier cities. We focus on first-tier cities.
Is buy-to-operate the company's business model in the mainland retail property market?
Yes. In the next three to five years, we hope to have a portfolio of projects at different stages of maturity.
What is the growth potential in Hong Kong?
Hong Kong will remain our major base. If reit restrictions in Hong Kong are relaxed, we will have more opportunities. [Editor's note: In a report released in November, the Financial Services Development Council raised the possibility that reits might be allowed to allocate up to 10 per cent of their total assets to property development projects.]
The proposal allows reits to buy assets earlier, so that the price can be cheaper. It is good for unit holders. The proposal requires a reit to hold any development project for a period of two years from the date of completion before disposing of the project. We can hold even longer, like five years. The business concept is design, build and hold the development, rather than trade it.
What is your management philosophy?
I am not an aggressive chief executive. I have learned to be patient. When we talk about property, we say location, location, location. But when it comes to management, I will say people, people and priorities. As a chief executive, I spend a lot of time on people. I also focus on priorities, setting priorities among the business options in different business environments. But if an organisation has just one option, we do not need to talk about priorities.
We plan ahead with a three- to five-year development strategy and decide which business growth option is the priority every year. I want the company to have more growth options to choose from – from asset management and asset enhancement to asset acquisition, which extends from Hong Kong to mainland China.
Do you have sufficient options ?
Yes. Now we have many options to consider. We have set a foundation. In the next  five to 10 years, we need to prove we can get it done. You can interview me again then.
How does your investment banking background help in running The Link Reit?
My background in an accounting firm and investment bank made me get used to data and analysing data. We have done a lot in gathering data and analysing it. That helps us to have a clear picture of what our tenants are doing.
What are your weaknesses and strengths?
I am still quite impatient. Willing to listen, being sensitive and understanding stakeholders, all these are a constant learning process.
This article appeared in the South China Morning Post print edition as: Q & A