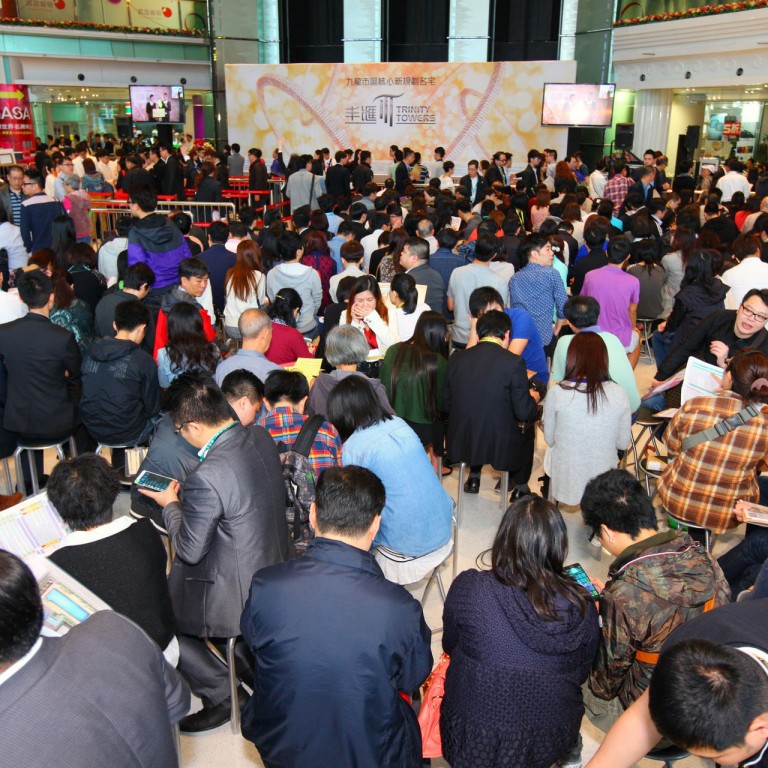 Project sell-out primes Cheung Kong for next batch
With the first 216 units at Trinity Towers sold in four hours, developer will announce details this week for next release at Sham Shui Po site
Cheung Kong says it will announce details of the second-batch sale of its 93 units at Trinity Towers development in Sham Shui Po in the coming days, after the developer sold out the first 216 units within four hours on the first day of sale on Saturday.
Justin Chiu Kwok-hung, executive director of Cheung Kong, said the additional units were on different floors and the selling prices of some units could be slightly higher than that of the first batch.
This week the company would announce a launch date for the 93 units, he said.
Property agents said the robust sales showed that demand remained strong when prices are attractive.
"The positive outcome indicates the market could have support at this level in the short term," said Louis Chan Wing-kit, managing director for residential sales at property agent Centaline, implying that developers are required to sell their primary projects below secondary prices by 10 to 20 per cent to lure buyers.
The additional 93 units will be sold from HK$9,921 per square foot to HK$13,612 per square foot. Total lump sum ranges are from about HK$4.52 million to HK$9.63 million, according to Cheung Kong, which announced on March 20 the first batch of flat sales at Trinity Towers, at a price range of HK$3.7 million to HK$9.87 million, or HK$9,552 to HK$14,146 per square foot. Buyers of the first batch of units can get a 5 per cent discount if they pay cash and an extra 3 per cent discount if the transaction is done by April 30. There is a 3.75 per cent subsidy for stamp duties.
After discounts, the average price of the first batch of units at Trinity Towers is HK$10,400 per square foot, 13 per cent lower than prices at nearby housing estates. The minimum price after discount for a 362 sq ft one-bedroom flat is about HK$3.26 million, or HK$9,010 per square foot. A three-bedroom flat costs at least HK$6.1 million, or HK$8,430 per square foot. The developers have registered more than 3,000 potential buyers since they offered the first batch of flats for sale on March 20.
"The project attracted buyers because of the small lump-sum payment involved," Chan said. The most sought after units by buyers on Saturday were the one-bedroom units, he said. Supply of units in lump sums of HK$3 million and HK$4 million is limited, especially in urban districts, Chan said.
Trinity Towers was jointly developed by Cheung Kong and the Urban Renewal Authority. The project comprises 402 flats in three blocks and is scheduled to be completed in July next year.
BNP Paribas said in a research report that positive sales results at Trinity Towers could prompt Cheung Kong to launch its other large-scale projects like Mont Vest (Phase 1) in Tai Po and Lohas Park (Phase 3) in Tseung Kwan O in the coming months.
This article appeared in the South China Morning Post print edition as: Project sell-out primes Cheung Kong for next batch