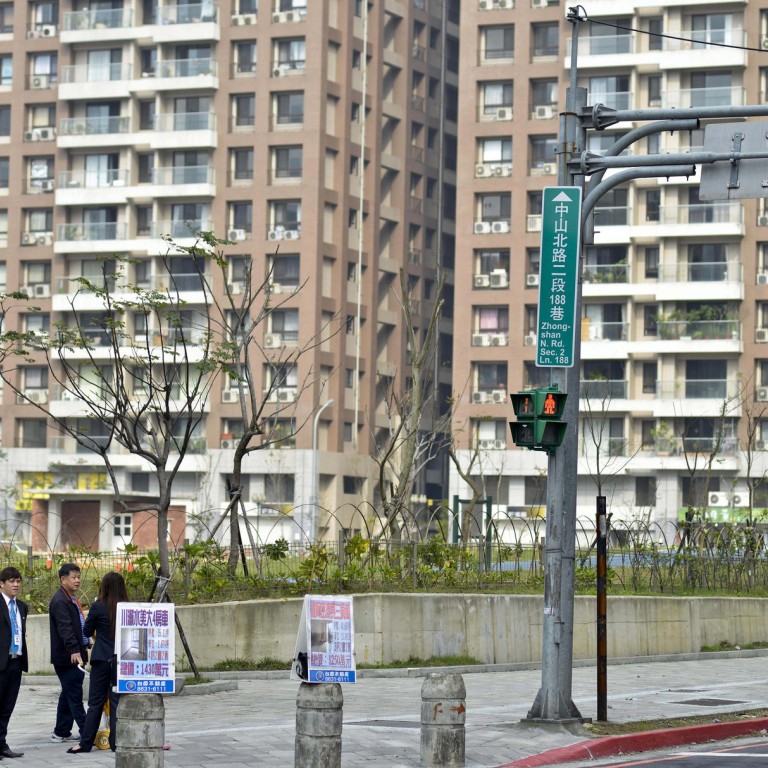 Video

|
Fast-growing Taipei suburb offers low-price, low-density homes
The once sleepy coastal town is sprouting high-rise housing complexes
A once laid-back coastal suburb of Taipei is sprouting high-rise housing complexes so fast that two dozen sales agents have hung signs over one particular 100-metre stretch.
Some wait on street corners in suits and ties to catch passers-by.
Those new high-rises, from the boxy to the spacious, belong to a master-planned district of Danshui near the coast north of Taipei.
The agents are competing to pull in refugees from Taipei's high home prices long before build-out, testing the attraction of what government planners have described as a model for Taiwan's urban development.
Danshui, already popular with weekend tourists from Taipei for its coastal scenery, compares to other suburban expansions on the mainland, such as Beijing's Tongzhou district and parts of the Pudong New District in Shanghai.
The Construction and Planning Agency of Taiwan's Ministry of the Interior has designated 1,756 hectares of Danshui for development in a bounded area called Danhai New Township, which could grow from 16,000 people to 340,000 by 2041.
It appeals to Taipei dwellers because of the lower home prices and the escape it offers from urban density.
"Why so many flats are being built here is that prices are lower and there's lots of space, which is good for exercise or sports," said Cheng Bo-jen, an assistant manager of a year-old complex with 600 units and a hotel-like lobby.
"You'll see a lot built already and some still in progress."
The occupants can reach central Taipei within an hour by bus and MRT, the city's metro. A light rail MRT extension to open in 2018 would shorten those commutes and is such a draw that one housing development is named MRT Flats.
The NT$15.3 billion (HK$3.9 billion) light rail will cover 20 stations over 14 kilometres.
The planning agency kicked off the redevelopment 25 years ago to ease housing prices and development pressure in central Taipei, its website says.
"It's a planned area that's supposed to look the same as in Taipei," sales agent Chou Chia-hau said as he waited on a street corner for potential buyers.
A flat in Danshui costs as little as half the price of a same-sized unit in urban Taipei.
Unlike in the big city, the coastal town's wider sidewalks and seaside promenades easily allow for riding bikes or walking dogs without competition from motor vehicles.
"It would be a real bargain for me if the light rail train opened, since that would go right down my street," said Kao Tzu-ting.
Kao moved from a denser, more expensive Taipei suburb three years ago and spends 90 minutes commuting each way.
Refugees from Taipei's high home prices visit every weekend to pace the township's major boulevards, Chungshan North Road and Binhai Road. Some come to live, while others to speculate, contributing to Taiwan's 10 per cent vacancy rate.
Also among the prospective buyers are Danshui locals looking for better flats. Old Danshui, a historic landmark in Taiwan, is not affected by the redevelopment.
Some sellers see buyer interest tapering off despite a surplus of unsold units. Buyers may be wary of the long wait for commuter rail service and Danhai's otherwise out-of-the-way location.
One agent said he talked to only one group of buyers per day and that the selling peak for Danhai units was half a year ago.
This article appeared in the South China Morning Post print edition as: Taipei urbanites flocking to low-cost Danshui