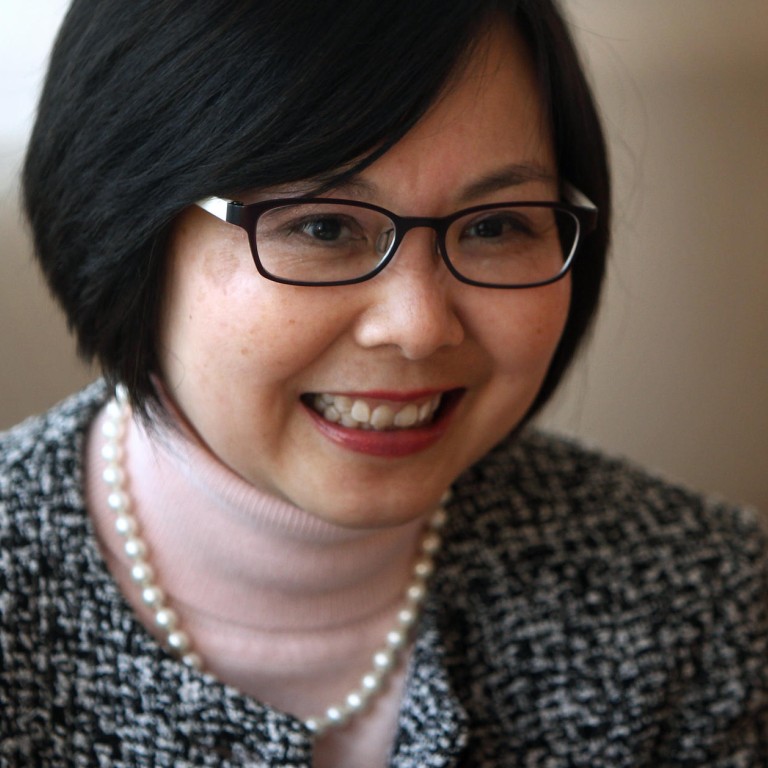 Build good projects in good locations, and people will buy
Karen Li, of Wing Tai Properties, believes in diversification as it will help a company cope with the different market cycles. She also urges positive thinking when facing difficult times
With a 25-year career in property development and hospitality, Karen Li Kan Fung-ling, the director of corporate development at Wing Tai Properties and executive director of Lanson Place Hospitality Management, believes diversification is the key for property groups trying to cope with challenging times.
Born and raised in Hong Kong, Li studied hotel management and international business in universities in the United States.
She started her career with the Hilton hotel group in Los Angeles in the 1980s. She returned to Hong Kong in 1988 to help the group set up Conrad Hotel at Pacific Place. In 1992, she left Hilton and worked at Wharf for two years.
She joined Wing Tai in 1994 when the Singapore company came to Hong Kong to develop its property and hospitality business.
Li shared her views with the about the outlook for the market, how to cope with down times and why so few women are found on the top rungs of the corporate ladder at property firms.
A: There are a lot of advantages. This is a strategy of natural expansion and diversification. When the markets are not performing well, we can keep some properties and turn them into serviced apartments for rental income. We also get income from our hotel business.
When the property market is doing well, Lanson Place can contribute additional revenue. Such diversification helps us get through different market cycles.
The hospitality arm can add value to property projects by offering services and special lifestyle programmes to residents.
A: The contribution from Lanson Place remains small but is likely to grow strongly in future. Lanson Place will introduce new projects in Shanghai and Kuala Lumpur this year. In Hong Kong, its hotel started in 2005.
We believe travellers in the region will increase in coming years, as there are more expatriates coming here to work. Some mainlanders also need to go to Southeast Asia to work. They would be potential customers for our hospitality services.
A: Finding land in a suitable location for new property projects will be a challenge. Recruiting the right talent is another, as we need people who have passion and share the company's vision.
In addition, the current interest rate is at a record low, and it will go up eventually. When that happens, it will affect market sentiment.
A: I believe the primary market will only have a slight adjustment. As long as the project is at a good location, it will sell well, and there will be no need to cut prices to attract buyers.
For the secondary market, I believe the price may drop about 5 per cent this year because of the government policies introduced last year to cool the market.
A: I believe in a free economy. The policies were introduced as the market was showing signs of overheating because of a shortage of supply. We hope they will only be short-term measures to prevent an asset bubble. When the supply returns to normal, the government should review and relax its measures.
A: Never try to beat the market. Those buying property should calculate how much they can afford to pay for the down payment and the monthly repayment on a mortgage loan. Never be overleveraged.
Always look for a property in a good location so you can easily resell it or find a tenant.
A: I do not worry too much. Compared with the United States and Europe, Asia as a whole has very strong economic growth. This is particularly the case for China. Nowadays, many Western companies want to invest there.
As a property and hospitality company in Asia, we believe we can provide residential, office and hotel projects to suit the needs of expatriates or locals.
A: This does not apply only to the property sector but also other industries. It may be attributed to the fact that many women need to take care of their children and family. Some of my friends stopped working for some years to take care of their children, and this prevented them from focusing on their career.
I do not have children, which may help me concentrate on my work. But my family life is important. I make sure I spend time with my husband and not just in the office.
A: The Sars outbreak in 2003 was the most terrible period. The streets, including those in Causeway Bay, were empty. Our company had to seek ways to keep the team and business going. Luckily, the market bounced back after the outbreak.
Positive thinking was how I led my colleagues to cope with this tough period. Overall, I think thinking positive is how we can survive down times.
The property market has its cycles, but it would be hard to imagine if we are unable to sell our flats. Chinese people like to buy property for their own home or for investment. As long as a property company can provide good projects in good locations, people will come to buy.
A: I rented my home for a long time as I followed my parents' financial discipline of not overleveraging. It took a long time for me to save the down payment for a home.
I bought my first property for self-use about five years ago. Now I am planning to save up to buy properties for investment as part of my retirement planning.