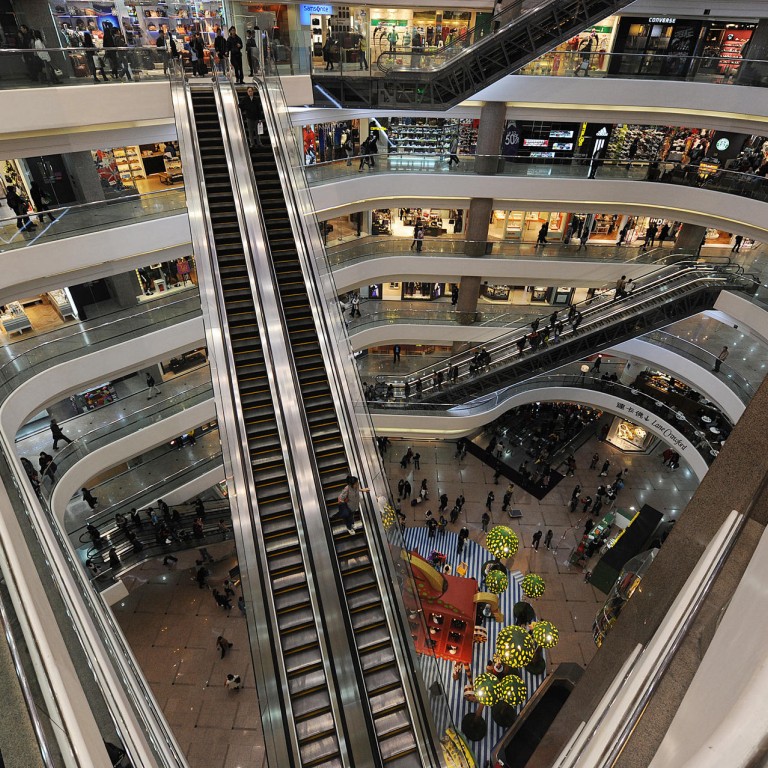 Hong Kong property experts call for new tack to lure shoppers
With competition growing from the region and change in buying behaviour of mainland visitors, the government is urged to increase retail space
Hong Kong is still a shopping paradise, especially to residents from the Pearl River Delta, but a strategic plan for the next 10 years is urgently needed given growing competition from neighbouring cities and changes in the shopping behaviour of mainland visitors.
The government is being urged to increase retail space supply to allow more shopping facilities near the border control point at Lok Ma Chau to capitalise on growing commuter traffic in the delta region, according to property consultants.
They also raised attention to Macau. The territory's ability to replace Hong Kong as a shopping destination still seems unlikely, but the gaming mecca will see rising retail sales, which will attract more luxury brands as shopping facilities increase in the coming years.
"The retail property market in Hong Kong has enjoyed strong growth in the past 10 years, bolstered by the individual visit scheme, rather than the city's strategic planning. As the shopping style of mainland visitors changes, what is our strategy to keep our competitiveness?" asked Helen Mak, a senior director at Colliers International.
Mak noted a rise in less affluent mainland visitors and the change in tourist consumption from luxury goods towards mid-priced products - daily necessities such as beauty or personal care goods.
The mainland's political campaign against extravagance might have curbed luxury consumption, she said.
Hong Kong's retail sales fell 2.3 per cent from a year earlier to HK$40.5 billion in February, the first fall in value since August 2009, the Census and Statistics Department said.
The value of sales of jewellery, watches and clocks, and valuable gifts increased 5.3 per cent, down from the 10 per cent growth notched in January.
The increasing proportion of middle-class affluence is reflected by faster growth in the same-day visitor arrivals, according to Colliers.
In the first six months of last year, same-day visitors from the mainland accounted for 65.4 per cent or 8.26 million tourists and it is essential for the government to discover a new retail hub to capture the increasing demand for shopping facilities.
According to the latest report by the secretary for commerce and economic development, the city could see a 30 per cent increase in visitors to 70 million in three years.
The increasing number of tourists will strain infrastructure in the city centre. On the other hand, same-day visitors would not necessarily head for the city centre if all they wanted to buy were daily necessities, Mak said.
"The control point at Lok Ma Chau is one of the spots with the highest daily passenger throughputs and we believe the place should provide facilities to capitalise on the growing volume," she said.
"Renowned brands at discounted prices, last-minute gifts and utilisation of time are the factors to induce purchases at control points' retail stores."
The government also announced that Hong Kong Park, Victoria Park, Happy Valley racecourse and Kowloon Park are among areas initially selected for a pilot study on developing underground spaces.
Mak said improved infrastructure between Hong Kong and the Pearl River Delta had increased Hong Kong's competitiveness, leading to larger numbers of mainland visitors.
For example, when the Shenzhen-Hong Kong section of the Express Rail opens next year, travelling time from Shenzhen's Futian to West Kowloon Station would only take 15 minutes, she said.
Thomas Lam, the head of research and consultancy for Greater China at Knight Frank, said establishing a shopping centre at the border was a viable option to capture passenger traffic.
"Mainlanders' buying patterns have been changing. Those affluent and eager to buy luxury goods would have already visited Hong Kong in the past 10 years. Such visitors will drop and the buying list of luxury items will become shorter after their numerous purchases," Lam said.
"The good old days that rely on luxury items to boost rents are over. The retail property market has peaked."
Retail landlords also noticed the changes.
Stephen Ng Tin-hoi, the deputy chairman and managing director at Wharf, said after the company's recent result announcement the company wanted to attract shoppers from neighbouring countries to reduce the reliance on mainland travellers.
Instead of limiting the number of mainlanders visiting Hong Kong, Ng said: "We should come up with a solution to accommodate them."
For example, Wharf has converted some office space at Harbour City in Tsim Sha Tsui into retail space.
"It will help accommodate more retailers to meet the growing demand. We have seen positive results," Ng said.
Another challenge the Hong Kong market is facing is a dearth of variety in retail outlets.
High shop rentals have forced some long-established and distinctive retailers and restaurants out of prime shopping districts.
Joe Lin, a senior director of retail services at property consultancy CBRE, said: "Hong Kong can no longer rely on its existing superiority as an international city and gateway to [the mainland].
"We need to highlight its uniqueness as a retail hotspot, expand its tenant mix and also focus more on cross-border growth to remain competitive."
Hong Kong is ranked sixth among cities in the world that have the highest percentage of retailers at 40.5 per cent, according to a CBRE survey.
In 2012, many international brands expanded through branches in the city but the number declined last year, while Singapore and Vietnam saw increasing number of global retailers opening, according to Lin.
Hong Kong's retail industry remains heavily reliant on mainland visitors.
Ng said those clamouring for curbs on the influx of mainland tourists should be aware that other markets were keen to attract these big spenders. Macau is one of those cities.
Tom Gaffney, the head of retail at JLL Hong Kong, is optimistic of strong growth in retail sales in Macau, saying that 90 per cent of shoppers there came from the mainland.
Retail sales in Macau rose 25 per cent to 66 billion patacas last year while Hong Kong's grew 11 per cent to HK$494 billion.
Gaffney noted an increasing number of luxury brands, such as those selling watches, opening shops in Macau, attracted by strong sales and lower rents. In contrast, the expansion pace in Hong Kong slowed over the past few years.
New shopping centres were being built as part of casino developments in Macau catering to tourists, he said.
"As shopping facilities improve, fast fashion retailers such as Uniqlo and H&M are also eyeing the market there," said Gaffney. "Tenants receive good sales [in Macau] and the margins are much better."
This article appeared in the South China Morning Post print edition as: Property experts call for new tack to lure shoppers