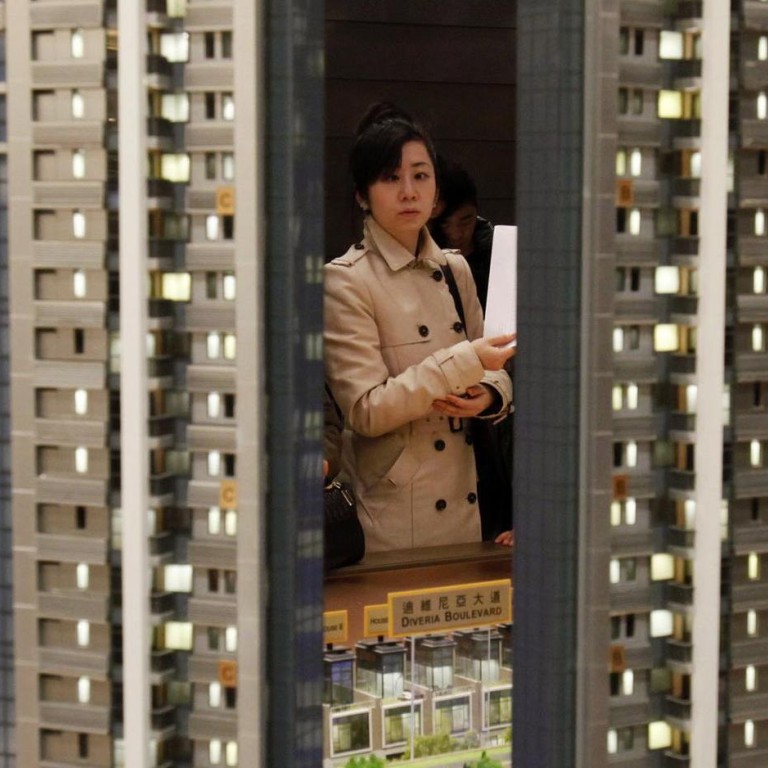 Home price declines hit development site values
Government tenders indicate that land prices have fallen to cost of building mass housing
The sharp correction in new home prices has accelerated the pace of decline in land values, with development sites increasingly being sold for close to or below construction cost, a rare phenomenon in Hong Kong.
"For years in Hong Kong, it's been exceedingly rare to see sites changing hands for less than construction cost," said Alfred Lau, a property analyst at Bocom International.
He said land prices fell or rose more sharply than the physical property market. "For instance, land price will drop 15 to 20 per cent if there's a 10 per cent correction in home prices," he said.
The construction cost for mass residential projects has reached HK$4,000 per square foot, and the development sites sold in recent government tenders indicate that land prices have fallen to that level.
The Lands Department announced on Wednesday that a residential site in Tai Wai, Sha Tin, had been sold to Far East Consortium for HK$148 million. That translated into an accommodation value (land price per square foot divided by gross floor area) of HK$3,336 per square foot. The market originally expected the site, which could yield a total gross floor area of 193,537 square feet, could attract a bid of at least HK$157 million.
Last month, Sun Hung Kai Properties outbid 10 other developers to win a residential site in Ma On Shan for a lower than expected HK$1.83 billion, or HK$4,241 per square foot. The price tag per square foot was 18 per cent less than for a nearby site sold to Cheung Kong for HK$2.9 billion, or HK$5,160 per square foot, in November 2012.
On the same day, a residential site in Peng Chau was sold to Michael Chan Sze-ming, the son of Chan Cheuk-yin, a vice-chairman of Agile Property, for HK$21 million, or an accommodation value of HK$1,493 per square foot. Three days later, it was reported that the land premium being charged for MTR Corp's phase four Lohas Park project in Tseung Kwan O came in 15 per cent lower than phase three's HK$2,410 per square foot in 2007.
Gregory Tam, director of valuation and advisory services at Colliers International, said differences were emerging between the government and developers over the market outlook, resulting in big gaps between their valuations. "When developers submit bids for a site, their valuations are based on market outlook, interest rate movement and construction cost," he said.
With growing numbers of developers rushing to offload new projects at discounts and offering incentives, Tam said such strategies indicated, to a certain extent, their outlook on the market.
He said he expected land values would diverge, with sites in inferior locations falling faster and those in urban areas receiving support at the present level.
The Lands Department said on Wednesday that a residential site in Shau Kei Wan had been sold to Wing Tai Properties for about HK$434 million, or HK$9,396 per square foot.
This article appeared in the South China Morning Post print edition as: Home price declines hit development site values