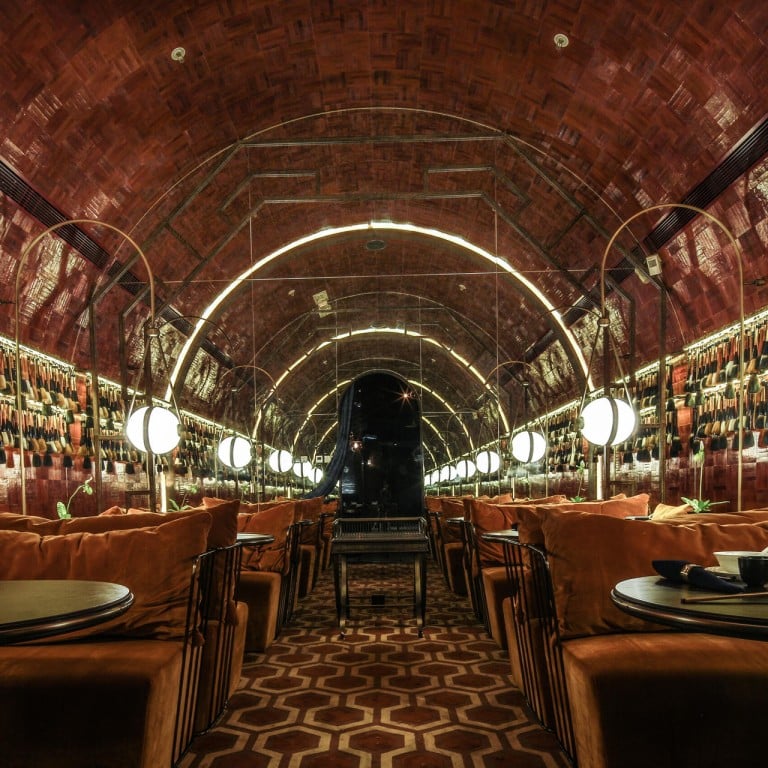 Rising Hong Kong star Joyce Wang flies flag for small studios
Hers has been a steep learning curve but the 31-year-old designer says her hands-on approach to projects makes the work fun
The practice of architecture is particularly challenging for young graduates. When even the most modest projects cost a great deal of money, it is rare to find clients willing to invest in an unknown talent.
That makes it even more impressive that in just five years, interior designer Joyce Wang, 31, has gone from her first project redesigning the cabanas of one of the most famous hotels in Los Angeles to launching her own furniture collection and delivering some of the most innovative interiors in Hong Kong and Shanghai. In between, Wang has also found time to marry and start a family: her son, Wolf Vigo, was born early this year.
Wang won the prestigious Hollywood Roosevelt Hotel project because of her quiet determination and commitment to delivering a thoughtful design blending aesthetics and efficiency within an authentically retro narrative.
"We were hungry, persistent and responsive," says Wang. "And because it was the only project we had, every time [the client] met with us he saw the same people."
When unveiled in 2011, the project, which took two years to complete, placed Wang firmly on the hot list of rising designers. In the same year she returned to Hong Kong to establish her eponymous studio in Wan Chai.
"My family is here and I've always felt a natural affinity towards the pace of Hong Kong. It's enticing as a young designer to be in a place where ideas can be experimented with and learned from overnight," she says.
One of Wang's first major jobs in the city was to create the interiors for AMMO, a 2,000 sq ft restaurant and bar at the Hong Kong Asia Society's headquarters near Pacific Place.
Taking inspiration from the 1960s science fiction film , directed by Jean-Luc Godard, Wang delivered a unique setting featuring beautifully detailed furniture and a series of three sculptural spiral staircase chandeliers constructed out of copper plumbing pipes, a subtle reference to the site's military and industrial heritage.
She did not just focus on the visual experience. AMMO's six-metre-high domed ceiling incorporates hidden upholstering for soundproofing, a detail often missed by designers. It won best restaurant and bar awards from (New York) and the World Interior Festival (Singapore).
Wang says she became interested in design from an early age after realising the HSBC headquarters in Central had been created by a professional architect (Norman Foster). She studied architecture and materials science at the Massachusetts Institute of Technology in Boston before enrolling at the Royal College of Art in London, followed by a year at the Delft University of Technology in the Netherlands.
Although she says she avoids an identifiable design style, her keen focus on the relationship between different material elements translates across all projects, most notably at the recently opened Mott 32, a modern Chinese restaurant created in the basement of a bank in Central. Here, inspiration was derived from the Chinese convenience store of the same name that opened in 1892 in New York and went on to become the nucleus of the city's Chinatown.
The restaurant's interiors exude a luxurious industrial sensibility with concrete walls, hand-embroidered furnishings and bespoke lighting.
"I like the industrial style, but the industrial quality has to come with luxury," Wang says. "We always focus on what you can touch immediately around you, like leather chairs and door handles. It is worth spending on things that you touch."
Wang's portfolio of built and upcoming projects includes Hay Market, a contemporary restaurant at the Jockey Club's Sha Tin racecourse, designed to attract a younger clientele.
Residential projects include a three-storey penthouse in Xintiandi, Shanghai, with architectural finishes including wood-grain-etched concrete, Corten steel and walnut timber walls, together with antique light fixtures and an elegant spiral staircase that is pure Wang.
Meanwhile, for Seymour Residence, a show flat at 9 Seymour Road, Mid-Levels, she imprinted her style with hand-crafted Venetian Marmorina plastering, a 1960s 16-light chandelier by Robert Sonneman and a sculptural steel chair by Parisian artisan Patrick Naggar.
Wang is currently designing residences for Mandarin Oriental in Bangkok and a restaurant for Drawing Room Concepts at PMQ (Police Married Quarters) in Hong Kong, and will complete a Ritz-Carlton penthouse project in Singapore at the end of 2015. She is also designing a new range of lighting.
Having found success at a relatively young age, Wang says hers has been a steep learning curve. "But that is the fun of being a smaller studio," she says.
"We do everything ourselves and that makes it a very cohesive experience. For the moment I want to be able to answer every single question about the smallest detail on our projects."
This article appeared in the South China Morning Post print edition as: Rising star Wang flies the HK flag for small studios