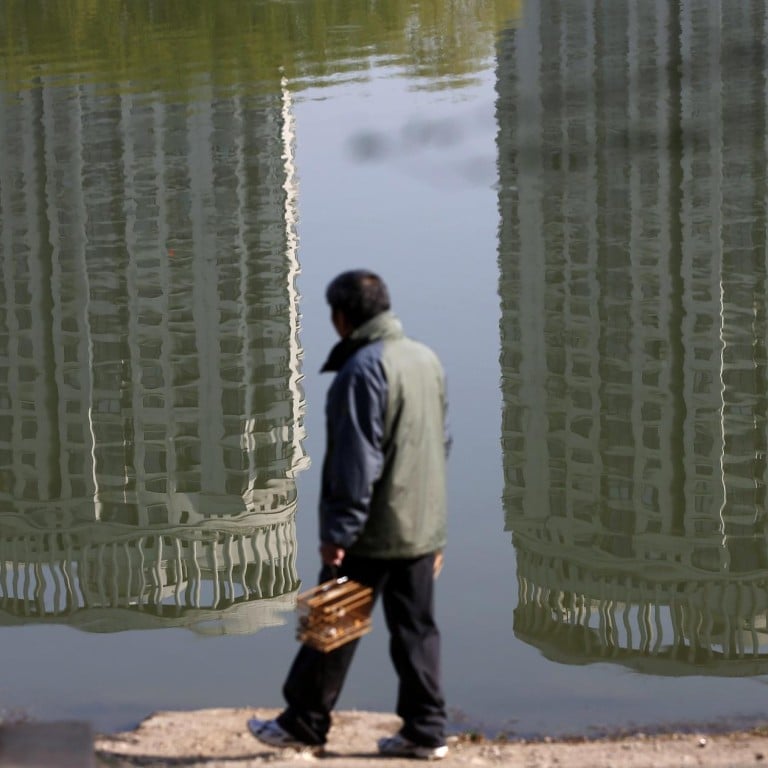 China's property developers' default risk poses funding threat
Moody's warns collapse of Zhejiang Xingrun Real Estate will have consequences for mainland developers' ability to raise funds
The risk that more mainland property developers will default after the collapse of Zhejiang Xingrun Real Estate will make it harder for them to raise funds just as home sales cool, Moody's Investors Service said.
The builders have issued US$500 million of offshore yuan or US dollar bonds this month, compared with US$1.6 billion in the same period last year and a record US$9.2 billion in the first quarter, data compiled by Moody's show. The price of property securities, which account for 32 per cent of a Bank of America Merrill Lynch index of China dollar bonds, slumped 4.9 per cent in the past year, paring their returns to 0.9 per cent. That compares with a 1.6 per cent total gain for US dollar bonds globally, according to Bank of America.
"Investors are concerned certain developers will go into more defaults," said Franco Leung, an analyst at Moody's, predicting a drop in developers' offshore debt issuance in the coming six months. "While China's economy is slowing, there will be stress on companies with weaker credit profiles."
The world's second-largest economy expanded 7.4 per cent in the first three months, the weakest pace in six quarters.
Property sales in the first quarter fell 5.2 per cent from a year earlier and the floor space of new property construction dropped 25.2 per cent, statistics bureau data showed on April 16.
Samson Lee, head of debt capital markets at BOC International, a unit of Bank of China in Hong Kong, said investors were still interested in property bonds, even though they have become more selective after the collapse of Zhejiang Xingrun. "Some good names still can issue bonds," Lee said. "But it will be difficult for some lower-rated companies to sell."
Poly Real Estate Group sold US$500 million of five-year bonds this month at a yield of 5.25 per cent. That compares with a coupon rate of 4.5 per cent in similar-maturity paper issued in July last year.
Yield premiums on US dollar debt sold by mainland borrowers have risen 31 basis points this year, according to JP Morgan Chase. Six of the 10 worst Chinese corporate bond performers in the past month are property notes, data shows. Renhe Commercial's 2015 bond recorded an annualised loss of 24 per cent, the data shows.
Onshore benchmark borrowing costs have risen, with the yield on China's five-year sovereign note climbing 87 basis points over the past year to 4.01 per cent. The premium investors demand to hold similar-maturity AA corporate securities increased 38 basis points to 293 basis points.
Wang Ying, an analyst at Fitch Ratings, said there might be more property defaults, including loans, trust financings and bonds, for the rest of this year and possibly into 2015. She said developers' total offshore note issuance in 2014 may fail to exceed that of last year.
"If there is an increase in the outbreak of credit events, including defaults in the property sector, offshore investors' demand may decline," said Wang.
Moody's forecast growth in mainland property sales in 2014 will be "significantly" down from the 27 per cent in 2013.
This article appeared in the South China Morning Post print edition as: China's developer default risk poses funding threat