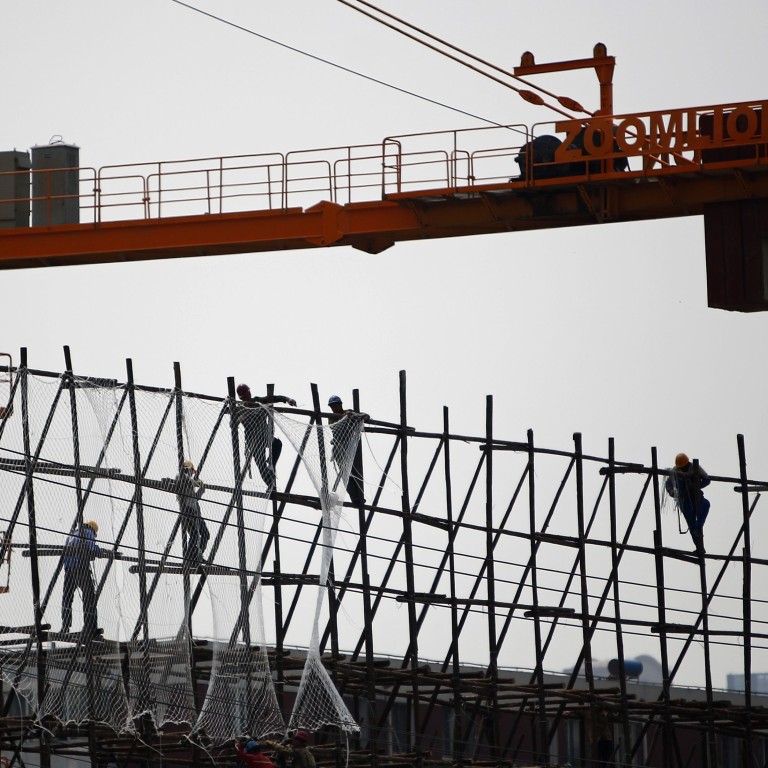 Opinion
Concrete Analysis
by Gerard Burg
Concrete Analysis
by Gerard Burg
Potential home price correction would have broad impact on economy
Amid the collapse of Zhejiang Xingrun, risks are seen more related to the development side than the household side
Concerns about China's residential property market have existed for several years, with many observers describing it as a bubble.
Fears have increased recently with the high-profile collapse in March of Zhejiang Xingrun, an unlisted private developer.
There are varying views on the property sector, and we see risks being more related to the development side - which flows into concerns about local government debt and shadow banking - than the household side.
As a result, a correction in property prices could have a significant impact on the broader economy.
The property sector is not a single entity. Official data shows there are 160 mainland cities with a population of more than one million, and conditions across the country are vastly different.
The biggest concerns appear to be in tier-3 and tier-4 cities - which are smaller and often lack detailed data on prices and sales. These cities also had two-thirds of construction activity last year, according to Nomura.
We are less concerned about risks on the household side because of the characteristics of mainland homebuyers.
Normally, when a property bubble bursts, there is a rapid liquidation of housing - which can place further pressure on prices and trigger foreclosures.
However, the initial deposit for mainland homebuyers is unusually high - at about 30 per cent for first homes and typically 60 per cent for additional or investment properties. In many cases, investment properties are bought without a mortgage.
This could limit the risk of rapid liquidation.
Owing to their strong equity position, households and investors are less likely to be forced to sell.
In contrast, the property development sector is highly fragmented and would benefit significantly from some consolidation, posing short-term risks.
Official data shows there were about 90,000 real estate companies in 2012, although CBRE estimates there are only 30,000 "true" developers (many firms are created to develop an individual project), a number that is still remarkably high.
Funding for the developers has been challenging in recent years, partly in response to government efforts to cool the sector. In 2007, the authorities ordered banks not to provide loans to developers for land purchases.
Despite tightening credit requirements, bank loans to developers have continued to grow - rising to 4.6 trillion yuan (HK$5.7 trillion) at the end of last year.
Developers have also turned to shadow banking and foreign bond markets to finance new projects. The average debt ratio last year for the country's top 500 developers was at its highest level in five years.
An increasingly difficult market resulted in the ratio of cash flow to debt for these firms falling to minus 5.7 per cent (compared with plus 15 per cent in 2012), according to the China Real Estate Association - indicating the risk of further defaults.
The recent default of Zhejiang Xingrun should not affect larger developers too heavily - as they have multiple channels of funding, stronger liquidity and geographical diversity - but could increase pressure on smaller competitors (particularly those relying on shadow banking).
Further defaults are likely at the smaller end of the sector - and this, combined with weaker markets, may affect construction levels and demand for new land and, by extension, put additional pressure on local government debt.
One of the potential risks associated with a sharp slowing in residential construction could be the impact on local government finances.
Receipts from land sales are the main source of repayments for local government debt - which has grown rapidly over the past five years - meaning the capacity of local governments to service debt is closely related to how real estate markets perform.
This implies a greater level of risk associated with a correction in Chinese property markets than would be the case in other countries. It also highlights the need for reform in the funding relationship between the central and local governments, to provide for more reliable, transparent and predictable income.
There are some clear risks to residential markets - reflecting tighter financial conditions and weaker sentiment - however, the uncertainty from data quality means identifying the true state of the market is challenging.
We believe that there is a potential for a correction in house prices this year. However, because of the structure of mortgages and the comparatively high level of equity in homes, a severe fall would be necessary to trigger the large-scale liquidation of properties (the "bursting of a bubble").
That said, weak conditions in the residential market could have a major impact on construction and demand for land and therefore affect the revenue generated by local governments.
This could lead to increased concerns about local government debt and shadow banking - a key lender to governments and developers.
Given the importance of residential investment as a share of gross domestic product in recent years, a major slowing in the sector would also make this year's GDP growth target of 7.5 per cent more challenging. Our forecast remains at 7.3 per cent.
This article appeared in the South China Morning Post print edition as: Price correction may have wider impact on economy