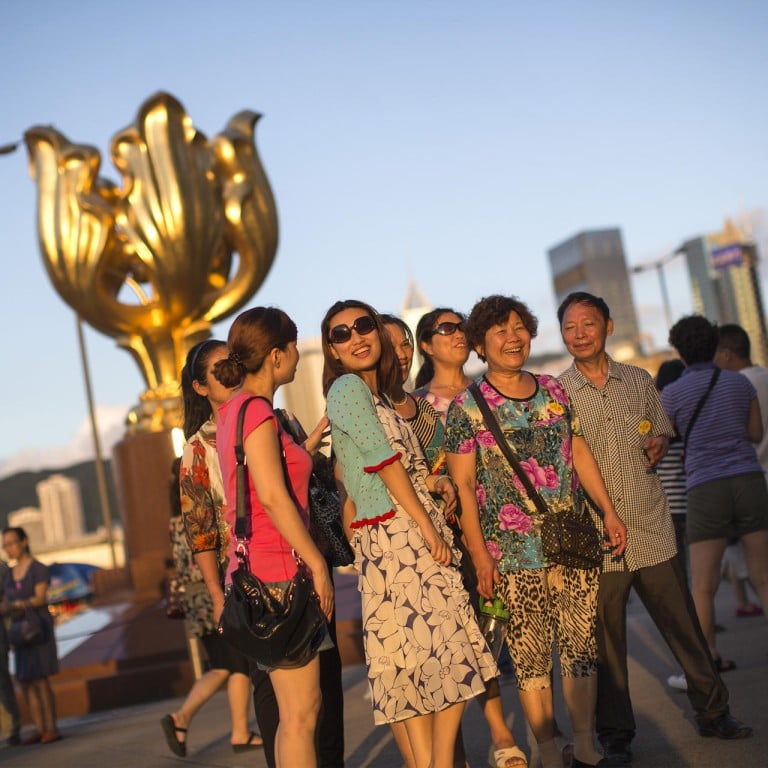 Plateauing of mainland China visitor numbers hits Hong Kong hotels
Magnificent Estates says business is not as good as public thinks, with bookings at its properties down sharply during the Labour Day holiday
Last year's double-digit percentage growth in the number of mainland tourists had a limited impact on the hospitality industry. However, the decrease in their numbers this year poses a challenge to the business, hoteliers said.
"There is a very sad misunderstanding that the hotel business is booming and the city is facing a shortage of hotels and strong demand for guest rooms," said William Cheng Kai-man, the chairman of Magnificent Estates, a hotel developer and operator targeting the mid-range and economy market. "But actually, the business is not as good as the public thinks."
Figures from the Hong Kong Tourism Board show that overnight visitor arrivals grew 8 per cent to 25.66 million last year.
The growth came largely from the 13.1 per cent increase in mainland tourists.
Arrivals from other short-haul markets dipped 0.5 per cent. Those from long-haul markets fell 3.4 per cent.
However, the average hotel occupancy rate stayed at 89 per cent, while the average room rate dropped 2.8 per cent.
Results reported recently by some hotel operators show that although arrivals increased significantly, that had little impact on their business.
The occupancy rate of five hotels owned by Regal Reit edged up to 90.2 per cent last year from 90 per cent in 2012, but the average room rate dropped 1 per cent.
Langham Hospitality Investments' three hotels in the city reported an average of a 1.4 percentage point increase in occupancy rates, while room rates rose 1 per cent.
"The sharp increase in arrivals being driven by mainlanders is not necessarily helping luxury hotels," said Frank Sorgiovanni, a vice-president of research and strategic advisory for Asia in the hotels and hospitality group at property consultancy JLL.
"Mainlanders seek budget and economy hotels in Hong Kong, and those that can afford much higher room rates are now seeking alternative travel destinations in the US and Europe."
Cheng said: "The business environment is getting more challenging this year."
He forecast occupancy and room rates would drop this year given the industry's disappointing performance in recent months.
Hotels mainly targeted mainlanders this month because of the Labour Day holiday at the beginning of the month.
But Immigration Department figures show the number of mainland tourists dropped 1.5 per cent year on year during the three-day national holiday.
It is the first time those visitors decreased during the holiday since the introduction in 2003 of the individual visit scheme, which allows mainlanders to visit Hong Kong without joining tour groups.
"There are fewer mainland tourists, as the mainland economy is still affected by a credit squeeze and the yuan's recent depreciation," Cheng said. "The anti-corruption campaign and the recent protests in Hong Kong against mainland visitors also led to a fall in arrivals.
"Bookings at our hotels are about 50 per cent this month, 10 [percentage points] less than a year ago."
He said the situation would improve when the mainland economy recovered and the yuan resumed its appreciation.
As regards visitors from overseas, Cheng said April and October were the traditional peak seasons for the hotel industry as trade fairs on the mainland and in Hong Kong would draw many foreigners to the city.
"But the hotel business in April was disappointing. There were fewer travellers and they stayed for a shorter period," he said. "I think it is related to the mainland's weakening exports, and the global economy has yet to recover."
Cheng said he expected the industry to report a 5 per cent fall in revenue last month.
However, Sorgiovanni said there would be no change in occupancy rates this year.
"Hong Kong's luxury market experienced a challenging year in 2013 based on hotel trading performance. The outlook is positive for mid-scale and economy hotels while the luxury market is expected to record minor growth," he said.
"Despite some headwinds in Asia's economy overall, the US and European economic recovery bodes well for the health of corporate demand in Hong Kong, although weak activity in the finance industry is likely to [affect] demand in the luxury hotel segment.
"Leisure demand is expected to be supported by inbound tourism from mainlanders, and this will drive market-wide hotel performance."
This article appeared in the South China Morning Post print edition as: Hotels hit by fall in visitors from mainland