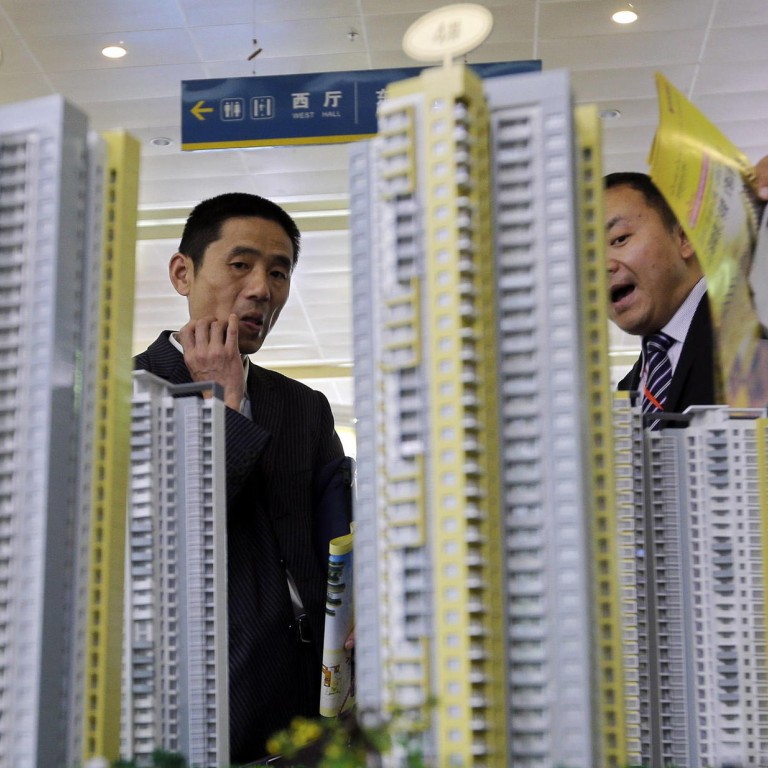 China banks urged to give first home buyers priority
Central bank's move comes after property sales fell in the first four months from a year earlier
The mainland's central bank called for the speeding up of mortgage loans in a statement issued hours after official data showed a deepening contraction in property transactions last month.
The People's Bank of China had a meeting with 15 major lenders on Monday and urged them to "approve and grant mortgage loans to qualified persons in a timely manner", it said, adding that first home buyers should be given priority for loans and that rates should be set at a reasonable level.
The statement came after the National Bureau of Statistics said property sales dropped 6.9 per cent in volume and 7.8 per cent in value in the first four months from a year earlier as a downward spiral seen in the first quarter accelerated.
Edison Bian, a research head for China property at UOB Kay Hian, said the latest central bank move on mortgage loans would have a limited impact but it marked the beginning of loosening credit.
"The general outlook for the property sector is still neutral, with most of the uncertainties and risks priced in the current valuations," Bian said, adding that major upside factors could be a loosening of credit and relaxation of property controls.
The property stock sub-index closed up 1.84 per cent in Hong Kong yesterday, following Monday's rise of 3.08 per cent. The rise in mainland-listed property shares was milder at 0.94 per cent after gaining 1.08 per cent on Monday.
The statement did not mention any change in loan policies to developers. Mainland banks generally confine their lending to a few select developers on lists that have shortened since late last year as downside risks increased.
Data from the statistics agency showed property sales in the residential sector contracted even more sharply, with volume down 8.6 per cent and revenue 9.9 per cent lower in the January- April period from a year earlier.
"Home-buying sentiment is negative, and local, uncompetitive developers will be forced out or merged with strong, well-managed developers," the global Fitch Ratings agency said in a report yesterday. "The restructuring is caused by tighter onshore funding and weak demand in some lower-tier cities."
Data from the central bank showed trust loans, a major source of funding for small and medium-sized developers, fell to 41.7 billion yuan (HK$51.8 billion) last month, from 194.2 billion yuan a year earlier, after a massive year-on-year reduction of 544.2 billion yuan in the first quarter.
"As the traditional growth engines of exports and the property market are losing steam and new drivers of growth have yet to emerge, we must pay high attention to potential risks and have yet to make further breakthroughs in a few key and difficult areas of economic restructuring," the central bank said in its first-quarter monetary report.
Mainland property investment, which affects dozens of other industries, grew 16.4 per cent in the first four months from a year earlier, slowing from a rise of 16.8 per cent in the first quarter, the statistics agency said.
Unsold property totalled 526.5 million square metres by the end last month.
This article appeared in the South China Morning Post print edition as: Lenders urged to give first home buyers priority