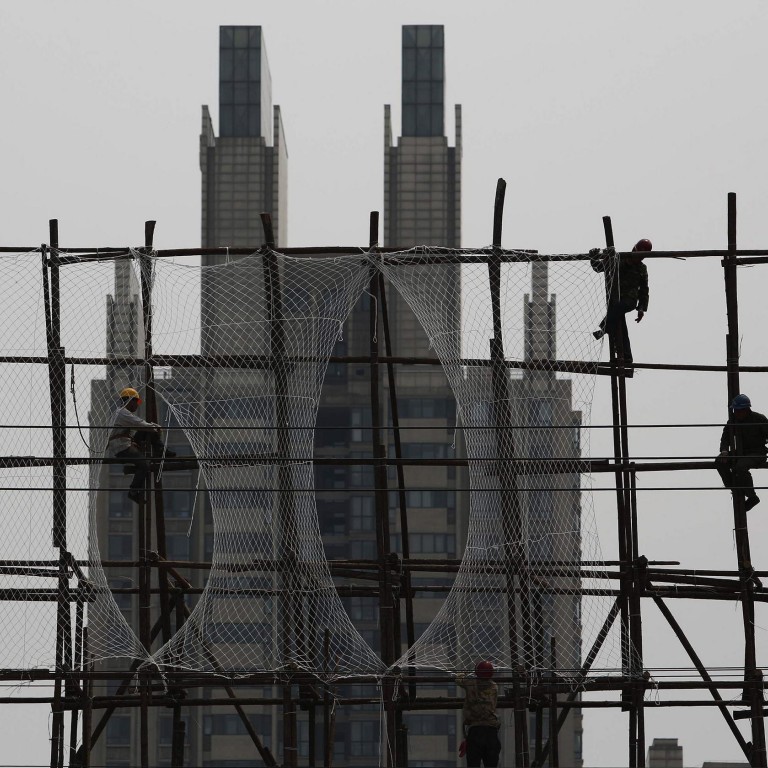 China to manage troubled property sector at local level
Central authorities will put the onus on regional officials to deal with the sector as it seeks to prevent an abrupt slowdown or surge in prices
China will increasingly manage its troubled property sector at a local level as it seeks to avoid sparking either an abrupt slowdown that undermines the economy or another surge in prices, say government economists involved in policy discussions.
After increasing at double-digit rates for most of last year, home prices started cooling in late 2013 as a sustained campaign to clamp down on speculative investment and easy credit gained traction.
Annual growth in average new home prices slowed to an 11-month low in April, official data showed on Sunday. Existing home prices dropped from a month earlier in 22 of 70 cities in April, compared with 14 in March.
Data last week showed property sales dropped 6.9 per cent in the January-April period from a year earlier in terms of floor space, and fell 7.8 per cent in terms of value.
Authorities know a severe property crunch could worsen a build-up of debt, but also that a blanket easing of restrictions could set off another round of credit-fuelled house price rises.
"There is no sign that the central government will relax property controls on a nationwide scale even though the economy is slowing," said Zhao Xijun, deputy head of the Finance and Securities Institute at Renmin University in Beijing.
"The pressure is mainly on local governments, because some of their debts are maturing and they need to repay."
Local governments rely heavily on revenues from land sales to fund debts that official data show total 17.9 trillion yuan (HK$22.5 trillion). Therefore, price falls and slowing sales have sparked concerns about their ability to service their debts.
The economists expect restrictions on property introduced over the past five years to largely remain in place, particularly in major cities, but with some local authorities given leeway to support their markets.
Some smaller cities, including the eastern city of Tongling in Anhui province and Ningbo, the coastal city of eastern Zhejiang province and the southern city of Nanning in Guangxi, have started to loosen home purchase rules.
Back in 2012, Beijing forced governments in areas including Wuhu, Foshan and Chengdu to retract plans to ease controls on real estate, but there has been no such response this year.
"They [policymakers] are still watching. Property prices have started to fall but they still don't see any serious problems," said a senior economist at a government think tank in Beijing.
"The bottom line is that a property slowdown doesn't trigger financial risks," said the economist, who spoke on condition of anonymity.
The cooling real estate market helped drag annual economic growth to an 18-month low of 7.4 per cent in the first quarter, and a sustained fall would risk the government missing its economic growth target for the fist time in 15 years.
Standard Chartered said official figures showed 17 months stock of flats in tier-one to tier-three cities.
"The momentum is clearly negative. This downturn appears worse than previous episodes - the scale of oversupply is likely to be larger, and policymakers are understandably more hesitant to step in with immediate support," Standard Chartered economists said in a report.
This article appeared in the South China Morning Post print edition as: Local governments set to take on burden