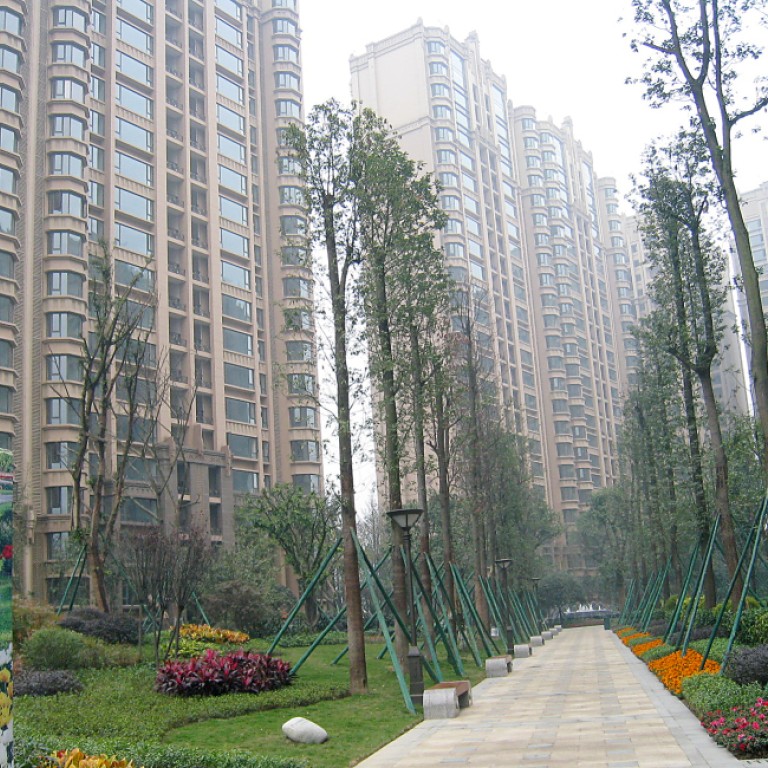 Property market riskier, but crisis not on the cards, dealmaker says
Real estate fund manager Greg Peng is confident that the mainland's property bubble will not end in bust, but says falling sales mean developers' ability to raise funds is getting tougher
Greg Peng, who left Merrill Lynch in 2011 as the managing director overseeing its real estate business in Greater China, is looking back to the United States, where he joined the bank a decade earlier.
China's property boom in the past decade helped build his reputation as a deal maker in the industry. However, investment in mainland real estate has become riskier as the once bubbly market starts to cool down.
So, Peng, who started his own property fund, is looking farther afield.
Q: In 2012, you rightly predicted that the central government would relax policies in the second half. This time, what is the outlook for policy, in your opinion?
A: Back then, the property market was still under the influence of the former government. But now, it's not clear whether this government will continue to inject liquidity to stimulate the housing market.
The central bank's recent move [urging lenders to speed up mortgage loan approvals] is a signal in the same direction. It seems really hard for China to walk away from this policy cycle.
Q: How deep do you expect the current downturn to be?
A: Developers are facing much bigger pressure to sell their products this year [than in 2012]. This time, home supply is overly large, particularly in third- and fourth-tier cities, but also in some second-tier cities, such as Hangzhou [in Zhejiang province], Chengdu [in Sichuan] and Shenyang [in Liaoning].
This downturn is not caused by the government's property control measures, but rather the supply-demand dynamics of the market itself. Developers are most worried about tightening liquidity, because that will squeeze them from both ends – loans and sales. And their leverage is at historically high levels, too.
However, if liquidity is still there, everyone will be able to survive. This is a self-supporting cycle that China must break.
As long as there is liquidity, money will flow to the real estate sector, because people have few investment options, and they need to hedge against inflation. The negative result is ever-rising home prices, and it is becoming uncontrollable.
Many big developers are now competing to buy land in first-tier cities, because they are regarded as safer. But I'm afraid that may prove to be wrong. The purchasing power may turn out to be much weaker.
I doubt whether they can sell all these expensive projects when construction is completed.
Finally, China's production overcapacity is extending to the residential development sector.
Q: So, do you think the property market is going to collapse?
A: I don't think the current downturn will end up as a big crisis to China, as the government still has a lot of cards in hand. If it were in the United States, we would likely see the bubble burst. But we are in China.
The government will suppress overly fast growth, and it will also give the market a hand in an overly deep downturn. That makes property cycles in China very short.
Given time, the Chinese government will solve the problem [of the housing bubble]. But ordinary people will pay the price.
Q: Are mainland developers broadening their financing channels under the market downturn?
A: As far as I know, there are no new options. Instead, the traditional financing sources are getting narrower. Most borrowers have been unable to repay loans in a timely manner.
This year, banks and trust firms are becoming particularly cautious about lending to developers, and many industry participants told me they were refraining from what they had been doing in the past few years.
China's shadow banking system is massive. Money flows are out of the banking regulator's control. Many developers used to get funds from the shadow banking system.
One big change in 2013 was that small developers could no longer access money from the shadow banking system, as trust firms realised they were taking huge risks in the boom year of 2012. So they only picked top-100 developers in 2013, or lent only to developers in first-tier cities.
We are also becoming more prudent in lending to developers this year. We are concerned they will probably not be able to sell their projects and thus be unable to repay us.
So, everyone is looking for new business lines now. For example, we are seeking outbound real estate investment opportunities now. I'm devoting 80 per cent of my time looking at opportunities abroad.
Q: Have you invested all the money raised in your first fund? How has it performed?
A: Yes. The investment cycle in China is short, often two years. So we are heading for the exits now – and find that we cannot get money back timely in some cases. Some developers we invested in had to raise funds elsewhere to repay us. In one of our investments, which we made in 2012, the developer should have sold half of its projects by now. In fact, construction has not started yet. It was mainly because of slower-than-expected approvals from the government.
This article appeared in the South China Morning Post print edition as: Q&A