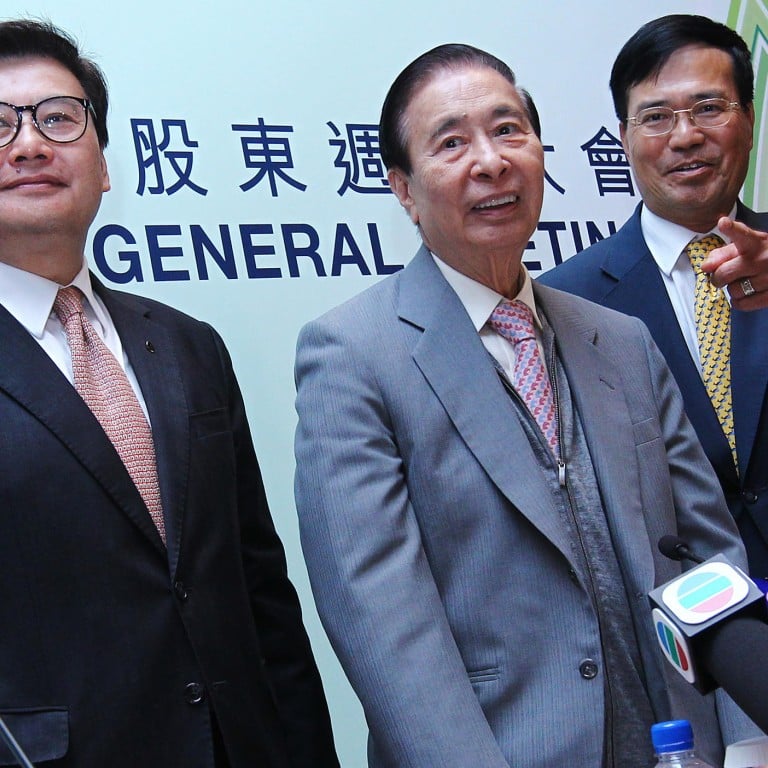 Property stocks are a better bet than property, says tycoon Lee Shau-kee
Henderson Land chairman Lee Shau-kee says buying shares in real estate firms would be a wiser investment than acquiring actual property
Hong Kong's third-richest tycoon, Lee Shau-kee, says property stocks are now a better investment choice for people in the city than real property and that profits from property shares could "double" in two to three years' time.
The Henderson Land Development chairman has previously been touted as Asia's Warren Buffett, although his record as a market predictor is somewhat mixed.
Hong Kong property-related stocks were a clever buy because prices were attractive and there was always the chance of a spin-off, with the payback better than leasing real property, Lee said yesterday at the annual general meeting of Hong Kong and China Gas, known as Towngas, of which he is also chairman.
He acquired US$250 million in five-year senior notes from Guangzhou-based developer Country Garden last month and said it was a good investment.
Towngas said ECO Environmental Investments, a wholly owned subsidiary specialising in new energy businesses, would be its main growth engine.
Managing director Alfred Chan Wing-kin said the contribution of new energy to the company's profit would increase quickly. Last year, it accounted for only 8 per cent of total profit.
"Environmentally friendly energy businesses will grow at a rate from 50 per cent to 80 per cent in the next couple of years," Chan said.
Towngas said it would invest HK$8 billion in mainland projects over the next three years, with most of the investment going into new energy projects that could help reduce pollution.
Chan said the company added seven projects in the first quarter and expanded into Guizhou and Yunnan. He said he expected the urbanisation push on the mainland would continue. "As there will be more buildings and vehicles, demand for natural gas will increase," he said.
The company said the US$400 billion Sino-Russian gas agreement signed by the two nations recently would boost supply in northeast China and it believed there would be a "multiple" increase in consumption in the region.
Chief executive Peter Wong Wai-yee said Towngas had about 20 projects in northeast China and expected its gas supply in the region would reach two billion cubic metres (bcm) by 2017, from last year's 800 million cubic metres. Supply would increase to three bcm once the gas from Russia was delivered, he added.
The Sino-Russian gas pipeline will be able to send 38 bcm of gas a year to northern China from as early as 2018.
Russian gas company Gazprom has promised to drill new gas fields in Siberia and construct a 4,000km pipeline, while China intends to invest US$20 billion in the pipeline.
This article appeared in the South China Morning Post print edition as: Property stock profit to soar, says tycoon