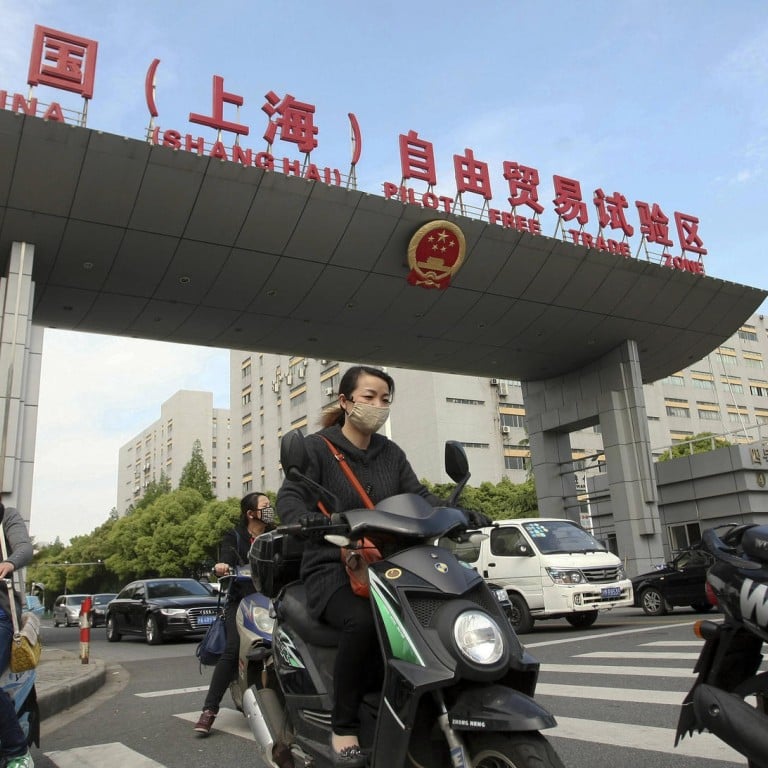 Pause in China's trade zones unlikely to dim mood for pacesetters
Developers in Shanghai and centres earmarked for an FTZ in Guangdong are seen as having little to fear from move to trim queue of city hopefuls
The mainland government's decision to freeze applications for free-trade zones is unlikely to crimp the plans of developers heavily involved in projects in Shanghai and across the thriving Pearl River Delta region.
Concerns over the free-trade zones were raised when Xinhua's magazine said Beijing suspended applications for new FTZs to cool the frenzy among a growing number of cities and provinces seeking the special status accorded to Shanghai last year. More than 20 local governments listed proposals for such zones in their annual work reports this year, with local officials lobbying central authorities, the magazine reported.
Sun Jianbo, chief strategist of China Galaxy Securities, said the central government rejected their applications because some local governments' concept of a free-trade zone is different from that in Shanghai.
"Local authorities just wanted to take advantage of the free-trade zone frenzy to fight for tax preferential status and the establishment of duty-free zones," said Sun, adding the central government aims to use the zone in Shanghai as a testing ground for financial liberalisation.
Analysts do not expect shares of property companies, such as those with investments in economic zones such as Qianhai, will be affected by the government's decision and said other factors could pressure the share prices of property developers.
"There are many reasons to make their prices fall, such as increased property inventory and slow property sales," said David Hong, head of research for China Real Estate Information Corp, a unit of US-listed E-House China.
Financial institutions, property developers and logistics service providers in Guangdong and other provinces were given a shot in the arm when authorities unveiled plans for a free-trade zone late last year.
Sun is confident that with the integration with Hong Kong and Macau, Guangdong will receive the central government's support on financial liberalisation and economic development, regardless of any free-trade zone.
While the mainland is unlikely to accommodate all the free-trade zones being pushed by local governments, analysts expect that a few of them, including in Guangdong, will be approved.
"I am still quite optimistic about the establishment of free-trade zones in Guangdong province," said Caesar Wong Shun-on, a Deloitte China tax partner.
"Their conditions are mature. The region has ports, international airports, and bonded zones," he said, adding many international firms have established a presence there.
The provincial government aims to speed up the development of trade zones in Qianhai in Shenzhen, Hengqin in Zhuhai and Guangzhou's Nansha, which would integrate the province with Hong Kong and Macau. The three special economic zones in the Pearl River Delta have lured hundreds of billions of yuan worth of development plans. Property developers investing in Qianhai include China Vanke, China Resources Land and Kaisa Group.
Wong believes the central government could allow more free-trade zones to be established after the one-year trial of the Shanghai zone. "We may hear some good news by the end of this year," he said.
This article appeared in the South China Morning Post print edition as: Trade zones pause unlikely to dim mood for pacesetters