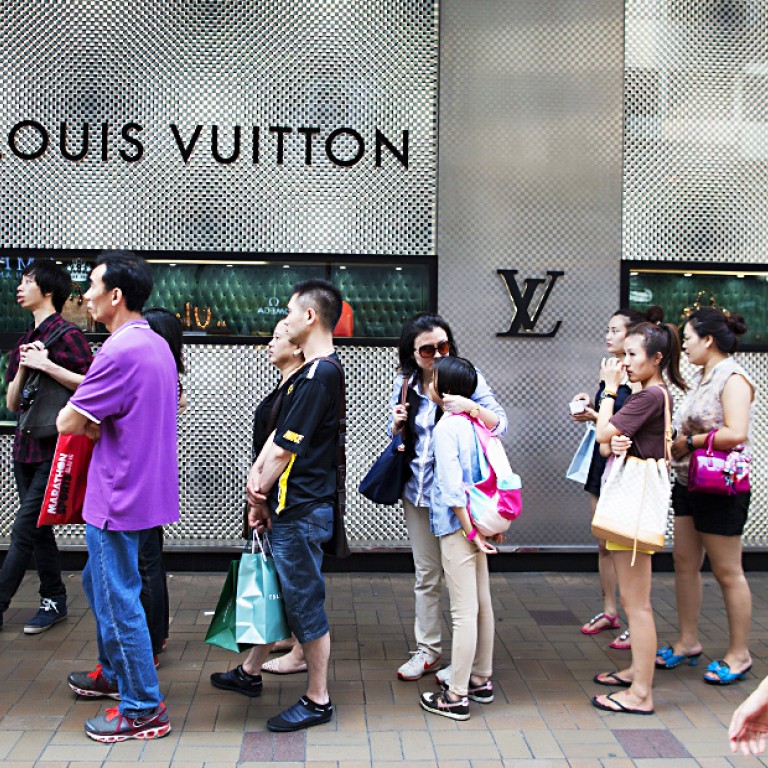 Retailers downsize as luxury sales slump
Firms switch to a conservative approach in their expansion in HK after a change in mainlanders' spending patterns triggers slump in luxury sales
Retailers that target mainland tourists are changing their leasing strategy and downsizing to reduce risk after sales of luxury items fell the most in five years.
Property agents said the race by international brands for mega stores in prime locations at any cost was over.
Pat Wong, senior regional sales director in Centaline Property Agency's retail department, said an increasing number of retailers had scaled down the size of their shops once their leases came up for renewal.
"They downsized their outlets from 500 square feet to 300 sqft but they still opt for prime locations," Wong said.
Given that retailers would be locked into two-year contracts once they signed a new lease, he said they were now taking a conservative approach to expansion.
Leasing activity had declined by 20 to 30 per cent in the past two months, he said.
"You can tell there's been a slowdown in leasing as an increasing number of shops in second- and third-tier locations have remained empty for quite some time," Wong said.
With the retail outlook in Hong Kong remaining murky, Swiss watchmaker Swatch has turned cautious.
It had reportedly signed an initial agreement for a 1,600 sqft street-level shop at Sai Yeung Choi Street, Mong Kok, owned by Tai Hung Fai Enterprise, at a monthly rent of HK$1.54 million.
But Swatch cancelled the contract late last month after retailers became alarmed by a controversial proposal to reduce the number of mainland visitors by 20 per cent. It then decided to lease a 250 sqft shop at a rent of HK$450,000 at Sim City in Mong Kok from the same landlord.
Retail sales in Hong Kong dropped 9.8 per cent in April from a year earlier, their biggest fall in five years, the Census and Statistics Department said.
Data showed the biggest fall was in big-ticket items such as jewellery and watches, plunging almost 40 per cent. Analysts attributed the fall partly to Beijing's crackdown on corruption.
Tony Lo, head of the retail shops division at Midland Realty, said a survey by the firm indicated rental expenses of high-end retail brands had risen to 20.5 per cent of sales in the first half of this year from 19.3 per cent in the whole of last year.
"Instead of chasing after prime street-level shops at sky-high rents, some luxury brands have shifted their strategy to link rents to performance," Lo said.
After adopting this strategy, he said, rental expenses for retailers selling cosmetics fell to 10.5 per cent from 11.4 per cent. "In response to retailers' change in attitude, landlords are offering more room for negotiations."
Lo forecast retail rents and prices could decline as much as 15 per cent this year.
Joe Lin, a senior director of retail services at CBRE, said the days of brands opening several outlets every quarter were gone, and retailers of jewellery and gold accessories had turned quiet in the past two quarters.
Helen Mak Hoi-lun, a senior director at Colliers International, said it was reasonable to expect a correction in retail rents.
"It could be an opportunity for retailers targeting the mass market as mainlanders' spending pattern has changed from luxury items to daily necessities," Mak said.
This article appeared in the South China Morning Post print edition as: Retailers go for smaller shops