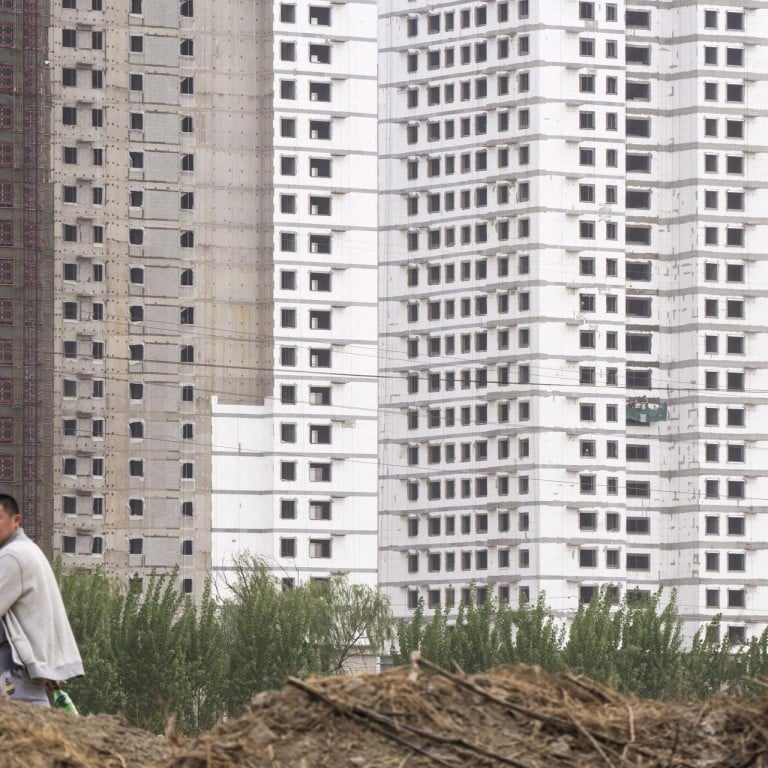 Flood of empty homes exceeds needs of first-time buyers in China
Household survey finds owners are likely to face heavy losses amid increase in vulnerability from mainland slowdown
The mainland's urban home vacancy ratio rose to 22.4 per cent last year from 20.6 per cent in 2011, and the estimated 49 million empty homes are more vulnerable to a slowdown in the housing market, the China Household Finance Survey and Research Centre has found.
Its latest survey shows the number of empty homes far exceeds the centre's estimate of demand for 32.5 million homes from first-time buyers and upgraders.
"Vacant homes are more likely to cause losses and push owners into negative equity once home prices fall," said Gan Li, head of the centre, which is affiliated with the Southwestern University of Finance and Economics in Chengdu, Sichuan province.
If home prices fall 30 per cent, 11.2 per cent of the vacant homes would be a net debt for their owners, against the 3.3 per cent ratio for occupied units, the report said, adding that these unoccupied homes involve outstanding mortgage loans of 4.2 trillion yuan (HK$5.3 trillion).
Private data already points to a drop in the mainland's home prices and analysts said the extent of the housing market correction might hinge on policies to be taken in the next few months.
"The government can't afford to allow the sector to remain weak for a prolonged period given its importance to the economy," said Bei Fu, head of mainland property research at global ratings agency Standard & Poor's.
Her team expects the average selling price to fall 5 per cent this year, compared with a rise of 11.5 per cent last year.
Home ownership on the mainland reached 90.8 per cent last year, much higher than countries such as Britain, Germany and the United States. Also, 18.6 per cent of mainland families own more than one home, showed the survey, which covered 28,000 households in 29 provinces.
"The era of the Chinese real estate industry being driven by first-time homebuyer demand is over," Gan said at a press conference in Beijing. "The market is going to be driven by investment and price-sensitive demand."
The survey also found 28 per cent of families with an adult, unmarried male own vacant homes while 40 per cent of families with incomes falling in the top 10 per cent in cities have empty homes.
The survey found the proportion of urban families wanting to buy their first homes fell to 22.2 per cent in the first quarter of this year, from 24.6 per cent in 2013 and 28.2 per cent in 2011.
Gan said about 20 per cent of respondents in the latest survey are first-time purchasers, down from 48 per cent in 2012 and 90 per cent in 2000. More than 55 per cent of buyers of new homes this year already owned a home, from 43 per cent last year.
This article appeared in the South China Morning Post print edition as: Flood of empty homes beats needs of first-time buyers