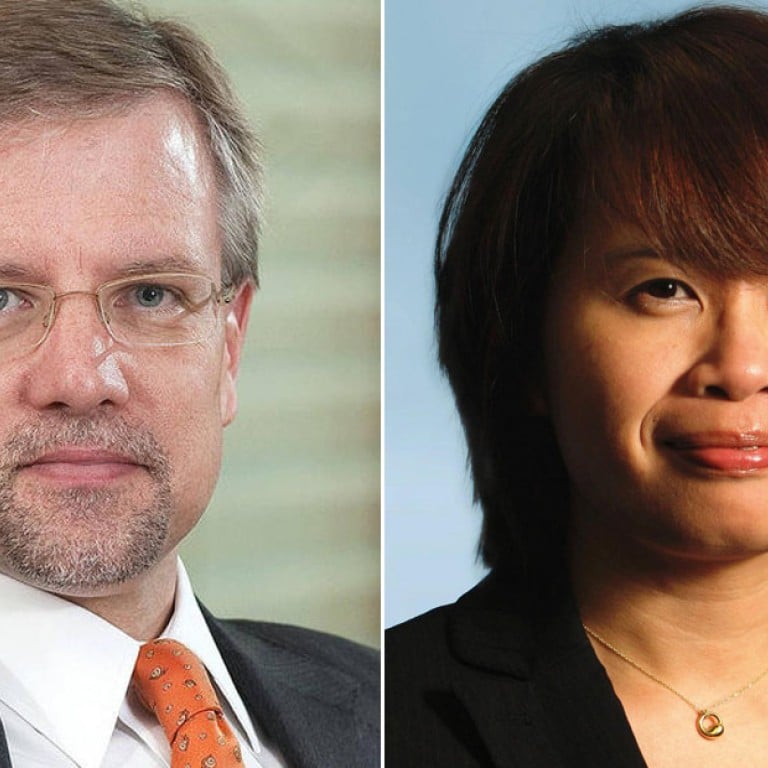 Two sides of the property coin
Opinions are split on China property. Some point to signs of oversupply and predict an epic sell-off, others point to developers' strong profits and say all is okay. Two experts argue opposing views
How worried should we be about the downturn in the mainland property market? Talk of oversupply abounds, as do dire forecasts of a collapse in property investment robbing the economy of its main domestic engine of growth at a time when the external engine is sputtering.
Residential real estate has been an important source of growth in recent years - accounting for almost 13 per cent of GDP. A sustained decline in housing investment would deal a blow to growth.
But collapse seems unlikely in a country where the fundamentals for the property market remain so positive.
The fact that we can talk of a market at all is itself significant: 20 years ago, there was no market for real estate and even today the secondary market is still in its infancy. Recent data has certainly been weak: developers' sales are down 9 per cent year to date, prices are falling in many cities, and new housing starts are down by 25 per cent.
But we have seen this before: in 2008 and 2011, market conditions were worse. And in those cycles, the market worked the way markets are supposed to: faced with oversupply, developers cut construction and prices.
In the mainland's tier-1 cities, price cuts of 20 per cent were enough to clear inventory within a couple of months. And the cutback in new construction? It sowed the seeds for rising prices a year or so later and renewed talk of a bubble. With each cycle, property prices rose more slowly than incomes. Property is becoming more affordable on the mainland as modern housing becomes more available.
To be sure, the background to the property market poses more of a challenge now: income growth is much weaker and buyers have greater opportunities to invest elsewhere. Credit conditions are tighter than they were during past downturns, although quite how tight is hard to measure.
Note that first-time homebuyers face a 30 per cent down payment requirement; investors have to put down 70 per cent.
Indeed, governments have piled on more restrictions on purchases by non-residents and investors in recent years. Where market conditions dictate, the authorities are likely to reverse these constraints. But we do not place too much confidence in policy changes as triggers of a recovery. Instead, the market will recover the way markets normally do - when prices have dropped enough to make investment attractive again.
Even after 15 years, the developers have only housed perhaps one-third of the urban population; the government's subsidised housing accommodates a further one-sixth. The government estimates that apartment blocks have a typical lifespan of about 25 years and census data suggests that already at least one-fifth of the population lives in housing older than that.
There remain millions who want to move into modern, if still basic, housing. At current levels of construction, developers and the state would need eight more years to satisfy this demand.
Add to that the 10 million or so migrants who move into the cities each year - who, while they may not be able to afford to buy, will displace existing urbanites who will want to upgrade - and this unmet demand for urban housing will support current levels of activity and - with rising incomes - rising prices for years to come.
What will today's cutbacks on supply do? Push prices that much higher next year. Markets work. Even in China.
The year 2013 will be remembered as the turning point for the mainland's property market, which has since embarked on a sharp downhill slide. I expect sales by gross floor area in the years through to 2020 to shrink by 36 per cent.
Growth in this market was unsustainable. Consumers spent the equivalent of 11.9 per cent of national gross domestic product buying flats, which is a spectacular number.
Even at the highest point for property-mad Hong Kong in 1997, right before the bubble burst, homeowners were only buying flats at the rate of 9 per cent of GDP.
Financial forces have fuelled the rise of the mainland property market, and these also help explain its current weakness. Mainlanders have had few decent investment options, and so many put their cash in properties. That led to over-investment and a lot of empty flats.
We sent a researcher to kick the tyres in 12 mainland cities last year and discovered a 15 per cent vacancy rate in a survey of 810,000 units completed between 2007 and 2011.
That vacancy rate means about 10 million residential units completed since 2000 are empty. This is equivalent to 5 per cent of the mainland's urban housing stock, and it means 22 per cent of the country's household savings are locked into unproductive assets.
This vacancy rate is set to grow to close to 20 per cent, or about 18 million units, by 2016, when the large amount of units sold in the past three years are completed.
Mr Tan, a 43-year-old taxi driver in Zhengzhou, offers a personal example of how the mainland got into this mess.
Tan is married with a 17-year-old daughter. He owns two properties. The first is a 65 sqmetre unit in the city centre of Jinshui district, bought in 2007 for 200,000 yuan (HK$250,000).
The second is a 91 sqmetre unit, which he bought in a suburb of Zhengzhou in 2009 for 250,000 yuan.
He lives in the city centre unit and bought the second property so he can retire to a bigger apartment in a quieter district in a few years, when his daughter graduates.
Tan bought his first property with his savings plus borrowing from family and friends. He has repaid all his debt.
He bought the second property with a mortgage, borrowing 195,000 yuan. He and his wife together make 10,000 yuan per month. The unit remains unfitted and vacant.
Asked why he left the unit vacant, he said the government was building a road but, until this was finished, the flat was not convenient for living. He expects to move in when he retires, in three or four years. This means he brought forward his demand by nine years! Asked why he bought the flat so far ahead of moving in, he said he wanted to lock in the price, saying the flat would be too expensive for him today.
This logic, although compelling, flips into reverse should property prices drop, as is expected.
A contracting market is not unprecedented in China: between 2005 and 2012, sales by floor area fell 40 per cent in tier-1 cities.
Robust sales in tier-3 cities have kept China's property market buoyant in recent years. However, as vacancy rates climb in tier-3 cities, this last engine of growth will slow too.
A shake-up is coming, when the winners will take all and many, many weaker developers will exit this market.
This article appeared in the South China Morning Post print edition as: Two sides of the property coin