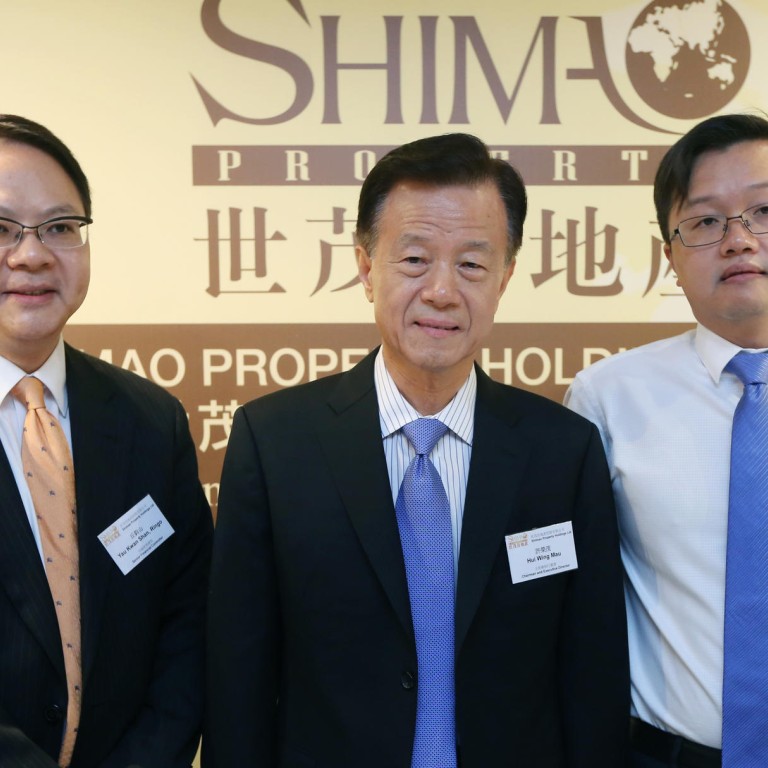 Shimao looks to speed up sales of unsold units in China
Group offers discounts in cities with housing glut in its push to clear 5b yuan worth of stock
Shimao Property Holdings says it will destock half of its unsold units worth 10 billion yuan (HK$12.6 billion) that are carried over from last year and cut prices in cities suffering from a housing glut, according to vice-chairman Jason Hui Sai-tan.
"These unsold units are mostly on the first or top floor and that's why we cannot find buyers even if we put them on the market for more than a year," he said.
Shimao had offered discounts and incentives to boost sales in Hangzhou and Ningbo as the two cities had experienced a surplus of housing, Hui said after the firm's annual general meeting yesterday.
For instance, buyers of the group's New West Lake residential project in Hangzhou were offered a one-year rental subsidy of as much as 12,000 yuan while awaiting delivery. The promotion will last until June 30.
"We have to adopt different price strategies as supply and demand varies in different cities. In cities like Nanjing and Xiamen, prices of our projects have risen by 10 per cent due to the tight supply of new flats," said Hui.
Shimao would only offer incentive schemes for projects with sluggish sales and the gross amount of receivables were less than 5 per cent of pre-sales, he said.
Hui expects home prices in cities with large stockpiles to tumble as much as 15 per cent, while those in other cities to fall 10 per cent. To reduce risk, he said Shimao would slow the pace of construction in Ningbo where it had seven projects.
Although Shimao has reached only 30 per cent of its 80 billion yuan target sales this year, Hui believes sales will pick up as more projects are launched in the second half of 2014. "Our sales will reach a peak in September and October," he said.
Hui said Beijing authorities recently allowed local governments to fine-tune the property curbs and the targeted reductions in banks' reserve requirement ratios had shown signs of helping the ailing market.
The People's Bank of China has cut the reserve requirement ratio for selected banks in the past two months, leaving them with more cash for mortgages and loans. It has also urged banks to speed up the approval of mortgages to first-time buyers.
Shares of Shimao gained 1.3 per cent to close at HK$14 yesterday.
This article appeared in the South China Morning Post print edition as: Shimao looks to speed up sales of unsold units