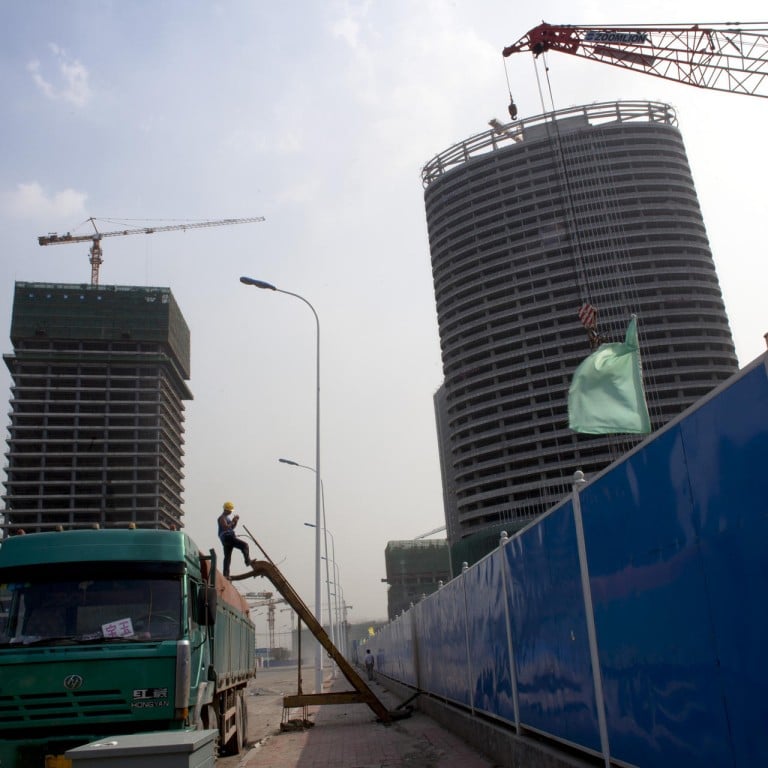 Ghost buildings haunt Tianjin's 'Manhattan' project
Failure to attract tenants underscores the fallout from a record credit-fuelled investment spree
The mainland's plan to build a replica Manhattan is taking shape against a backdrop of vacant office towers and unfinished hotels, underscoring the risks to a slowing economy from the investment boom.
The skyscraper-filled skyline of the Conch Bay district in the Tianjin has no metropolis' bustle up close, with dirt-covered glass doors and construction on some edifices halted.
The area's failure to attract tenants since the first building was finished in 2010 bodes ill across the Hai River for the separate Yujiapu development, which is modelled on New York's Manhattan.
"Investing here won't be better than throwing money into the water," said Zhang Zhihe, during a visit to the area from Hebei province. "There will be no way out - it will be very difficult to find the next buyer."
The deserted area underscores the fallout from a record credit-fuelled investment spree while sustaining growth and jobs. A Tianjin local government financing vehicle connected to the developments said revenue fell 68 per cent last year to an amount that was less than one-third of debt due this year.
"There will have to be a reckoning," said Stephen Green, the head of Greater China research at Standard Chartered.
Sales of bonds by local government vehicles to repay bank loans were just "buying time", he said. "The people will pay" for it through bank bailouts, recapitalisation with public money or inflation.
While a debt crisis was unlikely and major cities like Tianjin could fill vacancies, some credit and assets would go sour, leading to a drag on growth, Green said.
Tianjin saw its economic growth cool to 10.6 per cent in the first quarter from the same period last year, and from 17.4 per cent for the year in 2010. An annual pace of 10.6 per cent would be the city's weakest since 1999.
The government financing vehicle, Tianjin Binhai New Area Construction & Investment Group, said revenue fell to 5.9 billion yuan (HK$7.37 billion) last year, and profit dropped about 37 per cent to 246.6 million yuan.
The company has 20.7 billion yuan of debt due this year.
Tianjin government officials failed to respond to questions.
This article appeared in the South China Morning Post print edition as: Ghost buildings haunt Tianjin's Manhattan