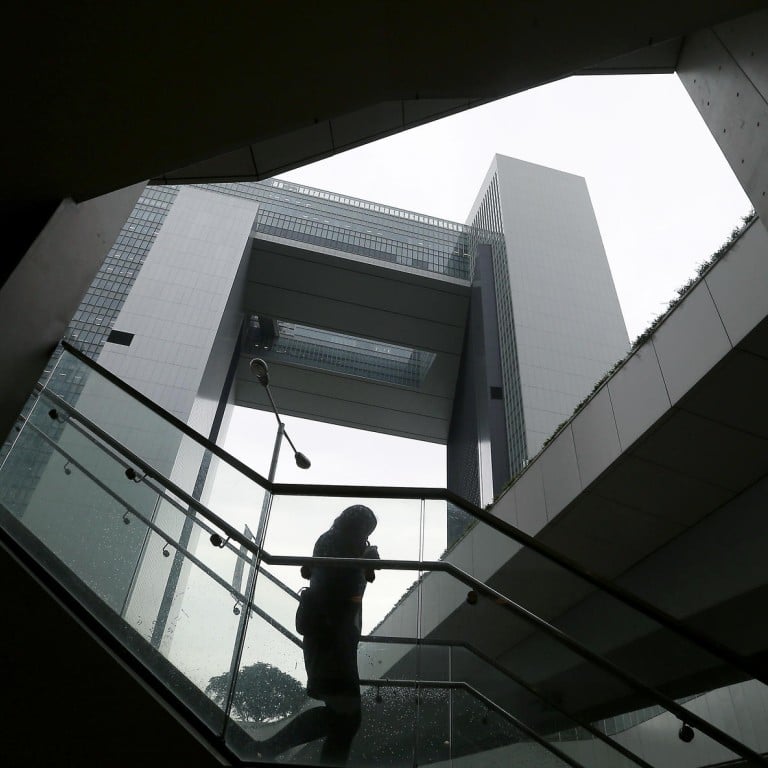 Opinion
Concrete Analysis
by Alnwick Chan
Concrete Analysis
by Alnwick Chan
Land premium uncertainty discourages building of footbridges
No one doubts the benefits of these links, but landlords will remain wary of the costs in the absence of a fairer approach
When it comes to land premium, it is sometimes not just about valuation but also negotiation with the government.
One of the structures that often requires negotiations or causes landlords to hesitate before building is a footbridge connection.
Footbridges that link buildings are open to the public. Since the 1990s, one of the bases for assessing the land premium needed for such features is the enhanced value to the parent lot.
However, it is difficult for the enhancement in value to be quantified, hence the land premium assessed based on it can be astronomically high.
This has deterred many landlords from building footbridge connections.
For instance, the construction of a footbridge may generate an additional 10 per cent in pedestrian traffic passing through a shopping mall. But it is difficult to quantify if the shops can enjoy an increase of as much as 10 per cent in revenue.
Nevertheless, the landlord may be required to pay a land premium derived from the assumption of a 5 per cent increase in land value if it decides to build a new footbridge or connection. But there is another more reasonable alternative, if the government cares about the public benefit that footbridge connections may bring. This "land occupation approach" calculates the land premium based on the area of land occupied by the footbridge. This includes the area of the footbridge erected over highways or government lands, as well as the staircases, escalators or other structures that take up additional government land.
The fewer highway structures the better, as less land premium would be charged and more ground space would be available for pedestrian traffic.
Let's take the footbridge at Harcourt Road, which links to Tamar Park in Admiralty, as an example. At present, the footbridge is not directly connected to Admiralty Centre, but imagine if there were 200 landlords in the building and they all wanted a direct footbridge connection.
The intervening space between the existing footbridge and Admiralty Centre is no more than 6 metres by 10 metres. This means that the shadow area over government land is about 60 square metres or less.
If the land premium were to be calculated based on the land occupation approach, the landlords would have to pay about HK$12 million in land premium, with the assumption that the government land is priced at HK$200,000 per square metre.
However, assuming a total gross floor area of 100,000 sq metres at Admiralty Centre at an accommodation value of HK$180,000 per square metre, a value enhancement of merely 2 per cent would result in a land premium of HK$360 million.
Would a landlord bother to consider a lump sum of HK$360 million as advance land premium hoping that the enhancement in rental income would recoup this investment?
There are plenty of better investment options when one wishes to invest HK$360 million. This example illustrates that there is no commercial market sense to value a footbridge connection based on value enhancement to the parent lot. How likely would the 200 property owners be to accept the need to pay HK$360 million in land premium for building a footbridge even if it would bring extra pedestrian traffic and provide convenience to their tenants?
If the land occupation approach were adopted, property owners in congested areas in Hong Kong would be more eager to make available floor area and space inside their buildings for pedestrian links and internal passageways.
Uncertainty about the land premium required would be significantly reduced, hence surveyors working for private landlords would be more confident in recommending the provision of such public passageways.
Footbridges not only bring convenience but also more pavement space, better ventilation and a reduced heat island effect.
Some land premium cases are used as valuation benchmarks, and the adoption of a certain percentage for enhancement has become the foundation for assessing land premium, disregarding whether there are willing takers in the market.
Land premium is about valuation if surveyors can objectively assess the enhancement involved after building a footbridge. But it is about negotiation when the enhancement is set subjectively, and surveyors do not want to engage in such negotiations without any basis for doing so.
This article appeared in the South China Morning Post print edition as: Land premium uncertainty works against footbridges