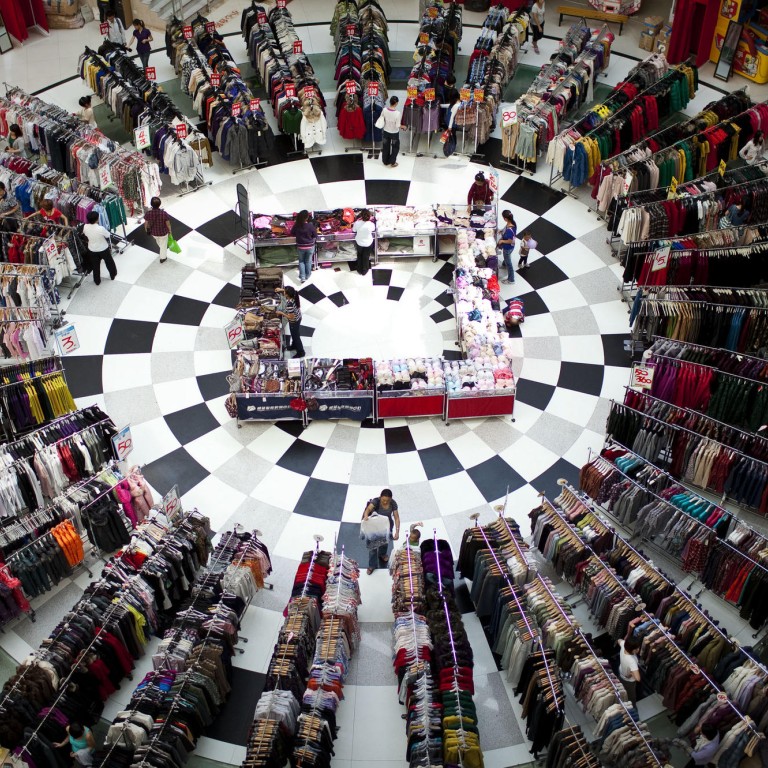 Worse glut in China's smaller cities may be in malls, not flats
An excess of new shopping centres in lower-tier cities faces threat from rise of e-commerce
An oversupply of retail space poses a more serious threat to property investors in the mainland's many third-tier cities than the much-talked-about housing glut, especially as an increasing number of people are buying goods online.
Recent visits to the third-tier cities of Xiamen, in Fujian province, and Yantai, in Shandong province, found both were expecting a flurry of shopping mall openings in the next three years that will shake up the local retail landscapes, now dominated by department stores.
While the housing markets in many other third-tier cities are coming off the boil, Xiamen is experiencing the mainland's biggest home price rises owing to strong demand from the Taiwanese across the strait and people from rich neighbouring cities.
Meanwhile, the housing market in Yantai is expected to land gently, as the market has mainly been driven by local end-users and prices have not increased much in the past few years.
But the outlook for the commercial property market in the two cities is much dimmer.
"Existing shopping centres are facing serious challenges from a large supply of new ones, as well as e-commerce," the Urban Land Institute said in a report last month.
It said the mainland's commercial property inventory would take much longer to digest than its residential space.
In Yantai, more than half a dozen new projects will be opened by developers including Wanda, China Resources Land and Longfor Properties.
Mainland developer Cofco Land opened Joy City, Yantai's first shopping mall, earlier this month, sparking rare traffic jams as tens of thousands visited to see about 150 global and Chinese brands debut in the city, including H&M, Zara and Gap.
Local shoppers had previously been limited to the city's New World and Aeon department stores.
Xiamen will have up to 750,000 square metres of new retail space in prime locations in the next three years. Upcoming shopping malls include Shimao's Strait International Centre, W Square by Avic and Zijin Mining, Paragon Centre Two by Paragon International, and C&D Group's Jianfa Centre.
"We will see a dramatic change in the retail landscape next year, as more international brands will be brought in by the new malls," said Apple Pan Yumin, general manager of DTZ in Xiamen. "Shopping malls here still lag behind what we see in first-tier cities."
The 126,000-square-metre SM City, which opened in December 2001, is Xiamen's most popular mall at present, but most of its 500-plus tenants are home-grown brands.
Research by global consultancy CBRE found the world's top four fast-fashion chains - Uniqlo, H&M, Zara and C&A - are quickening their penetration of small mainland cities.
They opened 59 shops in third-tier cities from June last year to March this year, compared with 24 new shops in first-tier cities during the same period.
For property developers, the biggest challenge will be how to differentiate their projects, as about 90 per cent of new commercial property supply on the mainland will be shopping malls in the next few years, according to mainland consultancy Insite China.
The mainland's retail market used to be dominated by department stores, but malls started appearing more than a decade ago in first-tier cities such as Beijing, Shanghai and Shenzhen. The trend is now spreading to third-tier cities.
At the same time, e-commerce is becoming more popular, posing a threat to local retailers. Online shopping totalled 1.85 trillion yuan (HK$2.33 trillion) last year, up 47 per cent from a year earlier, while retail sales of consumer goods rose 13.6 per cent year on year to 20.9 trillion yuan.
Hong Kong and Singapore's cooling measures turn around home price surges
Take a look at the world's dizzying surges in the price of housing for 12 months at the end of June: London, up 20 per cent. Manhattan, 18 per cent. Sydney, 15.4 per cent.
Then there are Singapore and Hong Kong: down 3.7 per cent and 0.6 per cent.
Prompted by concerns over potential property bubbles and affordability, the governments of the two cities have been reining in home prices by imposing cooling measures including mortgage caps, taxes on property flippers, and levies on foreign buyers as high as 15 per cent.
"Hong Kong has successfully cooled down the market in terms of transactions and turnover," said Raymond Yeung, senior economist at Australia & New Zealand Banking Group in Hong Kong. "Singapore has been more effective."
So could New York, London and other global cities facing soaring housing prices pull off the same act? Not really.
Singapore and Hong Kong have governments with policymaking power over their entire geographic areas, where they are relatively free of political opposition from neighbourhood groups or councils.
That allows them to implement decisive policy measures. For example, in January 2013, the Monetary Authority of Singapore cut the mortgage ratio allowable on purchases of second homes while more than doubling minimum down payments from 10 per cent to 25 per cent. The banks had no choice but to follow.
"Imagine doing something like this in the US where there are 7,000 banks and many regulators," said Sumit Agarwal, a professor in economics, finance and real estate at the National University of Singapore. "It's a nightmare from the policy point of view and would be impossible."
Hong Kong and Singapore have not shied away from using taxes to discriminate against foreign buyers - something other locales have yet to do.
Non-permanent residents in both cities are subject to an additional 15 per cent tax when they buy property, except in Singapore where Americans are exempted.
The British government has tried some measures. After it increased the stamp duty to 7 per cent on high-value properties in March 2012, price increases for homes valued from £5 million (HK$65.7 million) to £10 million slowed from 9.7 per cent to 5.8 per cent in the subsequent year.
Least likely to be deterred are well-heeled buyers from Russia, the Middle East and Asia looking to park their money in fashionable London neighbourhoods, the ones who have helped drive up the prices, said Matthew Pointon at Capital Economics in London.
Hong Kong remains the world's most unaffordable housing market, with a median home price 14.9 times gross annual median household income, according to a survey by US-consulting firm Demographia. Singapore was given the survey's highest ranking, "severely unaffordable."
Ultimately, markets may play a greater role in solving the problem of rising prices once global interest rates start rising. At that time, said Yeung, "the global housing bubble, or boom, will come to an end."
This article appeared in the South China Morning Post print edition as: Mainland property glut to be in malls, not flats