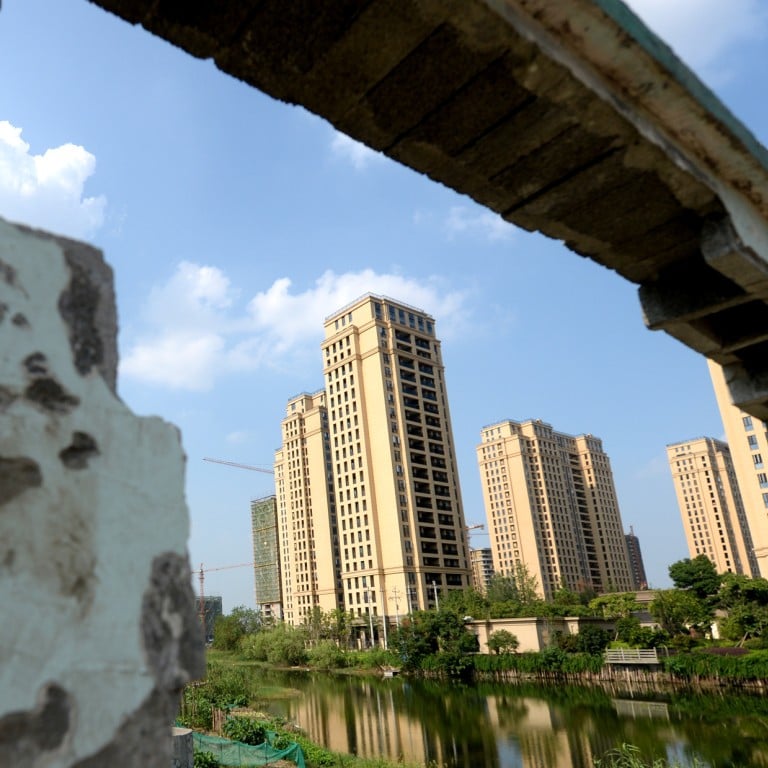 China home price decline accelerates despite easing of buying curbs
The pace of month-on-month declines quickens, leading surveys show, even as an increasing number of cities loosen purchase restrictions
Home prices on the mainland fell last month at a faster clip than June, while year-on-year gains continued to ease, two private surveys showed yesterday.
The findings indicate the property market downturn is still deepening, although numerous cities relaxed purchase restrictions in recent weeks.
The average home price across 100 major cities tracked by the China Index Academy, the country's largest private provider of real estate data, fell for the third straight month to 10,835 yuan (HK$13,600) per square metre, down 0.81 per cent from June, when it dropped 0.5 per cent from May.
A wider index measuring home prices in 288 cities, including smaller ones, monitored by rival consultancy E-House China, fell for the fourth consecutive month to 1,095.8, down 0.13 per cent from June, when it declined 0.06 per cent from May.
In order to ease the housing glut, more than two dozen cities have loosened home purchase restrictions so far this year, enabling local and non-local residents to buy more homes.
"It will stimulate transactions in the short term," the academy said as it released the data. "But it will not fundamentally reverse the trend of mounting inventories. The keys for a market recovery will be more financial support, bigger discounts and a turnaround of buyers' expectations."
This week marks a change in mainland cities' tactics as Hangzhou, the capital of Zhejiang province, announced the relaxation of purchase restrictions publicly on Monday. Other cities have followed suit, including Wenzhou and Ningbo in the same province, and more cities are expected to do so in the next few weeks. Most cities had previously shied away from publicity, quietly loosening the restrictions.
The shift came after the new housing minister, Chen Zhenggao, told officials last month to try their best to reduce housing inventories as a priority for the second half of the year. At the current pace of sales, some cities will need up to three years to sell down their housing stocks.
The academy's latest data showed home prices fell in 76 of the 100 cities last month, up from 71 in June.
The top 10 cities, including Beijing and Shanghai, suffered faster falls than the national average, as developers there increased sweeteners and deepened price cuts, it said.
"In medium-sized to large cities, information is more transparent, and big developers are more sensitive to market reactions," the academy said.
However, according to E-House data, Beijing escaped a price fall last month. Home prices rose 0.64 per cent from June instead.
Both surveys showed average home prices were still rising year on year, but at a slower pace.
They gained 4.72 per cent from a year earlier, with growth slowing for a seventh straight month, the academy said. The E-House China index rose 4.31 per cent during the period.
This article appeared in the South China Morning Post print edition as: Mainland home prices extend slide