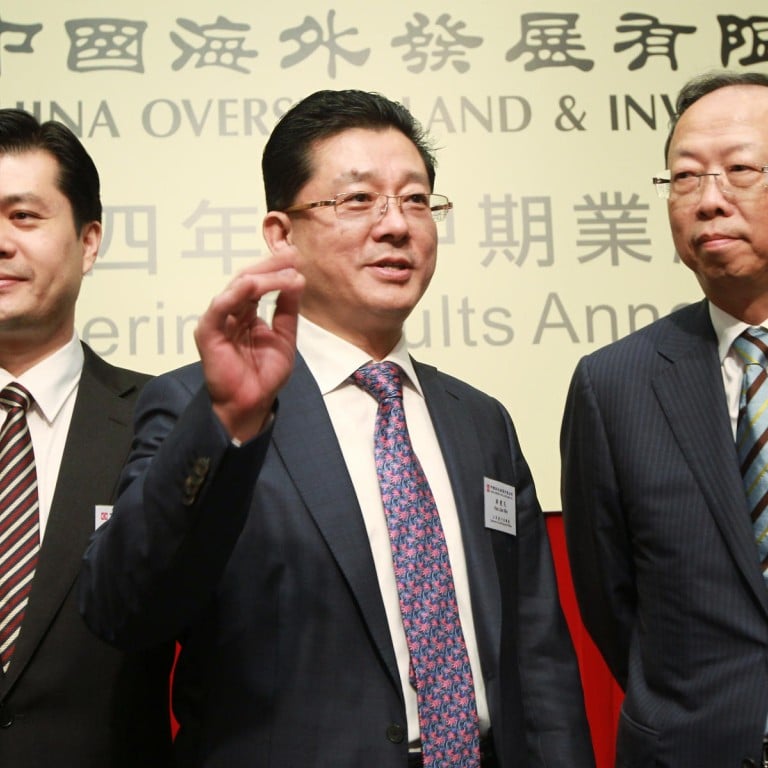 COLI aims to launch property projects worth up to HK$110b in second half
Developer outlines plans for rest of the year after boosting core profit 34pc in the first half
China Overseas Land & Investment (COLI), the biggest mainland developer listed in Hong Kong by market value, yesterday said core profit in the first half of the year jumped 33.7 per cent to HK$10.79 billion.
The company also said it planned to launch up to 30 projects worth HK$110 billion in the second half.
"We will price our projects according to market conditions and ensure strong profitability," chairman and chief executive Hao Jianmin said, reaffirming guidance that it will hit its annual sales target of HK$140 billion.
The core profit topped the median estimate of HK$9.39 billion in a Bloomberg survey.
Turnover, excluding those of the joint ventures and associates, increased 54 per cent from a year earlier to HK$49.57 billion, with 96.7 per cent from the mainland property development business, the company said in a statement to the stock exchange.
Slow cash collection from sales as well as huge land premiums, development costs and tax expenses pushed up its net gearing ratio to 37.2 per cent at the end of June, from 28.4 per cent at the end of last year.
Hao said the firm planned to launch 28 to 30 projects and expected the cash collection ratio to pick up from 77 per cent in the first half as liquidity for the property sector was likely to improve with more targeted mini-stimulus measures to be launched in the second half.
"With policy fine-tuning, the wait-and-see sentiment will ease and buyers will have stronger desire to enter the market," he said.
Given that the company has completed more than two-thirds of its annual land replenishment target by acquiring 10 parcels in the first half, it will stick to its prudent pace of land acquisition in the second half unless there is solid improvement in the short-term market outlook.
The company's weighted average borrowing cost rose to 4 per cent from 3.7 per cent during the period. Its gross profit margin, excluding affordable housing projects, dipped to 35.8 per cent from 36.3 per cent.
The company needed to clear inventory of 1.7 million sqmetres held at the end of June, data showed.
Basic earnings per share rose 18 per cent to HK$1.59 and the company proposed an interim dividend of 20 HK cents per share, an increase of 11.1 per cent.
Contracted sales fell 8.8 per cent to HK$73.04 billion. But the average selling price rose to 16,525 yuan (HK$20,743) per square metre from 15,008 yuan, despite a market slump this year.
Shares of China Overseas Land yesterday fell 2.31 per cent to HK$23.25 in a market that closed 0.91 per cent weaker.
This article appeared in the South China Morning Post print edition as: COLI gears up for HK$110b in new projects