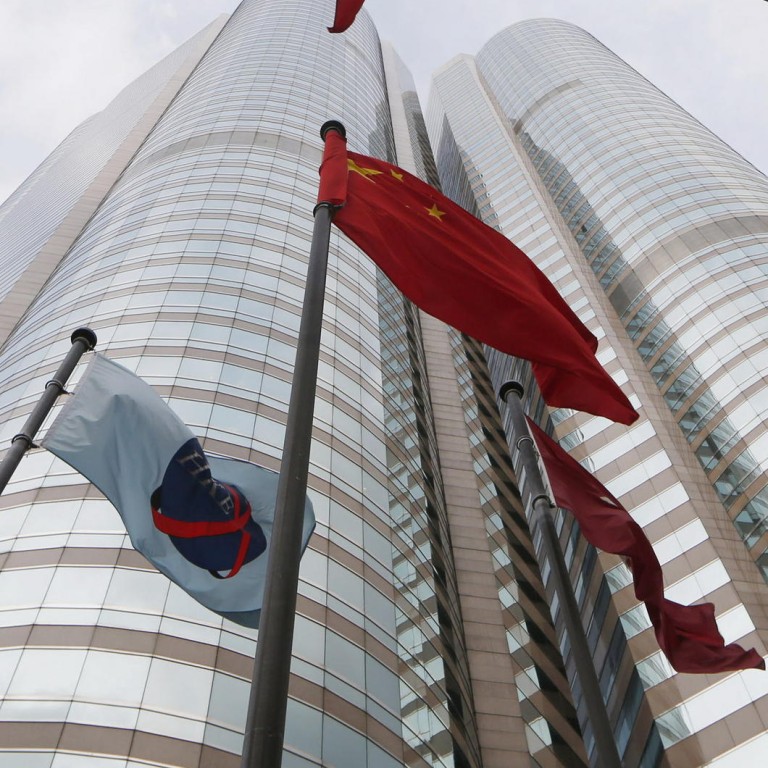 Chinese finance firms target Central offices
Leasing activity in HK's business core is on a healthy track as mainland companies take up grade A spaces before through train starts
The upcoming stock through train scheme has breathed life into the office leasing market of Central as mainland financial firms set to expand their presence in Hong Kong.
Property consultants said mainland firms are now the driving force for the Central office market, accounting for about 20 per cent of new leases in the first half, up from 15 per cent in the same period last year.
"The size of mainland tenants will continue to grow gradually. Many landlords of Central office buildings now hope to attract mainland companies as their tenants," said Paul Yien, regional director of Hong Kong markets at property consultancy JLL.
In the latest example, Champion Real Estate Investment Trust, which is facing an increase in vacancy in its Citibank Plaza in Central, offers a "flexible" rental strategy.
Analysts said Champion Reit has decided to adjust its leasing strategy by reducing its asking rent from the previous HK$80-85 per square foot per month to HK$72 per square foot in order to attract more tenants.
According to BNP Paribas, the vacancy rate of Citibank Plaza was 11.4 per cent as of the end of the first half, but this would increase to about 24.9 per cent after the expiry of leases held by Bank of America Merrill Lynch and Nissan in the second half.
Adrian Lee Ching-ming, chief executive of Eagle Asset Management, the trust manager of Champion Reit, would not comment on rental reduction but said: "We are always flexible in accordance to market response.
"This is an irresistible trend, that mainland finance companies are increasing their activities and need more office space," said Lee.
The rise in office space occupied by mainland firms is partly prompted by the upcoming through train scheme, said Lee.
The scheme, to be launched in October, will allow cross-border stock trading between Shanghai and Hong Kong.
Mainland companies are upgrading and expanding. They include banks, securities firms, asset managers and listed companies.
For example, Beijing-based UCF Corporate Financial Group leased a whole floor in Two Pacific Place in Admiralty to accommodate expansion plans.
China Cinda expanded its office to a whole floor in AIA Central, while China Securities International leased a 13,000 sq ft space at Two Exchange Square.
Mainland firms account for more than 50 per cent of deals for more than 10,000 sq ft in Central so far this year, according to a Savills research report.
The number is even higher for deals below 10,000 sq ft, said Savills. Outside Central, mainland firms are much less active.
"As international financial services continue to contract, [mainland] firms are taking up the slack," Simon Smith, head of research and consultancy at Savills Hong Kong, said in the report.
The international financial services community is still cutting costs and the trend is for multinational corporations to either downsize or move to fringe areas.
Savills said multinational financial institutions which give up or surrender floors will likely drag down occupancy levels in Central, which have been gradually rising from the beginning of the year.
Vacancy continues to linger in certain buildings, including Citibank Plaza, Exchange Square and Pacific Place, it said.
On the back of a cost-cautious business environment, which is unlikely to change in the near term, Savills believes market activity will remain sluggish over the remainder of the year.
However, Yien takes a more optimistic approach, saying the Central market would be stable in the second half because of a low vacancy of about 4 per cent.
A modest growth in rents is possible, with demand for grade A office space expected to remain intact on the back of a moderately growing economy.
This article appeared in the South China Morning Post print edition as: Chinese finance firms target Central offices