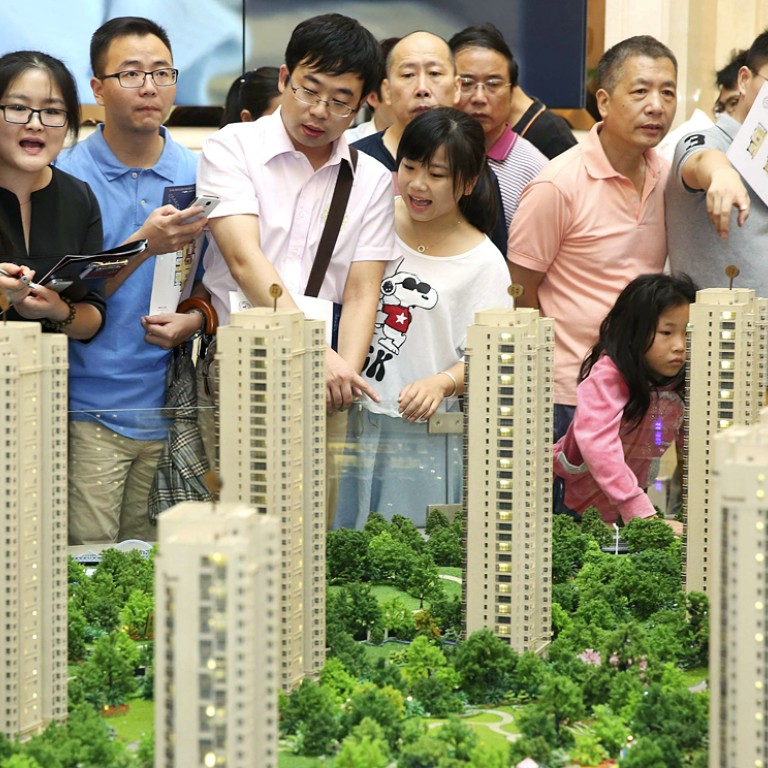 Prices for new homes in China drop in record 64 cities
Relaxation of curbs in more than 30 cities fails to stimulate buying demand for new homes as the downturn worsens
A record number of mainland cities reported a drop in new home prices last month, official data showed yesterday, indicating that the property market downturn is deepening despite the relaxation of curbs in an effort to stimulate demand.
New home prices fell month on month in 64 of the 70 cities tracked by the National Bureau of Statistics, beating the previous month's record of 55 cities. They remained flat in four other cities and were still on the rise in Xiamen, in Fujian province, and Dali, in Yunnan.
"As market outlook was still not clear in July, quite a few home buyers chose to wait and see, hence home prices continued to fall from June," senior statistician Liu Jianwei said.
Hangzhou, the capital of Zhejiang province, suffered the steepest monthly drop of 2.5 per cent, accelerating from a 1.8 per cent fall in June. It is one of more than 30 cities that have loosened home purchase restrictions in an attempt to stem the downturn.
But the latest data showed such efforts are only having a limited impact.
New home prices fell 1.3 per cent in Beijing last month, compared with a 0.1 per cent rise in June. They also dropped 1.4 per cent in Shanghai, 0.6 per cent in Shenzhen and 1.3 per cent in Guangzhou, all deepening from the previous month.
In year-on-year terms, new home prices fell in three cities last month, instead of just one - Wenzhou - in the previous 34 months. They fell 4.9 per cent in Wenzhou, 2.5 per cent in Hangzhou and 1.7 per cent in Shaoguan, Guangdong.
"The ongoing correction will probably last for a while and it will vary in different cities depending on their destocking pace," said Zhu Zhongyi, an honorary vice-president of the semi-official China Real Estate Association.
At a recent property forum in Hainan province, Zhu urged banks to implement mortgage support for first home buyers and also urged developers to cut prices.
Despite repeated calls from regulators, mainland banks have only eased mortgage policy slightly in recent weeks, as their own profit margins have been compressed by more expensive deposits. Currently, some are offering 5 per cent off benchmark rates on mortgages.
However, that is a far cry from the regulatory scope for discounts up to 30 per cent for first home buyers.
Partly because of the tight credit policy, property transactions retreated to pre-relaxation levels in cities such as Hohhot, Jinan and Nanning, a couple of weeks after they publicly announced the loosening of home purchase restrictions. In other cities, transactions barely reacted to the loosening of controls.
Nicole Wong, head of property research at CLSA in Hong Kong, said the mainland authorities were likely to roll out more supportive measures, such as boosting money supply and further guiding down mortgage rates, in the next few months to cushion the impact of the property market downturn on the broader economy.
"There is no benefit at all for China's property market to correct too sharply," she said. Investment in the sector accounted for 15.6 per cent of gross domestic product in the first half.
This article appeared in the South China Morning Post print edition as: New home prices plunge in 64 cities