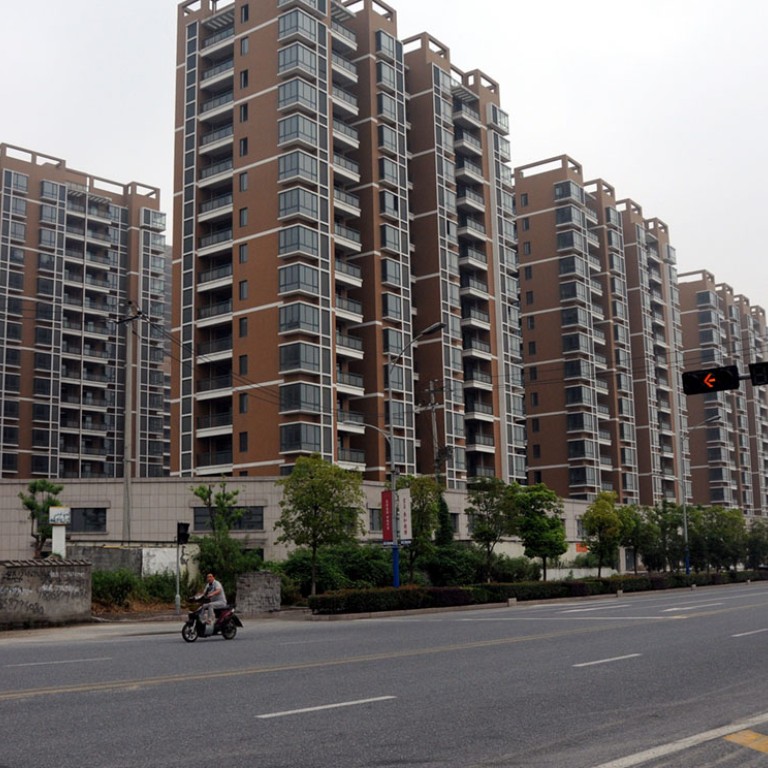 Drop in mainland China home prices causing alarm
Signs of a bursting property bubble are starting to appear as discounts fail to lure homebuyers
Behind a half-priced villa in Hangzhou and a big flat valued a third off its peak in Shanghai are the stories of debt-laden entrepreneurs in a struggling economy.
Such cases remain isolated so far but are ringing alarm bells for the worst-case scenario: a hard landing of the property market in the world's second-largest economy, with dire consequences for the rest of the global economy.
Property broker Zhou Chen is helping a Hangzhou bank sell a villa of more than 400 sq metres with a large garden about 15 minutes' drive from renowned West Lake after the owner defaulted on a mortgage loan.
The bottom price for public bidding is 16,000 yuan (HK$20,200) per square metre, while those in the neighbourhood are selling their properties for more 30,000 yuan per square metre.
"The price is very attractive," said Zhou, a senior manager at Century 21 China Real Estate. "But luxury homes don't sell fast these days."
Hangzhou is where China's once sizzling property market first cracked in February when two developers cut prices. The public was astonished with the severity of the oversupply problem. The trend soon spread nationwide and renewed debate about a possible nasty bursting of the real estate bubble.
In Jiangwan, Shanghai, a furnished pre-owned three-bedroom flat sports a price tag of as low as 30,000 yuan per square metre, against nearly 40,000 yuan a year ago.
In the same district, hundreds of homeowners now offer up to a 30 per cent discount. Most are steel traders from Fujian province who have to cash out on property investments to repay bank loans to sustain their business. They are suffering an industry slump as the slowing economy cuts demand for metals.
Similar mortgage defaults and asset liquidations spring up from time to time in other cities, including Guangzhou and Wuxi in Jiangsu province.
They are weighing down sentiment despite attempts by local governments to stimulate housing demand through policy relaxation.
"A knock-down price didn't necessarily woo homebuyers," said Lu Qilin, a research head with Shanghai Deovolente Realty. "It's a bad sign."
At a meeting last month, the banking regulator reminded lenders of rising risks of defaults from small developers and mortgage borrowers, although it has long agreed with many economists that high deposits for mortgage loans, of 30 per cent for first homes and 60 to 70 per cent for second homes, will ward off a disaster similar to the subprime crisis in the United States.
Banks have turned away from mortgage loans since late last year and have only started to offer small discounts and sped up loan approvals recently, but just to first-time homebuyers, who are less likely to default than speculators.
In the first seven months, mortgage loans fell 3.7 per cent on the year to 765.1 billion yuan, data from the National Bureau of Statistics showed.
However, outstanding mortgage loans of 10.7 trillion yuan, as of the end of June, still accounted for 14 per cent of the country's total lending, according to data from the People's Bank of China.
This article appeared in the South China Morning Post print edition as: Drop in mainland home prices causing alarm