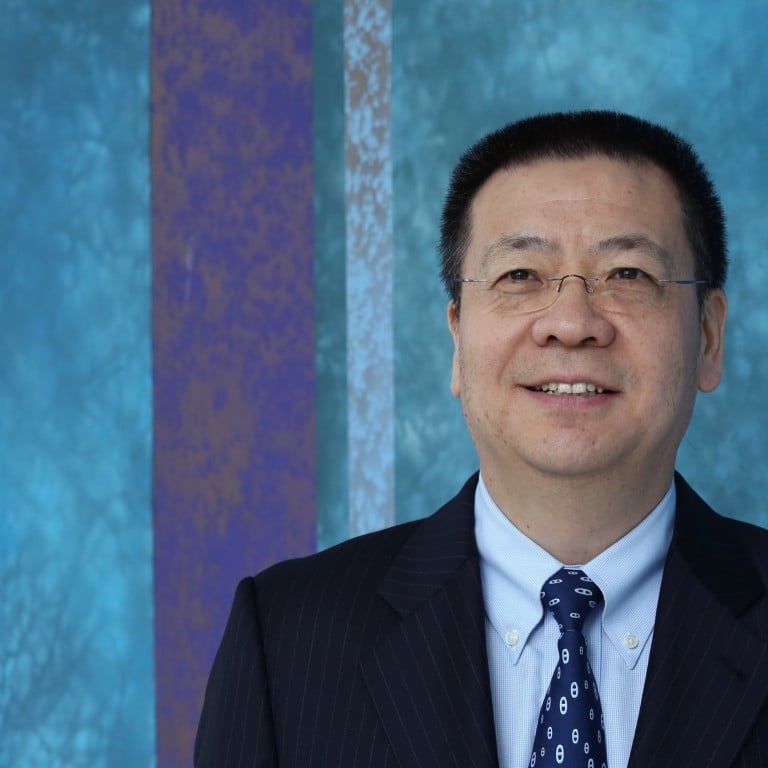 Beijing Capital Land takes steady approach to overseas expansion
Chief executive Tang Jun intends to take a steady approach in Beijing Capital Land's overseas expansion push while riding on the mainland's urbanisation drive in building retail outlets
A former government official, Tang Jun joined state-owned Beijing Capital Land in 2002. The following year, the developer floated its shares in Hong Kong.
Now the company is looking overseas and Tang, as president and chief executive, wants to steer a steady course to avoid missteps.
We have four business segments: home construction for end-users, residence plus outlets, mixed-use projects above metro stations and primary land development.
For outlets, our plan is to rapidly expand the size to a sufficient level by 2018. The basic model is to develop outlets with residential construction. But we can also build outlets only [without residential projects], which will speed up our market penetration. If done together with residential development, the projects tend to take longer as we need to be more careful in picking and bidding for land parcels.
We have set up a special team, combining our expertise in property development and commercial operations, and have a vice-president in charge of the outlets business. A core team of about 150 people is looking after leasing and operations.
Yes, we've invested in two projects so far: a residential development in Sydney and an industrial zone in France.
[The project in France] requires little investment commitment from us. We mainly need to attract other firms, from both China and Europe, to invest in the zone.
We are copying the growth model of China's economic development zone there. That is also progressing very smoothly. We are providing a springboard for Chinese firms to know the French market and also a place for French firms to know more about China. The first phase is 4.7 sq km. We have paid the initial 10 per cent of land cost and can pay the remainder after we successfully attract firms to invest there.
The investment cycle will be long. But the outlook in three years will be very good. A development zone will need at least two to three years to make a profit. We are just starting to build some small offices and have signed agreements for the construction of some public schools there.
We need to find good local partners and projects that have got development approvals [before we decide to invest]. In some countries, developers will only start construction when they've pre-sold 50 per cent. The market [in Sydney] is pretty good right now. When first entering a foreign market, we will pick projects with quick churn and quick cash collection. That should be safer.
We need to learn about the new market and that will require some time. Meanwhile, we must survive there. So we will not pick projects that are in the very early stages. We are sharing GIC's [one of Beijing Capital Land's stakeholders] experience. We do not necessarily need a 100 per cent stake [in a foreign project]. A 50 per cent stake should be sufficient. The legal system abroad is very mature. We will pay management fees but our risk will be lower.
We will leave it abroad in the short term because we need to reinvest. Our Sydney project is not very big, so we haven't made any use of our domestic client base. About 20 per cent of the buyers are Chinese, although most of them hold Australia passports. That's part of the reason we first started in Australia. Its immigration policy is relatively easy.
We don't want to invest in too many foreign countries right now. We may look at London and New York in the next step, but it won't be very soon. We prefer to be steady and expand in Sydney first. Our first project there is very successful, and the second and third projects will follow soon.
Of course, we would like to have all top brands in our outlets. We have signed strategic partnership agreements with global brands such as Armani and Ermenegildo Zegna. In the outlets in Wanning Hainan, we have Gucci, Armani, Prada, Ermenegildo Zegna and Versace.
Most often, [the outlets are] one or two storeys. In Beijing's Fangshan outlets, we have an underground floor and that makes it three storeys. That's the maximum. Total cost varies, depending on location, as land prices are different. The construction cost is often 4,000 yuan (HK$5,000) per square metre.
The investment risk is not very high. The residence-plus-outlets model is designed to promote the value of residential projects by building adjacent outlets. Meanwhile, quick cash inflow from residential sales can support the long-term holding of the outlets.
So far, we've been very successful. Leasing is quick and the price is good. Actually, without residential projects, our outlets can also be self-supported. The local governments can offer us land at very attractive prices if the projects are solely outlets. So funding pressure is relatively low. The residential property part will push up land prices.
[We will go to] provincial cities such as Nanjing, Wuhan, Hefei, Xiamen, Chengdu and Chongqing. Other developers are also doing outlets now. But it should be OK for a big city to have two or three outlets.
We are riding on China's urbanisation push and will build outlets in the junctures of urban and suburban districts as well as near metro stations towards the outskirts. So such projects are welcomed by local governments as they can facilitate development in the area.
This article appeared in the South China Morning Post print edition as: Q&A