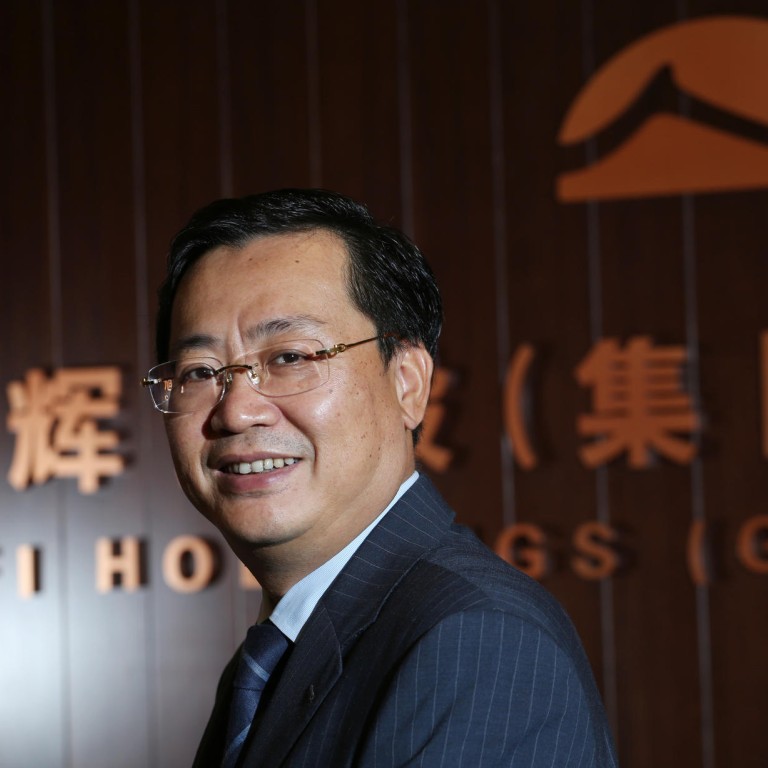 Cifi chairman Lin Zhong remains focused on high growth
Chairman Lin Zhong remains committed to his aggressive expansion strategy for Cifi despite the market correction, with a focus on medium and high-end homes targeting upgraders
Lin Zhong of Cifi Holdings (Group) is determined not to let the property downturn dent his plans for aggressive expansion. The Cifi chairman, with more than 20 years' experience in the industry, remains focused on high growth in the business, albeit with some caution.
We will continue to grow at a rapid rate and believe we can achieve the sales target of 22 billion yuan (HK$27.7 billion) this year, 44 per cent higher than that of last year. We have achieved 60 per cent of that target so far.
However, we will be expanding carefully. We will maintain gearing within 70 per cent and will not sacrifice our financial health to achieve business growth. Our gross margin continues to improve since listing [in 2012]. We believe sales growth next year will remain high, but I cannot state a figure now.
We judge the cycle movements quite well. All developers face the same market environment but have different strategies, with a different pace of buying sites and different judgment in the market cycle. Sometimes, all the data shows prices are still falling, but in fact the market has hit the bottom. We will speed up the pace of construction at those times. It's like when it's winter and it's still cold outside, but the change of season is near and spring is coming soon.
In September last year, we sensed that the market was likely to go down. We required management to do stress tests for site purchases.
Assuming the price fall is similar to that in 2011, they can go ahead and buy sites if they can still make a profit after an estimated price fall.
Last year, we bought a site in Hongqiao in Shanghai for 12,800 yuan per square metre. Now the selling price is between 35,000 yuan and 40,000 yuan per square metre.
We also bought a site in Beijing when the market bottomed in 2012, and pre-sold it after six months. We sold out 80 per cent by the end of last year before the slowdown. This is the way to monitor the pace of the whole process.
It is rather based on data and analysis. We monitor all the changes in the seven to eight cities in which we have investments.
We are optimistic about the market over the next 10 to 15 years. I believe it is a short-term correction amid long-term growth in the market. The major reasons for the correction this time are the imbalance between demand and supply and tightened credit.
Meanwhile, a lot of buyers came to the market in 2013 and this resulted in a softening in demand this year. The situation will improve as local governments have relaxed buyer restrictions.
We will see developers gradually selling inventories. The pace will be subject to the size of inventories in different cities.
Cities that do not have serious imbalances in demand and supply and have high population growth will see a recovery in their markets in the second half of next year. These cities include Beijing, Shanghai, Suzhou and Nanjing. But it may take those with large inventories and low population growth two to three years or more before recovering.
In the coming year, I believe government policies will be favourable to the market. There is still a lot of demand in the market. Despite a slow market, transactions in terms of gross floor area still range between 1.1 billion and 1.2 billion sqmetres.
On average, it will be about 5 to 10 per cent. But that does not mean prices of all projects will fall.
The market has changed. We have to follow the changes. As the restrictive measures have been removed, we will target end-users who want to upgrade their properties. That's why we build medium and high-end products.
At present, 80 per cent of our products cater for entry-level homebuyers and 20 per cent for middle to high-end homes. We want to change the ratio to 50:50 in about two to three years.
Selling prices for medium and high-end products can be 1.5 times those of mass-market homes. We can have bigger margins.
For example, mass housing prices averaged at 20,000 yuan to 24,000 yuan per square metre in Shanghai. But medium to high-end homes are priced at 30,000 yuan to 50,000 yuan per square metre.
I do not have a plan of how big the company will be. But being big is a means to upgrade the products and improve the company. I want my company to be respected in the market as a producer of quality homes.
This article appeared in the South China Morning Post print edition as: Q&A