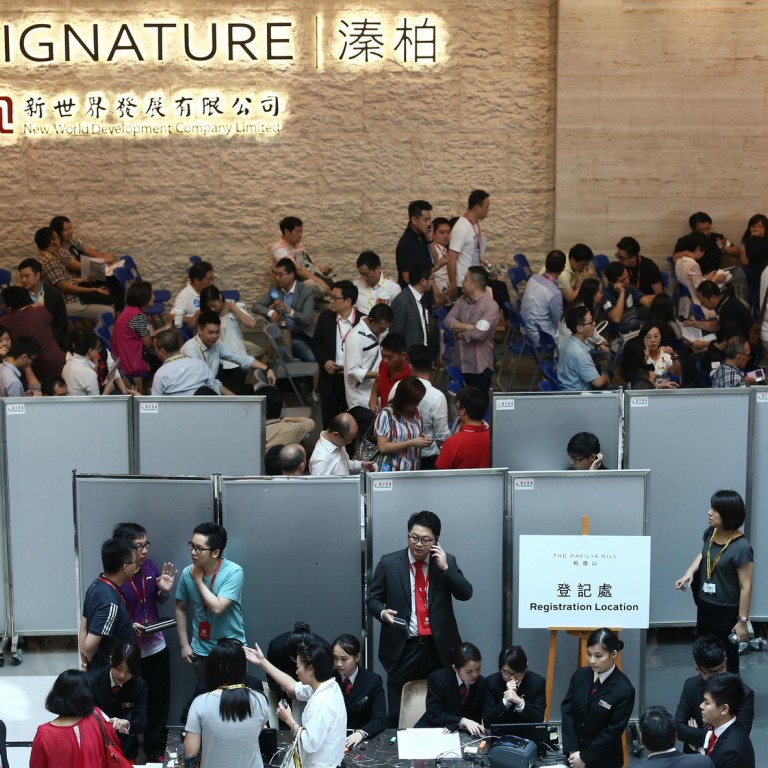 Homebuyers unfazed by protests as over 90pc of new flats sell
Homebuyers snapped up more than 90 per cent of the new flats released to the market on Saturday, unfazed by strife on the streets.
Homebuyers snapped up more than 90 per cent of the new flats released to the market yesterday, unfazed by strife on the streets.
More than 430 flats in four projects were sold - led by New World Development's The Pavilia Hill in North Point, and Double Cove III in Ma On Shan, jointly owned by New World and Henderson Land Development.
At The Pavilia Hill 129 flats, or 98 per cent of those on offer, were sold for an average price of HK$26,907 per square foot. The sales netted New World HK$3.2 billion, and the developer plans to release a further 83 flats.
At Double Cove III, 97 per cent of the flats, or 188, were sold.
Estate agents said the protests would have a minimal impact on the new-home market.
"It seems homebuyers and investors are not necessarily associating their investment decisions with the current political instability," said Louis Chan Wing-kit, managing director of residential sales at Centaline Property. "Most of my clients feel Occupy is a short-term thing, while buying a new home is a long-term bet."
Homebuyer and financial professional B. Kwan agreed. "I'm buying a flat to live in," he said. "I believe Occupy Central is only short-term and it will be resolved soon." He bought a three-bedroom flat at The Pavilia Hill for HK$22 million.
But Victor Lui Ting, deputy managing director of Sun Hung Kai Properties, said some buyers might have been put off visiting its show for Tseung Kwan O project The Wings III last week - held at the International Finance Centre in Central.
And New World yesterday closed its sales office in Grand Millennium Plaza, Sheung Wan - a move agents said was due to the blockades. Only its office in the Discovery Park mall in Tsuen Wan was open.
A New World spokeswoman dismissed the agents' claim. "We made the decision because the Tsuen Wan office is bigger, so it can accommodate more clients." Not everyone was confident. "I feel unnerved, so I didn't take the plunge. My investment strategy is now hingeing entirely on how Occupy Central pans out. I don't feel I can trust this government any more," Anna Liu said outside The Pavilia Hill office.
Swire Properties announced the release of another 20 flats at its Arezzo project, with sales slated for Wednesday. Located on Seymour Road, Mid-Levels West, the flats are priced at an average HK$30,896 per square foot. Hang Lung Properties released 10 units at The HarbourSide in Kowloon Station.
Analysts said the secondary residential market could still be hit. They are waiting on the Centa-City Leading Index due on Friday. The last one showed the index rising to an all-time high of 128.14 for the week ending September 28 - as the protests began.
This article appeared in the South China Morning Post print edition as: Homebuyers unfazed as over 90pc of new flats sell