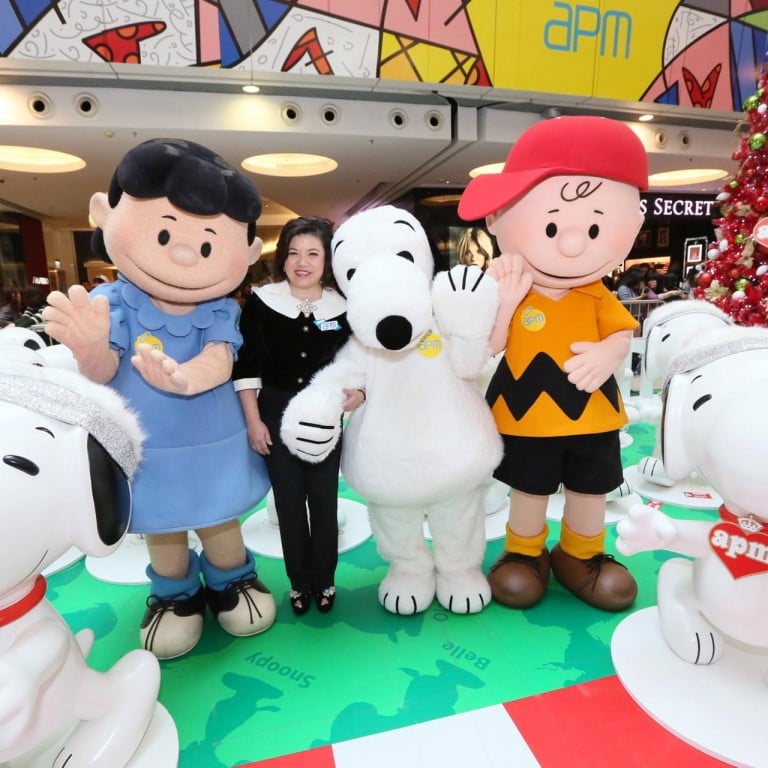 Malls adopt cartoon characters to create a festive shopping mood
As Christmas approaches, malls turn to cartoon characters to create a festive shopping atmosphere
Each Christmas season, shopping centres in Hong Kong turn into wonderlands, with twinkling lights, towering festive trees and non-stop seasonal music.
But instead of Santa, retail centres' themed attractions this year have mostly been replaced with international animated cartoon figures: from America's Snoopy, SpongeBob and Buzz Lightyear, to Japan's My Melody and Pom Pom Purin.
With retail sales growth during the holiday season expected to be challenging, shopping centres are going on spending sprees and looking for fresh ideas to enhance the visitors' experience and get them in a shopping mood over the coming weeks.
"Cartoon characters are always welcomed by shoppers and their families," said Maureen Fung Sau-yim, general manager (leasing) at Sun Hung Kai Real Estate Agency.
It also creates a happy atmosphere, said Fung, who adopted Snoopy as the themed attraction for the company's APM mall in Kwun Tong. This year is the 64th anniversary for Snoopy and the 65th anniversary of the founding of the People's Republic of China, she said, adding that the themed attraction was also used in its mainland shopping centres, Shanghai's IFC and iAPM.
Joe Lin, executive director of Retail Services Asia at CBRE, said mall operators had been thinking of innovative ideas to draw customers and encourage them to spend as the market sentiment might be challenging due to the recent pro-democracy protests, which could carry on into one of the busiest retail periods next month.
Demonstrators are occupying shopping areas in Causeway Bay, Admiralty and Mong Kok.
With mall operators' efforts, Lin believes that retail sales during Christmas could be stable compared with last year. Meanwhile, local and mainland buyers' desire to shop remained strong, he said.
Fung said the company would spend HK$23 million on the APM mall's Christmas marketing, representing an increase of 10 per cent from last year. Decorations include 100 pieces of Snoopy animated figures. a house demonstrating Snoopy and his siblings, and a 30 ft Snoopy Christmas tree. She expected foot traffic could increase 10 per cent from last year.
Ronnie Chan, general manager (leasing) of Sino Group, said the firm planned to spend HK$10 million on marketing for its mall Tuen Mun Town Plaza, which adopted My Melody as the attraction. The spending is 15 per cent higher than last year.
Henderson Land Development said spending on Christmas marketing for the firm's Metro City Plaza shopping mall in Tseung Kwan O would increase 20 per cent to HK$8.5 million. Its themed attraction is Pom Pom Purin.
This article appeared in the South China Morning Post print edition as: Cartoons come to malls to lure festive shoppers