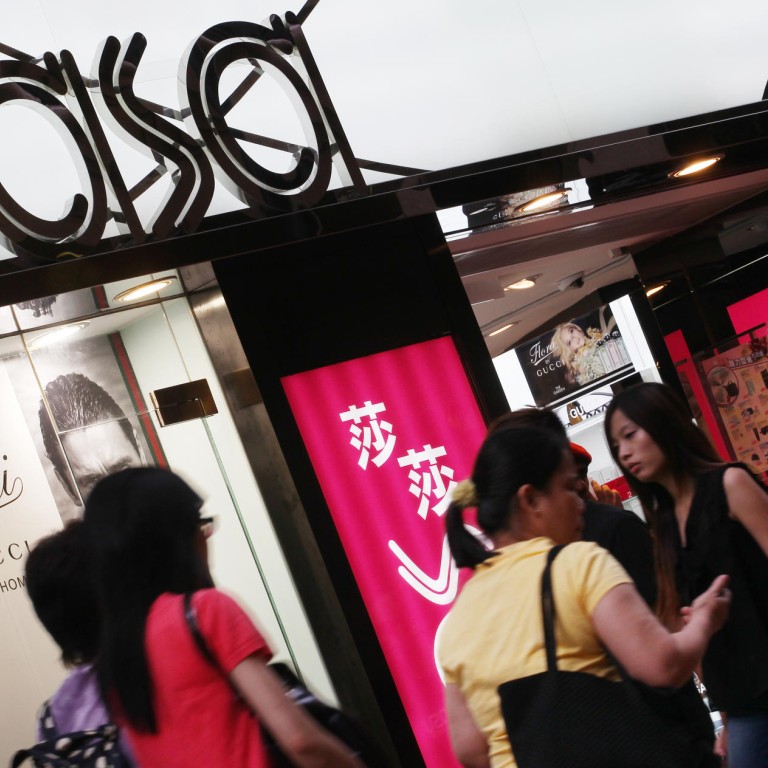 Weaker luxury sales to force down shop rents in prime districts
Scaled-back expansion plans by luxury brands and cosmetics retailers expected to spur landlords of street shops to cut rentals by up to 10pc
Owners of street-level shops in prime shopping districts will feel the pain of slower luxury sales next year, with rents expected to decrease by up to double-digit percentages, according to international ratings agencies and property experts.
After enjoying soaring rental income in the past few years, street-level shop owners have seen the retail property market come off the boil this year as tenants suffer declining sales.
Sales of luxury goods were down 14.7 per cent year on year in the first nine months of this year.
As a result, luxury brands and cosmetics retailers have halted expansion plans, with some deciding to restructure their store networks. Gold and jewellery retailer Luk Fook is relocating its Causeway Bay stores to save on rents and cosmetics retailer Sa Sa is closing some stores in prime tourist districts, according to Fitch Ratings.
"We expect rents of street shops in prime areas, especially those in secondary streets, to decline substantially [next year] because leasing demand from these popular brands is shrinking," Fitch said in a report. "Street shops in prime areas are filled with tenants selling products targeting mainland tourists, whose spending power has fallen due to a crackdown on corruption and a slowing property market on the mainland."
Property investor Lai Wing-to, who owns dozens of retail properties, including a shop in Russell Street in Causeway Bay, said tenants had been affected by weakening luxury sales.
"Mainland buyers spent less on luxury watches and jewellery; that harms their sales revenues," he said. "Tenants used to compete for retail space by offering high rents, but that era has ended."
However, Lai said he was optimistic about the outlook for shop owners.
"There will not be a problem to look for tenants as international companies which sell mid-priced items such as apparel are eager to have a foothold in Hong Kong," he said, while adding that such tenants would be more cautious about rental expenses.
Lai said he expected asking rents would drop by 5 per cent to 10 per cent when leases were renewed.
Tenants have faced significant rental increases when renewing leases since 2011, with jumps as high as 60 per cent in late 2012.
That was partly because of the strong demand for prime retail space that year, and partly because of the expiry of leases with low rents signed in 2010, according to a research report by Credit Suisse.
It expects retail rents to be flat next year, reducing the pressure on tenants.
Denis Ma, the head of research at JLL, said street shop rents would not collapse, instead "will likely decline in the range of zero to 5 per cent [next year] as retailers readjust growth expectations, especially if interest rates start rising".
Fitch said shopping mall owners would be less affected as their tenant mix was not skewed heavily towards luxury brands.
This article appeared in the South China Morning Post print edition as: Weaker luxury sales to force down rents