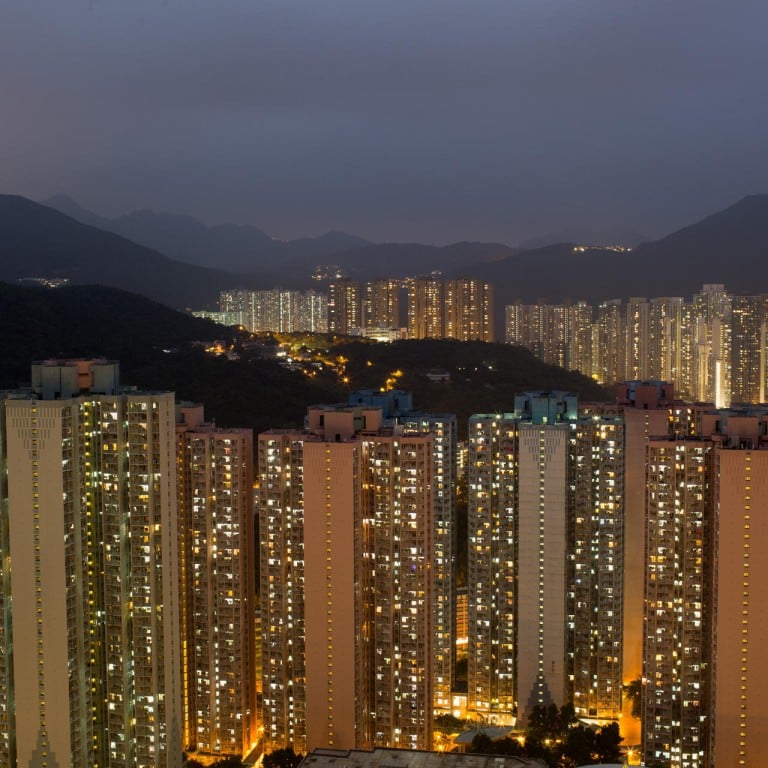 Hong Kong's housing market facing a slump in 2015
Property prices forecast to drop as cooling measures take hold, writes Anna Healy Fenton
Anyone looking for blue skies and sunshine in Hong Kong's property market could be disappointed. It's hard to find an analyst who can put a positive spin on prospects for next year, with predictions of price dips of at least 5 per cent in 2015. Some, such as Barclays property specialist Paul Louie, have forecast a plunge of as much as 30 per cent.
After four years of steady increases which have now slowed, analysts see a severe correction looming, as the combination of a surge in new supply, the effects of government-imposed cooling measures and next year's inevitable interest rate hike combine in a "perfect storm", according to Louie.
Hong Kong brokerage CLSA is slightly less pessimistic, expecting property prices to slump 15 per cent by the end of next year as the government's market-cooling measures bite.
"Prices will correct a little more if interest rates are raised and the economy weakens," Nicole Wong, CLSA's regional head of property research, says of the group's recent report on the Hong Kong and mainland property markets.
CLSA says Hong Kong property prices were already 3 per cent off their February peak. The brokerage had been expecting a 10 per cent decline by the end of next year but has now revised downwards to 15 per cent for 2015, given the increase in US Treasury bond yields and the Hong Kong government's decision to bring forward the presale of units due for completion next year.
On a positive note, Wong says property prices should not fall dramatically, even if interest rates go up and housing supply rise significantly next year.
"Property prices have started a mild decline," she says. "The pricing of new projects released recently is close to or lower than that of second-hand homes. It is a signal that a correction will happen."
The rate of growth in residential prices has already slowed, rising only 4.28 per cent year-on-year to the end of July, according to the Ratings and Valuation Department. This contrasts sharply with the 18.92 per cent year-on-year increase in July 2013.
This follows four years of rapid growth when prices jumped 117.2 per cent from December 2008 to December 2012, driven higher by a flood of liquidity after the global financial crisis.
But even a late summer upswing, when August saw sales of new homes leap 82.33 per cent year-on-year to 6,212 units, has failed to boost confidence. Louie says he doubts the volume of sales can be sustained, describing home prices as "very unaffordable". He expects a 30 percent correction by the end of 2015.
In recent years, the market has been propelled upwards by measures such as strict government controls on development, tight land supply, low interest rates and currency stability. This resulted in rises for 2009 of 28.5 per cent, 21 per cent in 2010, 11.1 per cent in 2011 and 25.7 per cent in 2012.
To curb price exuberance, November 2010 saw the government introduce a 15 per cent flip tax to stop speculation, and the stamp duty was raised to 8.5 per cent on units worth HK$20 million or more.
October 2012 introduced a buyer's stamp duty of 15 per cent charged on property bought by foreigners.
In February last year, the stamp duty on purchases over HK$2 million was doubled, but that measure lasted only a little over a year and ended in May.
So what lies ahead? Analysts see a number of drivers depressing property prices next year. "The possibility for an interest rate hike to finally come in late 2015 or early 2016 is one," says Mizuho Securities Asia analyst Shen Jianguang, adding that Hong Kong's interest rate rise may lag behind that in the US by a few months, but not by more.
Increasing housing supply is another factor, after beleaguered chief executive Leung Chun-ying committed to providing 470,000 new housing units in 10 years, including public and subsidised housing. "Long-term, it's hard to achieve this goal, but it means more supply is likely in the next few years," Shen says.
Another factor will be weaker economic momentum, "especially due to weakness in the retail sector and flagging visitor numbers amid the end of the tourism-driven boom in the past four years".
On the plus side, a consumer survey by City University shows that sentiment for the property market remains strong despite the Occupy Central protests, Shen says. In addition, renting is still more expensive than buying, pushing potential buyers to enter the market for smaller units.
There's also some discounting of new housing stock by developers. "The primary market is offering new supply on the cheap compared to existing housing," Shen says. "Generally, we expect housing prices to go down by 5 per cent in 2015, but it's unlikely to be more than that."
This article appeared in the South China Morning Post print edition as: City's market facing slump