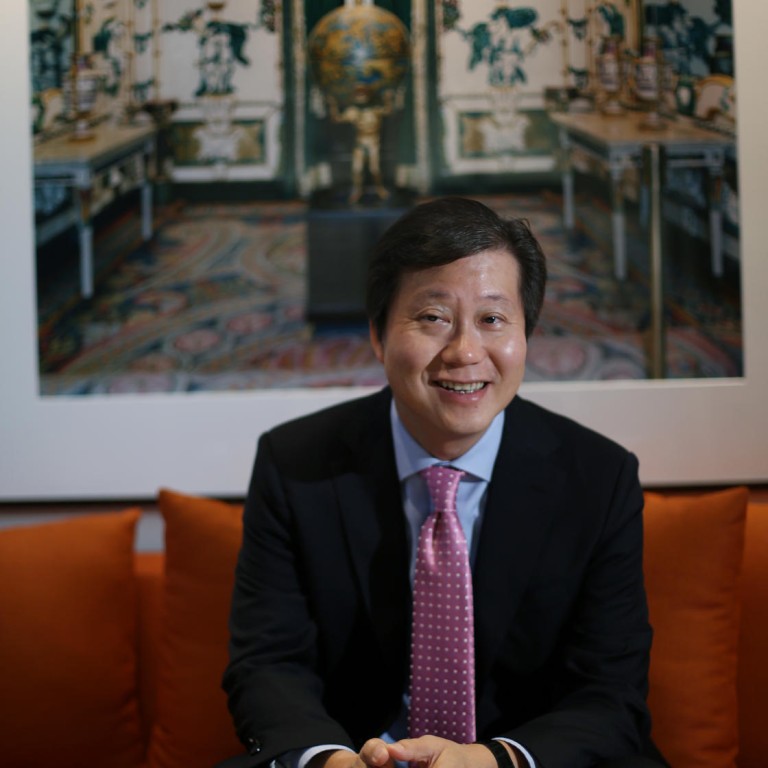 Phoenix Property Investors eyes new opportunities in Southeast Asia
Former banker Samuel Chu has seen his firm Phoenix Property Investors expand at a healthy pace, but he is cautious about growing too fast and is always looking for a market downturn
Phoenix Property Investors is a private equity real estate firm established by Samuel Chu Wai-tak and Benjamin Lee Kai-yiu in 2002. So far, the company has raised about US$2 billion of equity for real estate investment and development opportunities in the residential, retail, office and commercial sectors in Asia.
Phoenix is one of the fund management companies in Hong Kong that are highly regarded in the industry.
The company has real estate assets managed and/or under management exceeding US$4.5 billion.
Its major developments in Hong Kong include a single-block development at 3 Julia Avenue in Ho Man Tin, which was launched last month with a selling price ranging from HK$19,000 to more than HK$28,000 per square foot.
The company is also developing a residential development at 31 Conduit Road, which will be completed in 2016.
Chu is a son-in-law of Antony Lo Hong-sui, the eldest son of Great Eagle Holdings' founder Lo Ying-shek.
Chu said his deep bond with property began as a small boy. While investors generally monitor when an upmarket will come, he said it was more important to look for a down market. Phoenix focuses on north Asia, but it recently diversified into Southeast Asia.
My father owned some guestrooms and I always followed him to collect rents when I was a boy. I was imbued with a strong sense of the property sector. I migrated to the US in the 1970s and got involved in the investment banking business. In 1991, Deutsche Bank, the company I worked for, asked me to move to the office headquarters in Germany. But I preferred to stay in Hong Kong. So I started investing in property.
In 1997, there was something wrong with the market as interest rates were high but yields were as low as 2 per cent. I started selling all the properties with the last one sold in September 1997 [just before the Asian financial crisis]. In 2002, I met my partner Benjamin, and we started raising funds to invest in real estate.
In the first fund, the capital mainly came from friends and myself. The fund size was US$12.3 million. We made four times the investment after two years. When we raised the third fund in 2007, more than 90 per cent of the money came from institutional investors. Last year, we raised US$750 million for the fifth fund.
We probably have invested in more than 50 projects and about 16 are not yet exited.
No. We have discussed property but I have never invited them to invest.
Hong Kong is always our focus. We have one project in Shanghai. We also invested in Taiwan and Japan. In the fifth fund, we have 15 to 20 per cent of the fund to invest in Southeast Asia. Our philosophy of investment is good location. We always look for properties in good locations. While monitoring the upside of the market is important, the most important thing is to watch for the downside. We can still look for buyers in a falling market, if our properties are in prime locations.
North Asia is facing an ageing population and Southeast Asia has a young population. The size of the middle class in the region is growing. So demand for properties is strong. In Indonesia, a major portion of its population is under 50. But these countries carry currency and political risks.
We are vertically integrated. Today, we have about 65 staff who are experts in acquisitions, divestments, property development and redevelopment, project management, asset management, property marketing and leasing. Instead of eyeing a particular market, we are deal-specific. We expand our investment areas so that we can have more opportunities, more choices.
With the series of government measures imposed, speculators have been forced out of the market. However, the imbalance of demand and supply exists in all sectors, from residential to offices and hotels. The Hong Kong market is facing a shortage of supply.
We do not have this plan. When we raised the fifth fund last year, we were able to raise up to US$1 billion instead of US$750 million, but we did not want to make the company grow too large.
We prefer to work on our business step by step. It all depends on market opportunities.