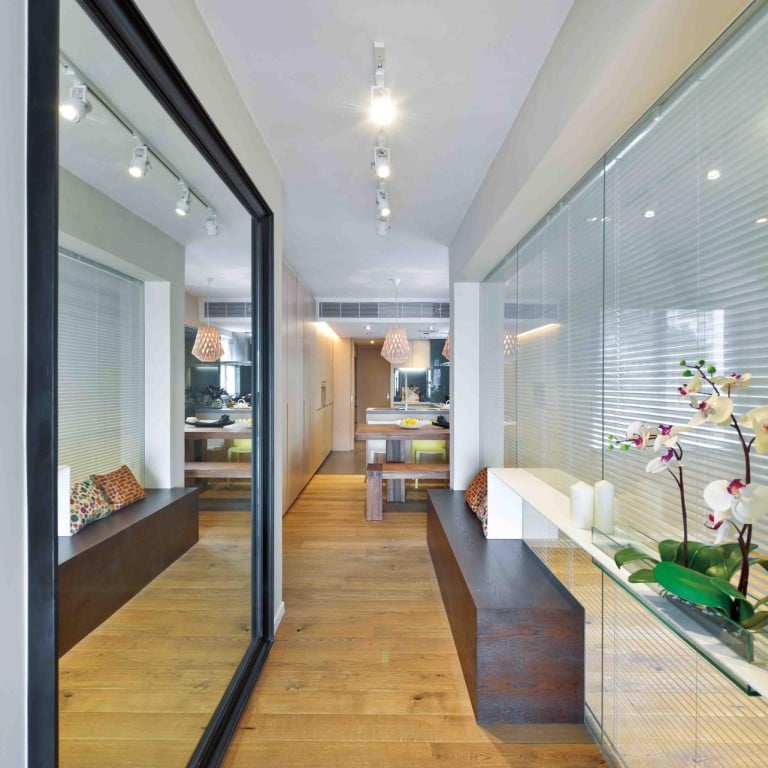 How to fit a baby into a one-bedroom flat: live in the lounge
For one family, a fold-down bed in the living room was answer to question of where son would sleep - and they're not alone: interior designers are finding space-saving solutions for families
Alison and Trevor Mazurek loved their one-bedroom Vancouver flat, and had no plans to move. But then Alison got pregnant with the couple's first child, and friends insisted they would have to leave their 600 square foot home. "But we figured it out," she said.
The biggest change the Mazureks made to accommodate their son, now 20 months old, was to buy a fold-down bed for themselves that they installed in the living room. Their newborn was given the bedroom, where a floor-to-ceiling curtain replaced doors to the cupboard to help transform the space.
Creative measures are allowing other space-challenged families to fit in a new arrival. But just as clever solutions are important, so is adhering to the mantra "less is more".
"The amount of stuff that needs to be on hand for a baby is almost incomprehensible," said Maryanne Cartwright, senior stylist at Samuel Charles Interiors, based in Britain. Finding space for prams, changing tables, baby bathtubs, cribs, cots, and later on walkers, high chairs and toys - plus the need for additional shelves for clothes, diapers, blankets and bibs - can be overwhelming for parents who live in small spaces, she adds.
But some have found inventive ways to circumvent the problem. Matt Elkan, an architect in Sydney, Australia designed a pair of wooden boxes on castors when his daughter was born 10 years ago. "We were living in a 400 square foot, one-bedroom flat at the time, so space was at a premium," he said. He asked a friend, Erich Gruber of Fine Earth Joinery, to build the two boxes, which were made of plywood and measured 800mm x 600mm x 400mm.
One opened up and was used as a cot. The other, which provided storage space for diapers and clothes, had a lid that could be used as a changing table when closed. "We used to wheel her into the bedroom during the day and into the living room at night," he said. "It was very low tech, but it worked."
Leigh Anne O'Connor, a Manhattan-based lactation consultant raised three kids in a 900 square foot flat. The appeal of living in the heart of the city had her and her husband choosing to make do with their two-bedroom, one-bathroom flat, even as their family grew.
When the kids were still babies, she used a co-sleeper - a cot that attached to the bed. Later, all three children shared the second room, with a curtain divider for privacy.
Their acquisition of baby gear was kept to a minimum. "Everything is organised," she said. "And our living room doesn't have a coffee table so that became the kids' play space."
In compact areas, there are other ways to make room for a baby, including repurposing a closet. Taking the door off and painting the walls may be all you need to create a nursery "nook". Others suggest accommodating a baby in a bassinet (at least for the first five months), pointing to those designed to save space or are multifunctional. One, by Spanish company Babyhome comes with interchangeable legs - so can be used as a rocker, with wheels, or stationary - and can be stored compactly in a bag when not in use.
Creating the illusion of space can also be important. Michael Liu, founder and chief designer of Hong Kong design firm Millimeter, built a 50-square-foot room by the entrance of a Beacon Hill flat. Removing the wall it shared with the entryway, and replacing it with glass, prevented the corridor from feeling narrow.
Hong Kong-based writer Tamsin Bradshaw, who welcomed her first child a few months ago, says organisation is key to maximising the use of space.
She bought plastic boxes from Ikea to hold clothes and toiletries, and reused a large gift basket that contained baby products to hold her son's playthings. "Anything pretty like this that makes for attractive storage solutions should be kept - especially if you don't have a lot of cupboard space," she said.
Mazurek, who started a blog about living in a compact space
600sqft.com
, says you are not a "terrible parent" just because you have not bought tonnes of things for your baby.
"If you have a comfortable place to nurse - a chair or a couch - you don't need to buy a rocking chair," she said, adding that her own purchases included a Puj Tub bath, which fits into most sinks and flattens to hang on a hook. "We looked for smaller footprint baby items," she said. "Even ones designed for travel can work for everyday use because they can be folded up and put away."
Making do with less also encourages a sense of sharing: once her child outgrows something, she gives it to friends.
"Some things we need only for a few months, and then we pass it on. Things have a sense of coming full circle that way."
This article appeared in the South China Morning Post print edition as: Inventive ways to fit in new arrivals