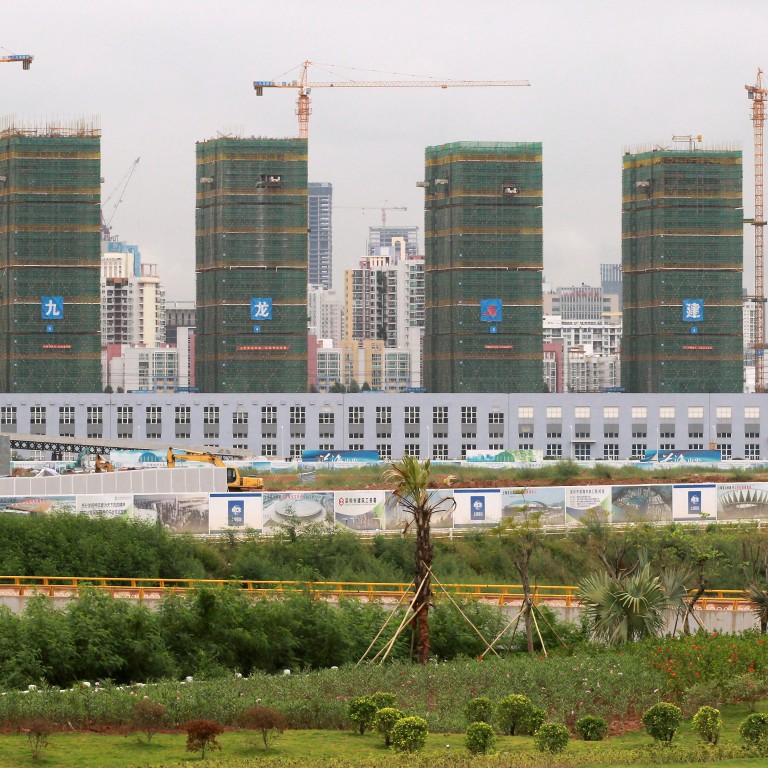 Update

|
Shenzhen sets recovery pace in China's property market
Buying frenzy for flats at the weekend points to quicker and stronger than expected rebound following the easing of government controls
The rain was heavy but it could not cool the fever as more than 4,000 people waited anxiously for a sale in Shenzhen to start. And as soon as the doors to the second phase of Glorious City opened, it was all over in two hours.
Such was the frenzy on Saturday that developer China Overseas Land & Investment was able to rake in more than 2.8 billion yuan (HK$3.5 billion) from the 719 flats offered.
The average price exceeded 40,000 yuan per square metre and was up from 32,500 yuan when the first phase of the Longhua district project was launched in November last year.
"The trend is likely to be sustained in the next few months, as supply is tight," said Lai Zhuobin, an executive director of Logan Property Holdings, which has 35 per cent of its land bank in Shenzhen.
Logan bought a parcel in Longhua in October last year for 4.68 billion yuan - a floor space cost of 25,094 yuan per square metre. It plans to start pre-sale in October.
"The market recovery is quicker and stronger than we expected," Lai said.
He declined to give a price tag for the project, located on the same metro line as Glorious City but three stations away.
Logan sales director Li Lijun said she bought a flat nearby for 18,000 yuan per square metre five years ago and had just sold it for 45,000 per square metre.
Shenzhen is leading the property market's recovery, followed by other first-tier cities such as Beijing and Shanghai. However, most small cities are still stuck with oversupply after breakneck construction in the few years leading up to the market downturn that began in February last year.
Two projects in Shenzhen's Nanshan district also attracted more than 2,000 people on Saturday, despite their average selling prices of 40,000 yuan and 50,000 yuan per square metre.
As the real estate industry remains a key driver of the mainland economy, policymakers are relaxing controls to curb speculation in order to arrest a faster-than-expected slowdown that could pose a threat to social stability. The central government has cut taxes, slashed down payment requirements and lowered interest rates.
Shenzhen home prices have been rising since December last year and were up 1.8 per cent last month, according to the National Bureau of Statistics. However, many industry observers said the official numbers understated the actual rebound.
MTR Corp was able to sell all but a handful of the 641 flats it offered at its first Shenzhen project, the Tiara, three weeks ago, at an average 36,000 yuan per square metre. The project is also in the Longhua district, a metro station away from Glorious City.
While policy relaxations have benefited other cities too, demand in Shenzhen is also driven by its position at the forefront of the mainland's opening-up reforms, with trials of financial liberalisation in the Qianhai special zone and government encouragement of innovation and new technologies. Those policies have given rise to the emergence of big firms such as Ping An Insurance (Group), Huawei Technologies, ZTE Corp and Tencent Holdings.
The city also makes it relatively easier for young jobseekers to move their (household registration) than Beijing or Shanghai.
But land supply is dwindling. Shenzhen only auctioned one plot last year, and it was bought by Logan. There have been no auctions this year, making redevelopment a vital channel for land. But progress is slow as redevelopments can involve the removal of thousands of people.
This article appeared in the South China Morning Post print edition as: Shenzhen market sets recovery pace