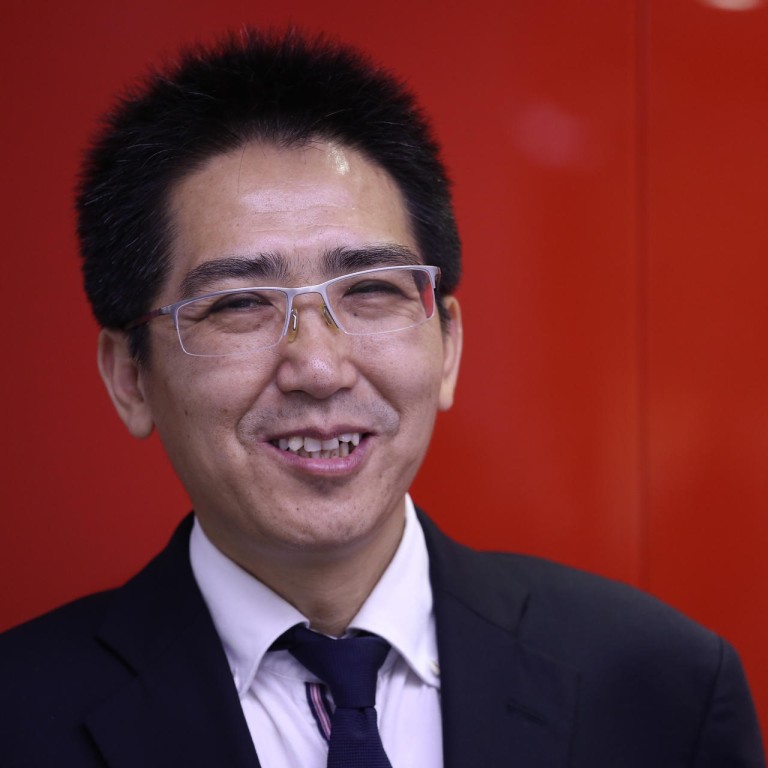 New
Sunshine 100 sees new golden era in China's rise of services sector
As the market downturn forces developers to reconsider their options, Yi Xiaodi is leading the company he founded into commercial property development, especially street shops
Yi Xiaodi, the founder of mainland developer Sunshine 100 China Holdings, was one of six entrepreneurs who teamed up in the early 1990s to start a real estate investment firm in Hainan before China officially kicked off urban housing reform in 1998.
Before the reform, urban homes were mostly built and owned by state firms and distributed to workers according to their titles and years of employment. The reform triggered a real estate boom, which resulted in an oversupply that led to a downturn from early last year.
Many developers have been forced to reconsider their options for the next decade, as growth in the property market is expected to wane.
We would like to deepen our penetration. The real estate market has changed a lot. As the pace of industrialisation has slowed since 2011, the next phase in the country will be fast growth in the services sector.
Someone said the golden era for developers has passed and a silver era is coming. I don't think so. It's a qualitative change for the economy to be driven by the services instead of the industrial sector. The services sector accounts for less than 50 per cent of the economy in most provincial cities, and it is less than 40 per cent in third-tier cities. Beijing has the highest ratio, at 78 per cent, compared with 90 per cent in Hong Kong. We still have much to catch up.
So broadly speaking, the second phase of China's urbanisation is just beginning. For developers, rapid geographical expansion, or in size, is no longer important. We need to serve the cities' development needs.
The profit margin for residential development has been dwindling in the past two years because of price compression and competition. The average margin is now between 20 and 30 per cent, but the margin for commercial property is about 50 per cent.
Commercial property development has its own challenges, depending on cities and locations.
Most of our projects are for sale and we only hold a few for the long term. We want to focus on street shop development around communities in a city's central areas.
Many developers are moving towards this direction too, but they focus on niche markets. Some are building big shopping malls, some mixed-use projects centred on hotels, and others invest in outlets on city fringes.
The shift from residential to commercial development is difficult and many will fail.
Commercial property projects are different from residential and office building as they sell services, not space. Most developers do not know how to operate such projects and attract retailers, and then, eventually, raise rental prices.
We still manage the property. We sell 60 to 70 per cent of our projects but hold 30 to 40 per cent for rent. We also retain the ownership of parking spaces and open squares.
We want to build public living space for a city within our projects. To do that, we need to build street shops in places where residents can not only shop, but also meet friends and entertain their families.
So the success not only depends on location, but also on daily operation capability as well as design of various function areas. It cannot be copied everywhere like residential projects.
The commercial area. In a mixed-use project, we sell all the residential areas. Sometimes we build wholly commercial projects in city centres. We find that in some cities, there is an oversupply of residential and office space. But our street shops sell very well.
When people talk about oversupply, they normally refer to the residential market. Even in second-tier cities, the oversupply is serious. But these cities have bigger room for commercial properties as their services ratio is low.
For example, in Chongqing, there are a lot of shopping centres. But the Foreigners' Street is crowded every weekend. Goods sold there are very cheap.
We plan to build a high-end street containing some elements of history and culture in Chongqing. The government has approved the plan.
That means both the government and market have demand for such commercial projects. The challenge is in the heavy investment. We design the sell-hold ratio based on our experience.
Of course, that is better. But China does not have real estate investment trusts, so we have no such exit. Our branding is not strong enough to package the assets as reits in overseas markets.
On the other hand, there is retail demand for commercial property as an investment option. Investors will not put all their money in the stock market, even though we are now in a rally. Chinese people have a long and deep tradition of buying properties.
Our projects sell well and the profit margin is relatively high. Our retail shops in Changsha were sold at more than 20,000 yuan per square metre, while the residential area was sold only at 7,000 to 8,000 yuan per square metre. In Liuzhou, our flats were sold at slightly above 10,000 yuan per square metre, but the commercial area hit as high as 150,000 to 160,000 yuan per square metre.
No. Commercial street space costs more. But the profit margin is much higher at 50 to 60 per cent.
China has enormous demand for new types of commercial properties. The services sector need to be in street shops, shopping malls, hotels or outlets. The next decade will be a golden era for commercial property.
In practice, the strategies for developers vary. We find opportunities in second and third-tier cities.
We have bought three plots of land this year, in Yixing, Chongqing and Lijiang. The Lijiang project covers 26.6 hectares in Suhe [a tourist village]. We developed a similar project in Yangshuo [a tourist town in Guangxi province]. We are still building the second and third phases there.
The tourist property sector has a bright outlook, too. The price was 20,000 yuan per square metre and now, after 15 years, the secondary market price is almost 200,000 yuan per square metre.