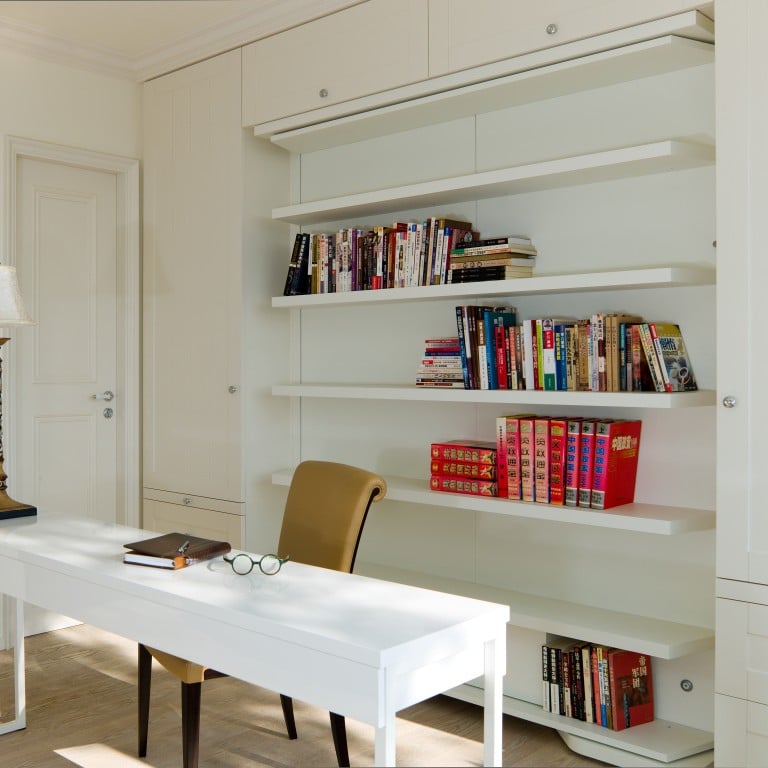 Made for Hong Kong mini-flats: foldaway bed makers get creative
Forget the old-time comedies, today's sophisticated range of offerings, including custom-made options, warrant more attention in cramped Hong Kong
At the turn of the 20th century, it just wouldn't do for a bachelor to have a lady-friend sleep over, so besotted American William Lawrence Murphy invented a bed that would disappear into a closet, transforming his one-room apartment into a love nest without anyone being the wiser. He patented the design around 1900.
According to manufacturer Murphy Wallbed USA, demand peaked in the 1920s and 30s, ebbed after the second world war, and rose again during the economic recession of the 1970s, which forced many Americans back into smaller spaces.
Today even in affluent urban households, few have either the space or desire for a rarely used guest room. A foldaway bed again provides the solution to one of society's domestic dilemmas, with lots of clever extras built in.
The Murphy bed has of course spawned a number of spin-offs, and you'd think that they would be everywhere in Hong Kong – but, seemingly not. Jason Yung, of Jason Caroline Design, agrees that it's "surprisingly very difficult to find a good one", although lots of local furniture stores can make them for walk-in customers. "I guess the good ones are too expensive for people who own small flats. And most large flats don't need a Murphy bed," says the designer, who does not recommend cheap imitations.
Jason Caroline Design imported an Italian-made Clei wall bed  from a  British supplier for a two-person household in Deep Water Bay, to accommodate parents who visit from overseas about once a month. The unit is fitted into the study, where it functions as bookshelves for everyday use, and transforms into a bed as needed. The books don't even need to be removed; they rotate 360 degrees behind the headboard.
The Clei is pricey (around HK$80,000) but Yung feels a high-end manufactured model is worth it because the mechanism, structure and frames are usually lighter, and therefore easier to operate. They are also proper beds with ribs that support the mattress, which makes for a comfortable night's sleep, he added.
However, custom-made can undoubtedly be cheaper. For a client in Sha Tin, Ample Design had one built in for HK$24,000, plus the cost of the mattress (around HK$6,000). The price was composed of HK$9,000 for the frame (made of lacquer-finished MDF, with solid wood supports) and $15,000 for the hydraulic operating mechanism, design director Louis Lau said.
Custom-made enables more design flexibility, which is especially useful in awkward-shaped spaces, Lau pointed out. To fit into the narrow study of the Sha Tin flat, but accommodate their adult son on his occasional visits, the bed  is  slightly larger than a double, but smaller than queen. Built-in compartments hold the bedding and pillows, and provide bookshelves for everyday use. The design also incorporates a panel of colour-backed glass serving as a whiteboard – a useful addition to the study's role.
From manufacturers in North America and Europe, there are designs aplenty. Clei's range alone incorporates single beds, double beds, bunks and sofas; a "young living" range that transforms into a study desk for a teenager's bedroom; and a home theatre design that is entertainment unit one minute, everyday bed the next (the Poppi). In the brand's newest design, the Penelope, the bed becomes a dining table, which is attached to a modular kitchen.  
Then there's the LiftBed from Germany, which tucks snugly into the ceiling at the touch of a button. Like Clei's Poppi, the LiftBed is intended for everyday, rather than occasional, slumber. As the manufacturer points out, our bedrooms are only in use for a few hours – and when space is tight, "who wants to spend the day in a room where a double bed takes up most of the space?"
Another innovation is the Zoom-Room (also from Germany) whereby a foam mattress glides into place from within a hidden cavity, without interfering with your flat screen TV, bookshelves or whatever.
In the SmartBed range from Italian company Colombo 907, several models – Harry, Dotto and the Joker – convert from large desk to comfortable bed in seconds, leaving everything on the desk in place – even the computer. Single bed, bunk bed and sofa bed models are also available.
Sico, another Italian company serves the Hong Kong market with a range of Wallbed suites from its Singapore office. Four models are available  at prices ranging from US$3,500 to US$7,000, excluding installation, carpentry and cabinetry.
Murphy beds have been lampooned in comedy since Charlie Chaplin's time, and romanticised by James Bond. Today, their contribution is given due recognition – even earning a place in the Smithsonian, the world's largest museum.
This article appeared in the South China Morning Post print edition as: Foldaway bed makers perfect disappearing act