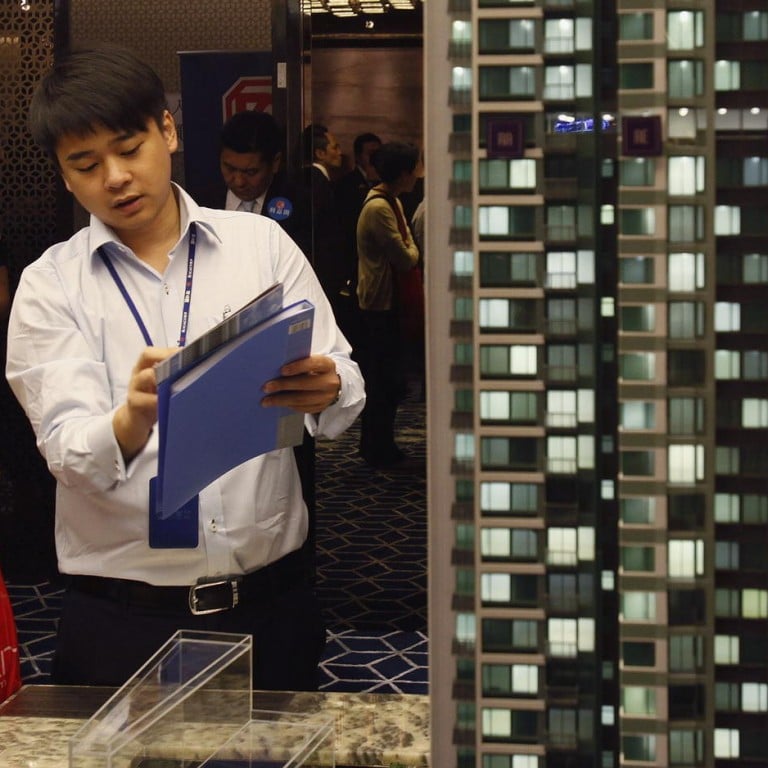 Hong Kong banks offer more perks to lure wary homebuyers
With possible US rate rise this year city's banks consider fixed-rate mortgages to lure customers
Homebuyers in Hong Kong are expected to receive attractive deals from mortgage lenders as they seek to drum up the loan business in the year's last quarter to meet annual targets.
More banks may consider resuming the fixed-rate mortgage scheme from now to December amid a possible interest rate rise by the US Federal Reserve.
"To maintain market share, some banks are planning to adopt a strategic move to provide fixed-rate mortgage plans to attract customers," said Ivy Wong Mei-fung, Centaline Mortgage Broker's managing director.
As transactions in the secondary market continue to shrink, she believes lenders would be more aggressive in launching schemes with attractive terms to lure customers in order to meet the year-end loan quota.
Banks have stopped using fixed-rate plans for some years. They account for less than 10 per cent of total mortgage loans, said Wong.
However, some major banks relaunched the fixed-rate plan recently. Hang Seng Bank offers fixed rates as low as 1.88 per cent in the first year to some clients, and 1.7 percentage points above the Hong Kong interbank offered rate market (Hibor) afterwards, or capped at 2.85 percentage points below the prime rate. With Hibor currently at 0.24 to 0.26 per cent, homebuyers in these schemes pay up to 1.96 per cent in the second year.
The fixed-rate plan is lower than the going net mortgage rate of 2.15 per cent, or 3.1 percentage points below prime's 5.25 per cent.
Hang Seng Bank said "it has been offering fixed rate mortgage to customers as a product option". Multiple factors are considered to determine the interest rate during the fixed-rate period, including market liquidity, customer relationship, repayment ability and the quality and usage of the property, it said.
BOC Hong Kong is offering homebuyers of new projects a 1.88 per cent fixed rate for the first year, 2.88 per cent in the second and 3.88 per cent in the third year, and 2.85 percentage points below prime afterwards.
Mortgage broker mReferral said it expects the total mortgage loan amount last month to have dropped 10 per cent from July as homebuyer confidence has been shattered by the stock market slump.
The Hong Kong Monetary Authority saw the number of mortgage applications fall 13.5 per cent month on month to 10,139 in July. Mortgage loans approved also fell 8.8 per cent to HK$27.2 billion in July from the previous month.
Mortgage loans financing new homes plunged 24.6 per cent to HK$6.5 billion and those going into used homes increased 0.6 per cent to HK$15.9 billion.
This article appeared in the South China Morning Post print edition as: Banks offer perks to entice reluctant HK homebuyers