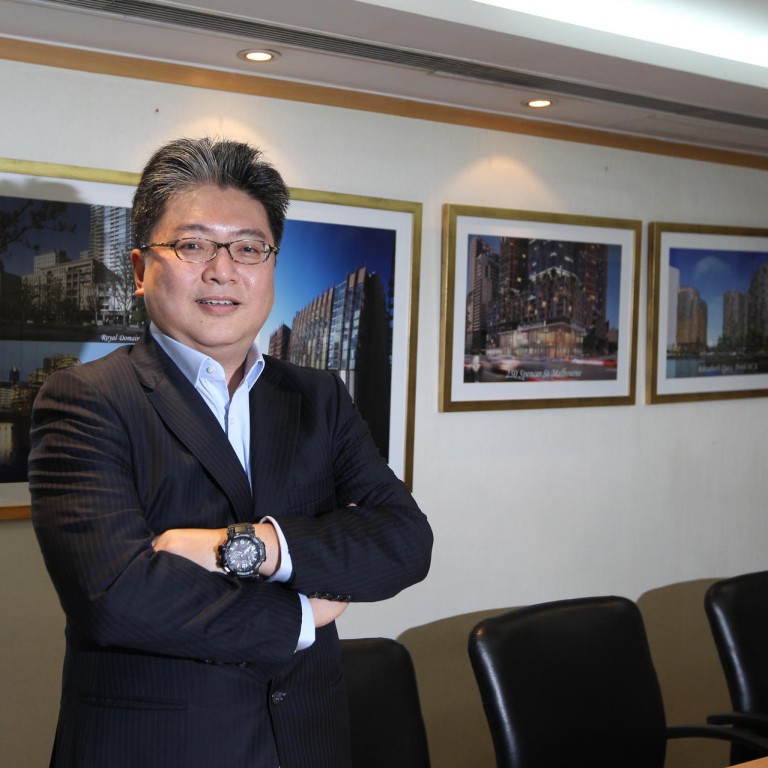 Far East Consortium on rapid expansion beyond Hong Kong
Q&AFar East Consortium International has expanded rapidly since Chris Hoong joined the companyin 2008, from having one site to 20 property projects and expanding beyond the city's shores
Chris Hoong Cheong Thard was an investment banker for more than 12 years and held senior positions at Deutsche Bank and UBS where he was responsible for corporate finance business in Asia. In 2008, he joined Far East Consortium International as managing director and was responsible for the formulation and implementation of the company's overall strategies for development. He brings with him a wealth of knowledge in corporate development and extensive experience in mergers and acquisitions as well as international capital markets.
Hoong, a member of the Institute of Chartered Accountants in England and Wales, is also a non-executive director of Far East Consortium's 73.97 per cent-owned hotel operator Dorsett Hospitality International. He has a degree in mechanical engineering from Imperial College, University of London.
Far East Consortium resumed buying land in Hong Kong two years ago after Chief Executive Leung Chun-ying increased land supply to cool the red-hot property market. It secured four small development sites amid fierce competition.
The company has not limited its investment in the city and has expanded its footprint beyond Hong Kong. Its strategy was proven right as it won a mega integrated development project in Australia in July.
In the past seven to eight years, we grew from one development site into 20 active residential property projects with total saleable floor area of about 5.8 million sq ft under various stages of development. They are in Hong Kong, Guangzhou, Shanghai, Melbourne, Perth and London.
In terms of land bank, Australia is the largest market with 3.15 million sq ft under construction, compared with 311,000 sq ft in Hong Kong and 1.76 million sq ft in mainland China.
In terms of profit, Hong Kong property development and investment remains the biggest contributor with HK$557 million for the year ended March, followed by HK$455 million from mainland China and HK$261 million from Australia.
The Queensland state approached us when it marketed the project in Hong Kong a year ago as we have built up a substantial presence in Australia's property market in the past 10 years. At the same time, we were looking for investment properties and we saw it fit with our strategy as it also comes with residential and hotel (properties). (David) Chiu (Tat-cheong), the company's chairman, and I then visited the proposed site, which is in the central business district of Brisbane. The project will place the city on the world map as an international tourism destination.
We then teamed up with Chow Tai Fook Enterprises and Australian-listed casino operator Echo Entertainment Group to form a consortium, Destination Brisbane Consortium, to bid for the mega project.
It is a perfect match as we will be responsible for residential and hotel development and operations while Echo Entertainment will be in charge of the casino. Echo, which owns Brisbane's only casino, will transfer the existing casino operation and business to the new development upon completion.
The construction will start once the site is handed over to us in 2017. We expect the residential portion will be released for pre-sale in 2018 and the first phase sale revenue should be ready for booking in 2022 when the units are delivered to buyers.
For such a big project, we will target international markets. For instance, our large-scale residential project in Melbourne will be marketed in Hong Kong, Shanghai, Taiwan Singapore, Malaysia, Thailand and Indonesia.
In Hong Kong, we may not be a big player but definitely not in Australia. Our company is developing three residential-commercial projects in Melbourne. They consist of 6,000 units, the biggest mixed-use developments with residential focus in the city's core business district.
We have a portfolio of 335 car parks with about 65,300 parking bays. Of these, 23 - 19 in Australia, two in New Zealand and two in Kuala Lumpur - are self-owned with 6,200 parking bays. The remaining 59,100 parking bays in the two countries are under management contracts. As a car park owner or operator, we will be the first to know if the property owner wants to sell the building. We managed to acquire the prime site in Melbourne because we manage the car park for the owner.
I disagreed with the view the sales drew a poor outcome. In terms of number, we sold more than 100 units in the first days, which is above our expectations. But if we release a smaller number of units for sale, we can also create a higher percentage in sales.