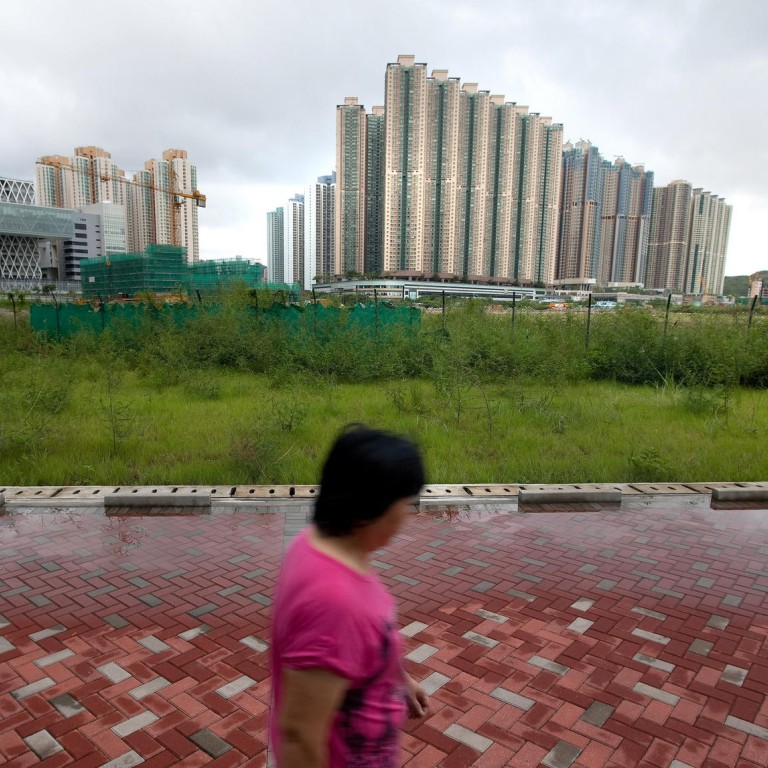 New

|
Home rents for small flats in New Territories of Hong Kong are falling at a faster pace
Housing costs of suburban properties falling faster than in core areas of the city, as owners offer steep discounts in order to secure tenants
Rents for small flats in the New Territories are falling more rapidly than for other homes, with some owners offering steeper discounts to lure tenants, and the trend is beginning to spill over into urban areas.
Major housing estates in Sha Tin, Fanling, Ma On Shan and Tin Shui Wai are seeing sharp cuts in rents in the wake of increasing supply, amid growing economic uncertainty that could add to downward pressure on rents, according to realtors.
"Some investors are getting nervous, as they worry rents will keep on falling," said Steven Hung, an associate director at Centaline Property Agency in Sha Tin.
A 304 sq ft, two-bedroom unit at City One Shatin, the most actively traded estate among investors in the area, was leased for HK$9,000 a month this week, down 18 per cent from HK$10,000 to HK$11,000 in September.
"It is a two-year low in the housing estate," Hung said.
There are about 80 units being offered for rent at the estate, 30 per cent more than in August.
"The lower asking rents have attracted more bargain hunters to view flats at City One Shatin," Hung added.
Similar cases were found at Fanling Town Centre and Sunshine City in Ma On Shan.
A 376 sq ft unit on a lower floor at Fanling Town Centre was leased for HK$8,300 a month, or HK$22 per sq ft, according to agent Fortune Six Property Agency, which focuses on Fanling and Sheung Shui.
It said the owner was originally asking for HK$12,000 in July, and only found a tenant by offering a 30 per cent discount.
"The recent rental drop was about 15 per cent and some were 14 per cent below the market rates," Venant Chiang, a property analyst at Jefferies, said in a research note. "Most are the flats in the New Territories."
With half of the more than 8,000 units due for completion in the second half of this year to come from suburban areas, he said he expected rising leasing supply would put further downward pressure on home rents and prices.
Key residential projects to be delivered to home buyers include the 1,648-unit Hemera at Lohas Park, 1,091 units in phases one and two of Mayfair By the Sea in Tai Po; the 1,419-unit The Visionary in Tung Chung; 1,096 units in the second phase of The Avenue in Wan Chai and the 691-unit Grand Austin near Tsim Sha Tsui.
"This may encourage potential buyers to switch to renting due to an uncertain market outlook," Chiang said.
Agents saw the trend starting to spread to urban areas, where rents had eased slightly.
Ricacorp Properties said a 676 sq ft unit at the Lei King Wan development in Shau Kei Wan rented out for HK$28,000 a month, down 7 per cent from the asking price.
Chiang said falling rents meant there was less incentive to hold properties for investment.
Before a looming increase in interest rates in the US, an increasing number of home owners had decided to take money off the table, he said, pointing out recent transactions revealing price cuts averaging 7 per cent.
"We expect [home] price pressure to intensify as a result of ample supply in the primary market," he added.
This article appeared in the South China Morning Post print edition as: Flats in New Territories leading plunge in rents