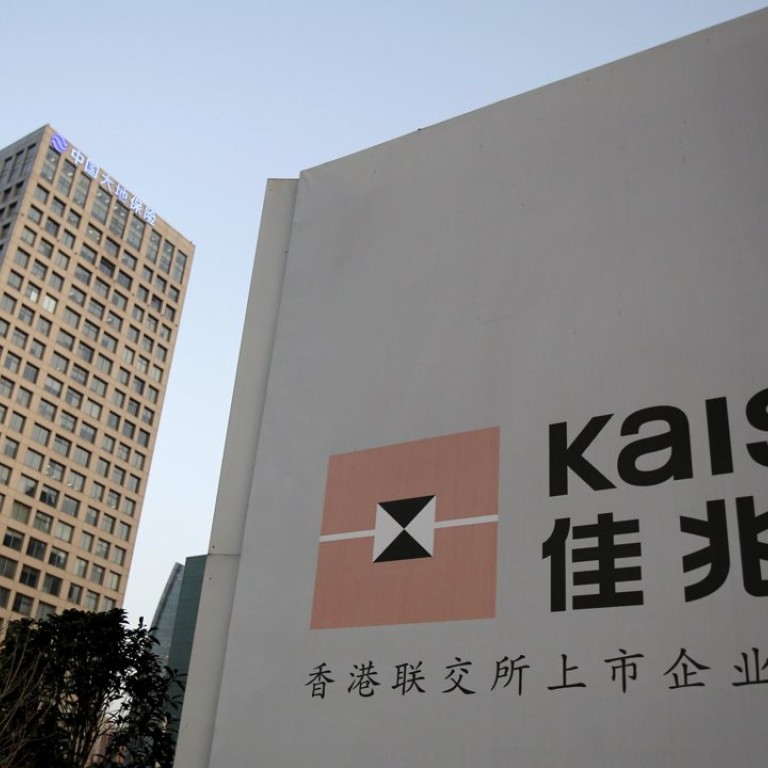 New
China's Kaisa on track for revival, few other developers on rating agencies' watch list
Troubled developer Kaisa close to debt restructuring deal
Kaisa Group Holdings, the first mainland Chinese developer to have defaulted on its offshore bonds, is close to a debt restructuring deal to revive itself from the brink of bankruptcy, but investors still need to be mindful of other developers with weak sales execution and high levels of leverage.
Almost a year ago, Kaisa's crisis snowballed quickly from a ban by Shenzhen's housing bureau against the sale of some key projects for reasons still unexplained by both sides yet widely known to the industry as its close relationship with a former local official brought down in the anti-graft campaign by Beijing.
Now, the company is striving to restart selling these projects in Shenzhen soon, which if successful, will eliminate lingering worries about its political risks.
"Our cash flow is improving," said Li Xiaogang, head of public relations. "We face no administrative obstacles now."
Since rival Sunac China stepped away from a takeover deal in May, Kaisa has reshuffled its top management team and has reached framework agreements with onshore creditors, including the biggest one -- Bank of China.
That enabled it to launch projects in a number of cities, including Hangzhou, Nanjing and more recently Guangzhou. Due to competitive pricing under a policy-induced housing recovery, sales performance has been strong.
Last month, the troubled developer registered with the government the contracts with those buyers who paid deposits for units at the Kaisa Qianhai Plaza before the sales ban was imposed. The relief for those buyers is that price will remain the same although housing inflation is high during this period in the neighbourhood.
"The new price of the project, once relaunched, will be decided according to the current market situation," Li said.
Offshore, Kaisa announced on Friday it has reached a non-binding restructuring deal for bonds due in the next five years, with a slighter haircut than the previous offer by Sunac.
The negotiation is led by Kaisa's former vice chairman and now senior advisor Tam Lai-ling.
Kaisa bonds jumped this week on the news. But Moody's reminded investors of credit risks with other mainland developers.
The global ratings agency said 76 per cent of its rated Chinese developers have a stable outlook, and the number of negative rating actions will likely decline moderately in the next six to 12 months, given stabilisation in the country's housing market.
But some developers that have weak sales, high debt leverage or significant refinancing demands next year will continue to see their liquidity and credit profiles under pressure, it added, singling out Renhe Commercial Holdings Co, Glorious Properties Holdings, Wuzhou International Holdings, Jingrui Holdings and Hopson Development Holdings.
Standard & Poor's upgraded Glorious Property to CCC from CC, after its full repayment of US$300 million senior in unsecured notes due last month, plus US$19.5 million interest.
"However, we believe Glorious still faces high liquidity risks, which stem from its substantial short-term borrowings, limited cash balance, and weak sales execution," S&P said.
It estimated Glorious would need to pay over 3 billion yuan in interest expenses next year, which is barely lower than its full-year sales of 4 billion yuan in 2014, and 4.6 billion yuan in the first 10 months of this year.
On a positive note, Moody's said: "The recent surge in domestic bond issuance helps developers strengthen their liquidity profiles, lengthen their debt maturities, lower their borrowing costs and diversify their funding channels."
"If developers increase substantially their domestic bond issuance to fund new land acquisitions and developments, the subordination risk for offshore bondholders will increase," it warned.