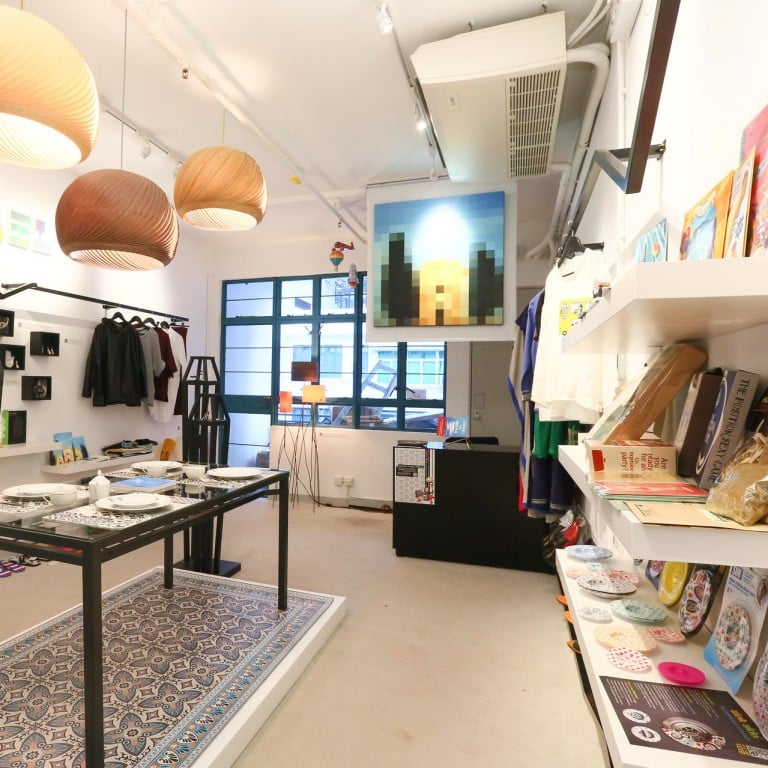 Israeli homeware designers pop up to showcase wares in a Hong Kong first
25 studios from Israel fuse ideas and traditions as they bring their handcrafted furniture and homewares to Hong Kong at PMQ in Central
When Israel decided to promote its designers in Hong Kong, the local consulate took an unorthodox approach: they launched a pop-up store at the PMQ.
"This is the first time that we as a government have taken such an initiative in opening a shop - anywhere, ever," says Elad Goz, Israel's economic consul in Hong Kong.
The pop-up, which runs until November 19, brings together products from 25 Israeli designers. "We really did not limit who could apply - we have clothing, shoes, accessories, hats, lamps, gifts," says Goz. "We tried to identify which products would be more relevant to the Hong Kong market, but we also wanted to bring something that is unique to Israel."
That is apparent in many of the homeware and furniture products. Beija Carpet, by Tel Aviv-based designer Maya Kounjevsky, is a series of vinyl stickers, placemats and rugs based on traditional Levantine tile patterns. Since launching the products in 2006, Kounjevsky has exhibited them at Maison et Objet in Paris, and they are now available in 25 countries.
While you cannot buy anything at the pop-up store, QR codes next to each product link to the designers' online shops, and each of them ships to Hong Kong.
"Most Israeli designers are really small - nobody is Prada, nobody is Harvey Nichols," says Goz. "Most of them make very small quantities." That is one of the reasons Hong Kong is such an attractive market: it is affluent but small enough to be manageable. "For them, even the Hong Kong market is huge."
The small scale of Israeli design studios means many have taken a high-quality, handcrafted approach to stand out in the market.
Sculptor Ifat Shterenberg makes lightweight ceramic furniture that can be used as coffee tables, side tables and seats. Each piece is made of glazed clay, giving them a sleek appearance that falls somewhere between marble and glass.
Studio Vayehi, run by designers Katharina Brand and Tzuriel Gottlieb, produces lamps made with hand-shaved wood folded like an accordion fan.
"Our hands touch, caress, wrap and bend, they trace the tendencies of the material, and gather the thin layers of wood to form a shade," say the designers in a statement. "The finished object retains the memories of our movements."
Also handmade, though less obviously so, is iLLuminite, a series of LED lamps designed by Amit Sturlesi. Each lamp has a concrete base into which fits an engraved acrylic glass slide, which transmits light to its edges. When the lamp is turned on, the engravings take on a distinct three-dimensional appearance.
"When I start designing a product I always look for an extra feature or something that has a twist, some humour to it," says Sturlesi.
One of his first products was Spoonya, a wall-mounted bookcase made with foamed polyethylene that can hold books in place. It was expensive to produce, so Sturlesi wanted to make something more accessible, which is how he came to design the lamps.
"They have all the features I like to see in products - they have a good starting price and a unique design, so you don't see it on every other corner," he says.
Sturlesi got his start at the Istituto Europeo di Design in Milan, where he graduated with a degree in industrial design in 2005. He launched his own studio in Tel Aviv in 2009.
"It's getting better for designers [here]," he says, thanks to support from design foundations and the government. "Compared to 10 or 15 years ago, it's changed its face totally. Younger designers have better opportunities."
Goz says he sees a lot of potential for Israeli design. "We have people from Ethiopia, from Europe, from Asia. It's a melting pot of ideas and traditions and therefore it's a melting pot of design," he says. "Because Israel is very small, everybody is very cosmopolitan - they're always thinking about who will be the end customer in another country. That's why they appeal to many places."
He hopes that Hong Kong will be one of those places. It seems the pop-up store may already have some fans. Trade officer Redd Ho, who worked with Goz on the project, says it has drawn a number of local shop owners and distributors who are interested in carrying the products.
"The homeware has been especially popular," he says. "At our opening, some guests asked if we were going to have an auction after. They can't wait to get them into their homes."
This article appeared in the South China Morning Post print edition as: Popping into a designer showcase